In today's world having your website compatible with mobile devices is very important if you want to increase your traffic. Making your website mobile friendly will allow your viewers to easily read and navigate through your website. In this collection we'll be going through fifteen fantastic mobile conversion website resources.
Create rich mobile pages and mobile websites with minimal effort. Include images, mobilize your blog from RSS an do much more.
MoFuse provides a platform for creating mobile sites, mobile web landing pages, and forms. These days, having a mobile version of your website is essential, but we understand that you may not have the time or resources to dedicate to building a mobile website.
Mobify is a platform for launching adaptive websites for mobile and tablet devices.
Create attractive & feature rich websites in few minutes. No technical knowledge required. Comes with advanced mobile hosting with auto device detection.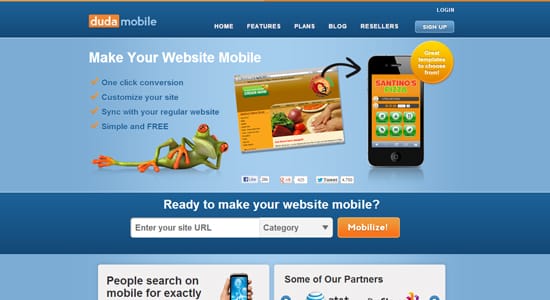 The fastest, easiest way to build a great looking mobile website in minutes. Includes hosting, site analytics, click-to-call, mobile maps and more.
Convert your website for mobile devices. Increase your daily traffic with up to 20%; Get a higher position in Google; Step ahead your competition.
WPtap is a WordPress specialist in developing mobile themes/plugins that can instantly convert your WordPress site into web-application experience when viewed from iPhone, iPod Touch, touch-based Blackberry, and Android smartphones.
Onbile is a free online platform to create easily mobile websites. Without programming knowledge. Using premium templates with high quality design.
Publish once and manage free mobile websites and apps easily.
Zinadoo free mobile website creation tool that includes a full suite of products such as zinadoo free mobile design and development building tool.
bMobilized is the only tool that allows you to instantly create a fully-functional mobile website. You won't be limited to generic templates or forced to recreate site elements from scratch.
Easily setup a rich mobile theme for iPhone, iPad, Android, Blackberry, Palm OS and Samsung touch mobile visitors, completely independent of your desktop theme.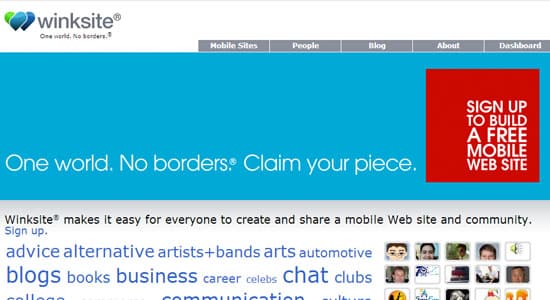 Winksite® makes it easy for everyone to create and share a mobile Web site and community.
Head over to the App Factory where you can create your app in just five minutes.