We all love travelling and taking photographs is great way to capture those moments we want to cherish forever. But before you go on holiday, why not go through these ways to enhance your travel photos.
Cole Rise is a Travel Photographer and is famous on Instagram, he created the filter 'Rise' and has over 906,000 followers.
He built Instagrams first photo treatments and now promoted his unique "unedited edited" look with his beautiful photographs on Instagram. Today Cole will be sharing with you ways to take your travel photos to the next level!
1. Protip #1: Brighten shadows and tone down highlights for better balance.
Cole Rise
Most photo editing apps include tools to adjust highlights and shadows. Take advantage of them!
To enhance this landscape photo, Cole balanced the exposure by brightening the shadows and darkening the highlights. He also added a touch of the Winsy filter from the Litely app to bring out the image's warm hues. The result is a brighter, more even-toned photo. Take the slider for a spin to see the before and after.
2. Protip #2: Add vignetting and amp up shadows to increase brightness.
Cole Rise
When in doubt, add a hint of vignette. Vignettes, which are basically Cole's favorite thing, add a subtle dark border around your photo, brightening the middle of the image. "It makes the balloons pop," he said of this photo, taken in Napa Valley, California. Because the original image is dark, he increased the vibrance and added a little sharpness to distinguish the shapes of the balloons and landscape, without making the photo look edited. Cole then added Litely's Lunar Faded filter.
3. Protip #3: Edit the photo, then go back and reduce your adjustments by 50%.
Cole Rise
This. is. key.
The trick to maintaining the integrity of your photo is to not filter and edit them too heavily. Edit your image as normal, then dial back everything to 50%. Last year, Instagram finally introduced the ability to edit filter strength. Once you select a filter, tap it again to reduce its intensity.
This is a rule Cole has always stuck to. It's also why he wanted to create his own app. "I wanted filters that were applied at 100% and still looked great," he said.
Another piece of advice: "Stay away from clarity! Also known as Lux in Instagram." Clarity and Lux are intended to "fix" underexposure and lack of contrast. But the tools often make images look Photoshopped.
4. Use humans whenever you can! Landscapes are better with people in them.
"It's like your living vicariously through the subject … People create a feeling," Rise said. The best example of how people add personality to a photo is the Instagram feed of Murad Osmann, who takes a picture of himself holding his girlfriend's handall over the world.
In fact, many of Cole's images (including this one) feature his girlfriend Kate.
5. People can also help create a sense of scale.
Of this photograph of the 2,000 year old city of Jerash, Cole said, "These ruins are massive. You look at this [photo] and feel humbled by it." It's the man standing on the staircase that gives the viewer a sense of how big those columns really are!
6. Try shooting in "burst mode" out of a car window.
You'll never know what you get.
On the iPhone, simply press and hold the shutter to take photos in burst mode.
Android phones with KitKat 4.4 or higher can enable rapid-fire photography by opening the Camera App, tapping Settings > More Options > Burst Mode. On Samsung phones, it may be called Burst Shot. Cole used the Slow Shutter Cam app($1, iOS) to create some of the motion blur seen here.
7. Setting your phone on the roof of your car can add some visual interest.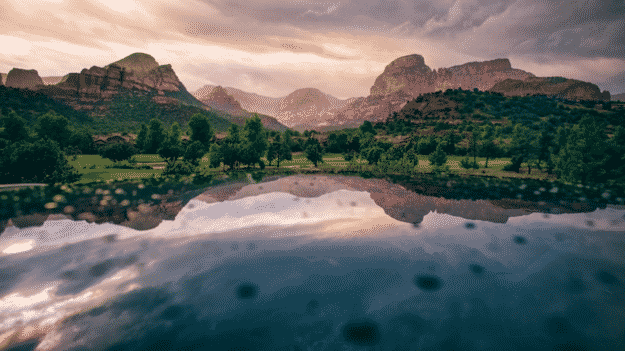 Cole Rise
If there are cool cloud formations above, the reflections from your car's roof can add a lot to your photography.
8. Bringing your phone right to the water's edge can also create cool reflective effects.
9. When shooting for Instagram, shoot in portrait mode — not the preset square.
You'll be able to visualize the square crop better when shooting in portrait. Setting your phone to shoot in "square" means that you can't undo the crop. Taking a full-sized photo vertically means that you can always adjust after!
10. Otherwise, shoot in landscape so you can press the shutter with the volume button.
Cole Rise
Did you know that, by default, you can just open the camera app on your iPhone and press the volume button to take a photo? The same is true of some Android phones. On the Samsung Galaxy S4, you'll need to go into Settings and set the volume key as the "camera key" instead of the "zoom key."
Using the volume key usually means a more stable shot, because you have a good grip on your phone. For truly steady shots, Cole recommends the Griptight Smartphone stand ($30).
11. Get down low for a more interesting foreground.
Phones typically have poor depth of field, so bring your lens to the ground. This up-down perspective elevates your subject.
12. Be invisible, blend in, and don't carry a backpack.
As a tourist equipped with gadgets, you're a walking target for theft. While traveling, Cole doesn't wear flashy clothing, keeps his camera or phone close by, and leaves the backpack at home.
Before snapping a photo of a local merchant or a person on the street, always ask. "You'd also be surprised at how receptive people are to smiling," he said.
13. Bad weather = great photo weather.
Cole Rise
Whatever you do, Rise urged, "don't leave the beach when it rains." As this image proves, rain and hail are actually great conditions for a good photo! If it's raining or snowing at night, you can leave your flash on and use Slow Shutter Cam to create streaks.
Overcast days can also mean interesting cloud patterns in the sky, so don't stay indoors if the weather isn't stellar.
14. Get a waterproof case and GET INSURANCE.
Don't be afraid to get your phone wet. Just make sure it's in a waterproofed case. Cole uses a Lifeproof case (~$80), which is waterproof up to 6.6 feet for one hour. If you're a daredevil, you should also consider phone insurance. Check out this Tom's Guide comparison of the best insurance plans from carriers and third-party providers.
15. Quickly capture fleeting moments by knowing your phone's camera shortcuts.
Cole Rise
The plane flying shockingly close overhead was taken on an iPhone. Cole swiped up from the lockscreen to quickly capture the aircraft as it flew past. Make sure you're aware of your phone's camera shortcuts before you go!
For the Moto X, you can enable a twisting hand motion to open your phone's camera in Settings. For Samsung phones, you'll find "Camera Quick Access" in Settings. The newest Galaxy S6 has a shortcut built into the home button: just tap it twice.
16. The most important thing to do is to "go further than anyone else."
"Keep hiking. Be the crazy one." The only way to find beautiful, epic places is to, simply, explore. If you're visiting a monument, hike past the photo opps and drive away from the tourists. Push yourself to go even further. Cole often tells people: "Live a great life, and the photos will come."
via BuzzFeed