Fairy gardens have been gaining new ground in popularity among gardeners. You may be wondering, what are fairy garden? They are tiny gardens, filled with amazing small plants, succulents, and decorative arrangements. More gardeners are getting into arranging their own enchanting diy gardens using broken posts making for some delightful DIY gardens.
To make your own fairy garden you can grab a broken recycled terracotta pot, hammer, soil, rocks and some cute small plants and succulents. Put your soil into the pot positioning the broken pot bits and then arrange your rocks, plants and other miniature items like a door or even stairs!
Checkout these 18 Enchanting DIY Gardens Made From Broken Pots!
(via: Bored Panda)
Image credits: Badlay
Image credits: Saskia
Image credits: Rebecca Snyder
Image credits: Sue Matyszak
Image credits: unknown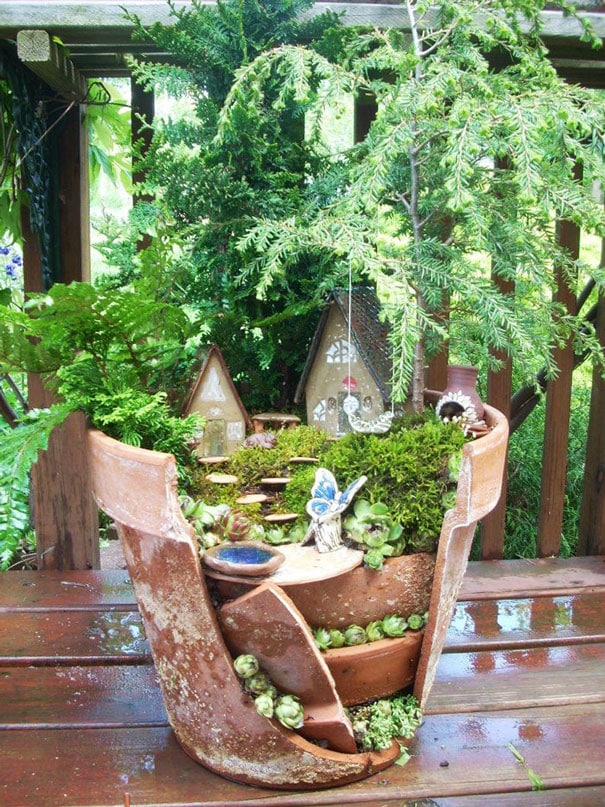 Image credits: Susie Morgan Wilburn
Image credits: unknown
Image credits: Â Genevieve Gail
Image credits: unknown
Image credits: Lynette
Image credits: Chigiy
Image credits: infojardin.com
Image credits: hm-decor.com
Image credits: Â Sarah Wynne
Image credits: Kelli Voss
Image credits: wohlundtoll.com
Image credits: naturework.com
Image credits: unknown