The famous woman who has done a lot in the field of fashion once said: Fashion is not something that exists in dresses only. Fashion is in the sky, in the street, fashion has to do with ideas, the way we live, what is happening. Yes, this is Coco Chanel. A tender lady, still the only fashion designer Time magazine considered worth-while to be included in the list of 100 most influential people of the 20th century. She goes there along with Ronald Reagan, Martin Luther King Jr., Bill Gates, Steven Spielberg. This delicate woman with perfect taste had a tremendous impact on the fashion of the 20th century. She was the first to introduce the Little black dress, which is still an index of a sophisticated style and one of the most popular garments of every woman. Chanel No.5 is a scent recognizable all over the world. The idea of the famous handbag with straps also belongs to her. She was inspired by… the soldiers' bags! This woman is absolutely amazing!
Fashion is a capricious lady, but the style and the feeling of a good taste is something that can't be taken away. And, like the quote above goes, by the taste is not meant barely the skill to combine the cloths' colors. The good taste is visible in everything the person does. It is inalienable part of the person's life. The way he speaks, the way he looks, the way he eats, even the way he breathes.
If you run your own business, you'd rather design a website dedicated to it. And that is not barely a whim of fashion to keep up with the modern tendencies, no! This is a pure necessity. In order you to be ready to meet the demands of your clients and be competitive on the market. But if you are a part of fashion industry you need to show a good taste on the very first stage of the acquaintance with the client. And this stage is nothing else but your website.
In this article we present you 20 Best Fashion and Clothing WordPress Themes related to fashion industry. Whether you are a photographer, fashion designer, model or just a fashion junkie you will surely find something that suits your taste. If not you can visit the website of TemplateMonster.com, where this themes were taken from, for more.
In a couple of words why in the battle "ready-made templates vs. custom ones" the first have the priority.
Here are 3 Simple Steps You Go through
1. You go to the site of the template provider.
You can find plenty of them on the web. Which one you give your preferences to depends solely on you. But no matter where you go, you will be provided with 24/7 support and assistance before, meanwhile and after buying the template.
2. You buy the template.
There is a wide choice of ready templates. And what really benefits is that you can see how you website will look like at once. You don't need to wait for a couple of weeks just to discover that it is absolutely unlike to what you have imagined. It will also save your money, as a custom template will definitely cost you 10 times more.
3. You install and customize it up to your needs.
WordPress is no fluke one of the most popular CMS. It is easy adjustable and customizable. Especially if it runs also Cherry Framework or is Bootstrap. With tones of plugins the web abounds with you can easily turn your ready-made theme into an original and unique website.
Page of Fashion Photographer WordPress Theme
This is definitely the case when less is more. Without being too copious and displaying just what the visitors have come for.
Fashionable Photographer Portfolio WordPress Theme
A tender, yet mesmerizing portfolio template. Light-grey pure negative space makes the photos and the lightboxes to stand out even more.
Fashion Model Agency WordPress Theme
The grid design of this template makes the information look organized and doesn't overwhelm the space, being quite extensive though.
Divine Model Agency WordPress Theme
Thanks to the bright red highlights the theme looks energetic and seductive. But the chocolate and white background soothes it not to look vulgar and tacky.
Fashion Blog WordPress Theme
Black color is a universal one. Combining with any other color it makes it look brighter. Here it is combined with yellow, which makes the template look stylish and refined.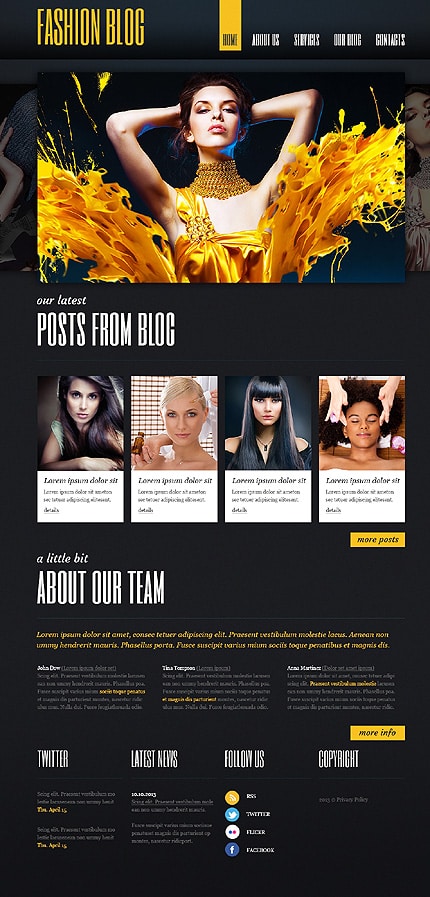 Fashion Responsive WordPress Theme
The purple color is associated with royalty. Grid design arranges information for it not to be excessive. The overall look of the website is luxurious and stylish.
Fashion Responsive WordPress Theme
This template uses the negative space skilfully. The images and white fonts look superb against black background.
Fashion WordPress Theme
Retro design is always on the top of the wave. And it doesn't even matter whether this is a fashion blog or an online shop. Retro is always stylish.
Model Agency WordPress Theme
An elegant beauty. Beauty as an art. Beauty that far not everyone can appraise. This theme displays all of that mentioned.
Fashion Blog WordPress Theme
This template combines black with purple and grey, creating an image of royal elegance and good taste.
Fashion Blog for Passionate Authors WordPress Theme
The play of brightness and contrast range here makes the overall template look fashionable and youth.
Modern Fashion WordPress Theme
The grid design is very comfortable for highlighting latest fashion tendencies. Pastel background is the right choice if you want your visitors to concentrate on the information presented.
Model Agency WordPress Theme
The peculiarity of this theme is its bright menu in the top right corner. Grid design with the photos of the models and snow-white soothing background is just what is needed for a model agency website.
Model Agency Responsive WordPress Theme
Easy navigation and information-rich homepage designed in a stylish black color. It's like a little black dress for a model agency!
Fashion WordPress Theme
Fashion = Passion. This is the message of this template. Still again not too bright, not too crass. Just to the extent the visitors want to see more of your website.
Model Agency WordPress Theme
The template has a strict devision into sections. Still they harmonically flow into one another, which make the template to look like the organic whole.
Fashion Blog WordPress Theme
Brown color is a warm one. It is the color of chocolate, spices and tea. It is a reflective color and is just pleasant to look at.
Fashion WordPress Theme
Bright and energetic template! For flamboyant and out-of-the-box ideas and designs.
Fashion WordPress Theme
Gradient background in black and blue colors with purple splashes and a successful choice of fonts make this template look original and elegant.
Model Agency WordPress Theme
Juicy pink accents on dark-grey background look appealing and attract attention at the first glance.
[mashshare]