Do you live in a cold climate? During the holiday season those living in places where it's winter will experience a snowy winter, but did you know there's a village called Oymyakon, Russia which is the coldest village on the face of the earth. New Zealand-based photographer Amos Chapple made a decision to travel to this mighty cold destination to capture some photographs of this 500-person village of extreme winter conditions.
With the lowest temperature in a permanently inhabited area, Oymyakon holds the record for the lowest temperature that is −90 °F (−67.7 °C) recorded back in 1933. In order to reach this destination you have to take a 2 day drive from Yakutsk, the capital city of Sakha Republic.
Oymyakon is an astounding place to live, their crops don't grow due to the cold and motor vehicles can't be left outside due to freezing. Amos Chapple overcame these tough weather conditions, taking photographs were extremely difficuly as his lens' focus and zoom rings would freeze in place. These 22 Photos Of the Coldest Village on the Face of the Earth are simply stunning!
More info: amoschapplephoto.com (h/t: petapixel)
The Central Market In Yakutsk is fullof fish and meat as the crops do not grow there
The 'Road Of Bones' is the only route to Oymyakon
Even the village sign reads 'Omyakon, The Pole Of Cold'
A woman walks by a frozen house located in the village center
A thick layer of fur keeps the dogs in Oymyakon warm
Most toilets are built outside, because the frozen ground makes it impossible to build indoor plumbing
Local farmer keeps his cows warm at night by tucking them away in this barn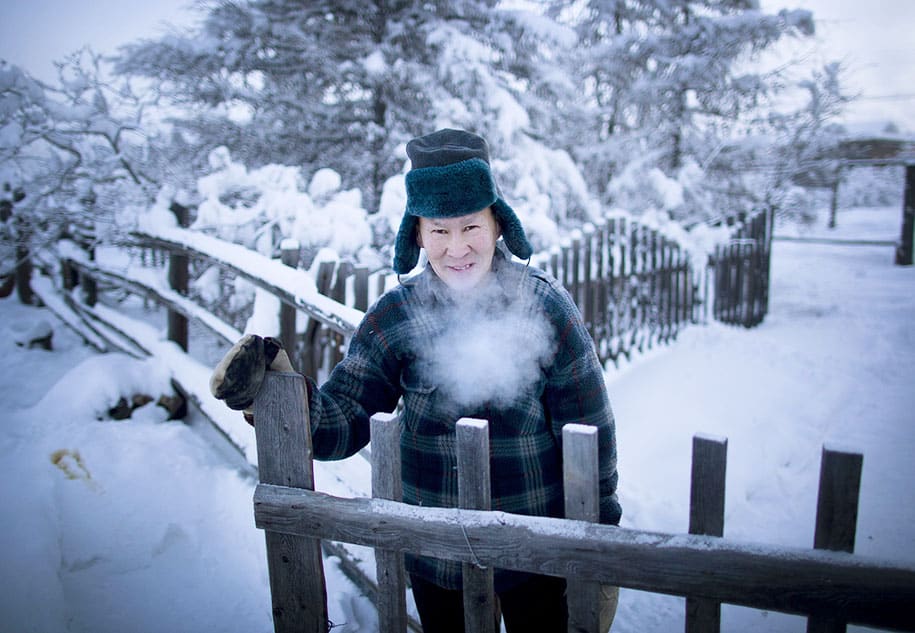 The only working shop in Oymyakon provides the villagers with everything they need
Cars can only be placed in heated garages. The ones left outside must keep running, otherwise they won't restart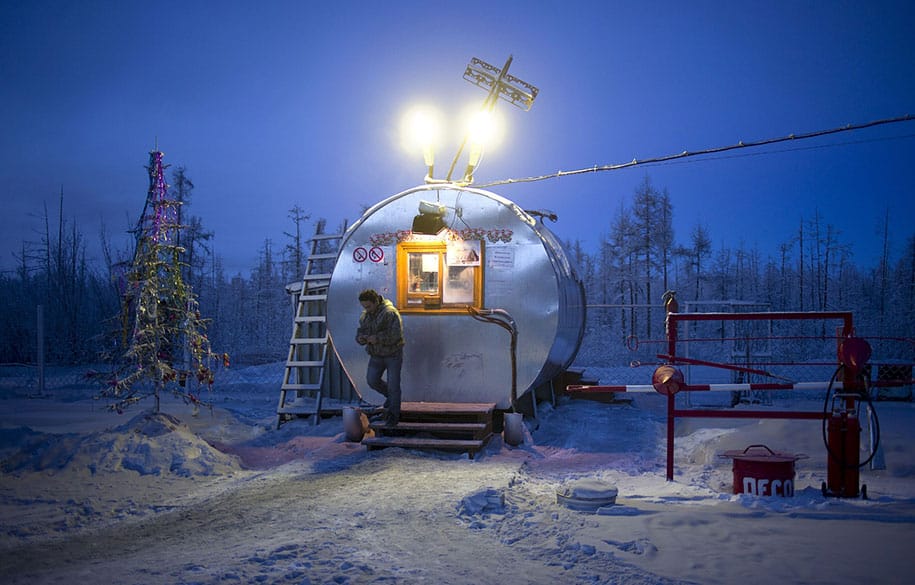 A coal heating plant keeps the villagers warm
[mashshare]