When we think of buildings and skyscrapers, not so many of us think of advertising. Let's face it it's rarely seen on large buildings. Yet when ads on buildings happen, it can be quite spectacular if done creatively.
Most ads we see on or around buildings are boring posters or dull billboards, we barely blink at them. On the flip side if marketers think outside of the box there is plenty of scope to shake a few trees and ruffle a few feathers. In doing so the opportunity to reach a unfathomable number of eyeballs is immense.
After doing some hard work and detailed research I found 25 shocking ads on buildings you won't believe. These are all stunning works or creative marketing and art featuring mostly popular brands like Coca-Cola, Movie Promotions and Clothing Apparel.
However there are also ads for gyms and financial products. Enjoy the top 25 shocking ads on buildings, there are some amazing designs to inspire and innovate.
In the year 2010, spending on advertising was estimated at $143 billion in the United States and $467 billion worldwide. Since then it has increased even further
Ads on buildings can have a strong captivating impact on viewers. Building advertising can be powerful and bold among audiences and let's face it – would cost a fortune to create and build!
Also powerful and innovative ad designs have the power to go very viral in the age of smartphones, social media and online video. In 2016 both video and social media are a marketers power horse. Let's take a look at these 25 Ads on Buildings You Won't Believe.
The Movie Inception
Havaianas Shoes
Law and Order
Coke
Absolute
Direct Insurance: Parking Building
Coop's Paints (Insurance Ad)
Penline Stationery: Strong tape
Discovery Channel: Shark
To celebrate Shark Week 2010, Discovery Channel turned their office building in Silver Spring, Maryland into a giant shark.
Alco: Wash Me
Kill Bill Vol. 1
Nike Sport
Advertising Agency: unknown
Nike: Ball
Axe : Calendar
Advertising Agency: When Gee, Seoul, South Korea
Allstate Insurance: Marina Tower
Advertising Agency:Leo Burnett Chicago, USA
Powerhouse Gym
Advertising School: Savannah College of Art & Design, Savannah, USA
Coca-Cola : Refresh On The Side Of Life
Vodafone : Make The Most Of Now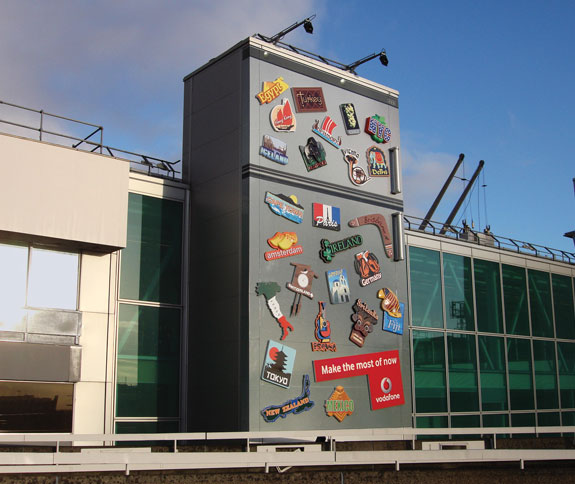 Anando Milk – Superhuman Powers
Lego Block Crane
Check The Gas
Pantene Anti-Breakage Shampoo
Red Bull : City Scramble
Siemens Mixer
Clearly many of these ad campaigns require some alteration of the building or facade. A process that cannot be cheap. Yet these buildings are so visible and can offer masses of exposure for the right ingenious style of ad.
People will certainly talk about most, if not all of the amazing building ad examples on this page. Many of these building ads easily have the capacity to go viral on social media.