Some people think of cooking as boring, and try to avoid it at all cost! But there are plenty of unusual and fun gadgets for your kitchen which can make your cooking more creative and hassle free. Some of these kitchen gadgets will make you smile, like the moustache cork screw or the voodoo toothpick holder.
There are already lots of gadgets for your kitchen, but I bet you haven't seen these unusual kitchen gadgets before. You may even find some motivation and inspiration looking through these interesting gadgets. We've supplied the amazon link to these creative gadgets for your kitchen, making it easy for you to own any of these!
What are you waiting for? Scroll down and take a look at these gadgets for your kitchen. What would you want to have in your kitchen?
Ninjabread Men Cookie Cutters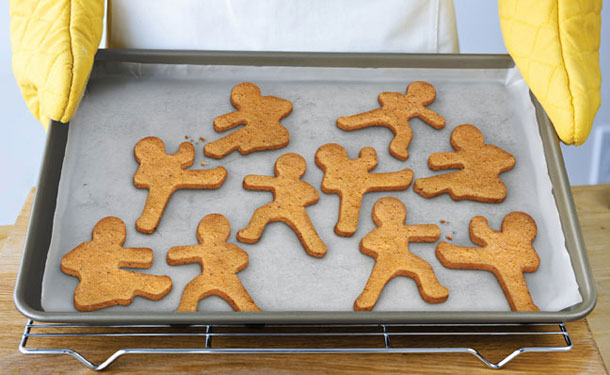 These stealthy warriors are set to sneak into your kitchen and stage a cookie coup! Cut, bake, decorate…and then watch them disappear! Ninjabread Men are molded from rugged, food-safe ABS plastic and packaged in a colorful giftbox. (Buy)
The Taca Mug
The TACA Mug is for those who savor dipped cookies in milk. (Designed by: Entresuelo1a)
Mix Stix Spoons
Every kitchen has its own rhythm and hum, and now you can play along. Mix Stix are classic indispensable beechwood spoons, morphed into drumsticks. So you can rock out when you're not stirring, paradiddle on the stockpot, give that mixing bowl a rimshot. Get with the beat! We've packed one solid spoon and one unique slotted spoon on a durable chipboard peggable backing card. (Buy)
Quintuple Bladed Herb Scissors
The unusual blade design features a set of five, sharp 3″ stainless steel blades that allow you to cut, chop or mince herbs directly into a pan or over a plate for garnishing. (Buy)
Ironius – The Coffee Mug Iron
In simple terms, the heat from your hot coffee-filled mug "Ironius" can be used to iron out a few creases of your shirt. Perfectly handy for those naughty ones who indulge in office romances. (Designed by: Art Lebedev Studio)
Pizza Scrissors
Clever designed "Pizza Pro" combines kitchen shears with a wedge-shaped spatula so you can cut and serve perfect slices, one handed every single time, without losing toppings! (Buy)
Edible Jelloware
Jelloware re-imagines the concept of drinking, and imparts a new experience in the way it feels, tastes, smells, moves, and is even disposed of. The cups are made entirely out of agar agar and cast in different flavors, such as lemon-basil, ginger-mint, or rosemary-beet. All are specifically designed to compliment a corresponding drink. Jelloware is meant to be thrown into the grass after it is used, as agar agar is a seaweed extract and actually nurtures the growth of plants. (Designed by: The Way We See The World)
Beat It! Chopsticks
Whether you're eating solo or jamming with friends, you'll find your groove with BEAT IT! At one end they're standard reusable wooden chopsticks; on the other, rockin' drumsticks. Take a break from eating and add a dramatic drumroll before your last bite, or punctuate that dinner conversation with a solid rimshot. Once again, Fred makes it so easy to play with your food! (Buy)
Magical Salt And Pepper Shakers
Designed by: Arthur Xin
Yin & Yang Teapot
The Yin & Yang is a teapot designed for two people. So if one person prefers green and the other prefers red – you can prepare both of them inside this teapot . The spouts even double as the handle. (Designed by: Ewa Sendecka)
Bowlboard
This clever Bowlboard is designed specifically for food preparation, and has four food preparation bowls inlaid flush to the surface of the board. (Designed by: Kain Lucas)
Twister Fork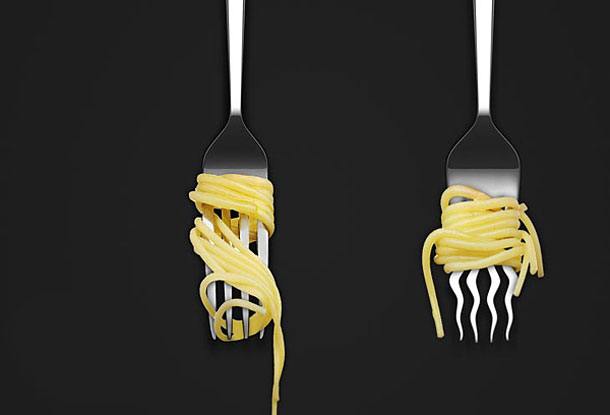 Discover a new way to enjoy your favorite food. The Twister is a fresh take on an old tradition that helps you enjoy your favorite food without making a mess. Using a spoon while eating spaghetti is sometimes considered bad form, and a regular fork can require skill and patience. Body of The Twister is mostly round to ensure easier twisting, while its wavy tines keep the pasta in place, so you can focus on the taste, and not on the physics. (Designed by: Damjan Stankovic)
Egg Separator
Basically you break the egg into the vessel, tilt forward slightly and egg white will drip out the nostrils while the yolk stays behind. Not for the weak of stomach. (Buy)
The Toaster Tree
The Toaster Tree has got fancy transparent leaves that hold your bread, till they are done. Transparent nano-electric membrane technology is what the designer cites in support of the crisping/browning element. (Designed by: Xu Yan Xiang)
Forkchops
Eat in every language! (Buy)
Dog End Towel Holder
The Dog End towel holder has a kind of classic, innocent 1950′s-ness about it, until of course you realize that you're sticking your finger up an animals bottom! Cloth-Dog always gets a reaction, but it's well enough designed to slip in to the kitchen (or bathroom) environment unnoticed. (Buy)
Knife Holder
Designed by: Maarten Baas
Salt & Pepper Cells
Rechargeable salt and pepper set for your dining table. (Buy)
Sharky: Tea-Infuser
Sharky is a floating tea-infuser that looks like a shark fin marauding through the dangerous waters of your tea mug that simultaneously releases streamers of steeped tea that look suspiciously like the detritus after a nasty shark attack. (Designed by: Pablo Matteoda)
Ouch! Toothpick Holder
Make your next party painfully amusing by inviting Ouch!, the voodoo-it-yourself toothpick holder. Perfect for finger food, emergency hexes, and jump-starting the good times. Two fashionable colors, elegant clear display-box packaging. With Ouch, olives will never be boring again! (Buy)
Bill Clinton Corkscrew
Let the 42nd President of the United States of America help you pop your cork! (Buy)
The Hillary Nutcracker
This Hillary Nutcracker Stands Nine-inches tall. It is a functional, plastic nutcracker with stainless steel teeth secured inside upper legs to grip and crack nuts in their shell. (Buy)
Click Kitchen Gloves
Designed by: Anderson Horta
Ctrl+O Bottle Opener
Your favorite shortcut now makes the opening ceremony a snap, though you still need to bring your own bottle! (Designed by: Art Lebedev Studio)
Handlebar Corkscrew And Bottle Opener
The 'stache is back! Only this time, it's not just a fashion statement. It's also a finely crafted corkscrew and bottle-opener. Because beverage containers are no match for the sheer power of a manly moustache. (Buy)

[mashshare]