Email Marketing is very important for reminding your customers of your brand and your latest special offers. Email Newsletters are regularly distributed publication sent to customers, it's essential to have them wanting more which is why basic text emails simple won't do the trick. It's important that Email Newsletters are beautiful and informative.
In today's post we've gathered 26 Email Newsletters Inspiration You'll Love, these email newsletters are creative examples of what an email newsletter should be. I hope these email newsletter designs give you lots of inspiration when designing your own.
This is a light and modern email newsletter designed for The App Developers
Minimalist Email Newsletter designed for Etsy.
Modern take on an Email Newsletter, with a charming color scheme for each section and circled elements.
This is a stylish 2 column email newsletter.
This is a minimalist email newsletters with content spread out into various column sizes.
Nice subtle Email Newsletter showcasing a minimalist way of showing content.
A Dark and minimal Email Newsletter
A Modern and Elegant Email Newsletter for Starbucks
A fun and colorful email newsletter, with interesting design elements
Simple and Elegant Newsletter with stylish header
Stylish and Simple Email Newsletter with neat layout
Stylish and sophisticated layout for shoes
Neat and trendy 3 column email newsletter
Dark and colorful 3 column layout
Fun and quirky email newsletter

Creative email newsletter for Threadless
Neat and effective Email Newsletter
Interesting email newsletter with bent columns
Neat Dark Email Newsletter with eye catching header and effective layout
Nice and quirky vintage email newsletter
Beautiful and clean email newsletter
Simple and minimal email newsletter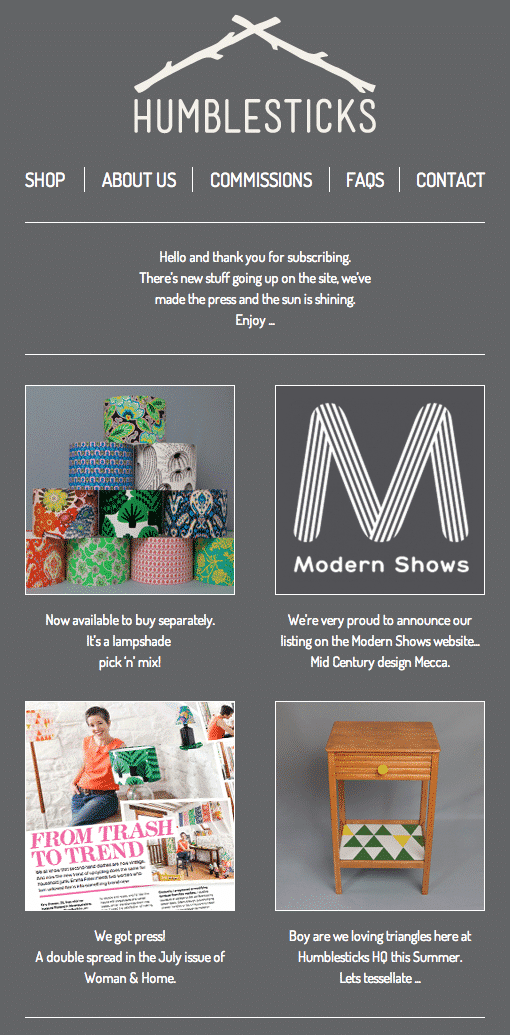 Stylish email newsletter with autumn color scheme and elements
Clean and elegant newsletter
Minimalist typography based email newsletter
[mashshare]