Clocks are usually something many of us take for granted when we look at the time. We rarely take time out to see the design of the clock and how it works. Let's face it, most clock designs are boring and hold little character. Having a creative and weird clock can spice up your living space and bring new and interesting mood if designed well.
The clock is one of the oldest human inventions, meeting the need to consistently measure intervals of time shorter than the natural units: the day; the lunar month; and the year. Devices operating on several physical processes have been used over the millennia. The evolution of the technology of clocks continues today.
In this article we've gathered 35 Creative and Weird Clock Designs you probably haven't seen before, these clock designs are super cool and bring a whole new meaning to clocks.
Woodpunk
(Designer:Â Sergey Valiukh)
11+ World Clock
The 11+ World Clock reinterprets the traditional functionality of the clock by creating a unique and playful interaction between the user and the design. Although the face of the World Clock may not seem out of the ordinary, its cylindrical body allows it to display 24 different time zones via a clever rolling mechanism. Independently working hands allow the clock to be quickly rolled back to any of its 24 time zones, while immediately transitioning back to the local time. (Designer:Â cloudandco)
The "Clock"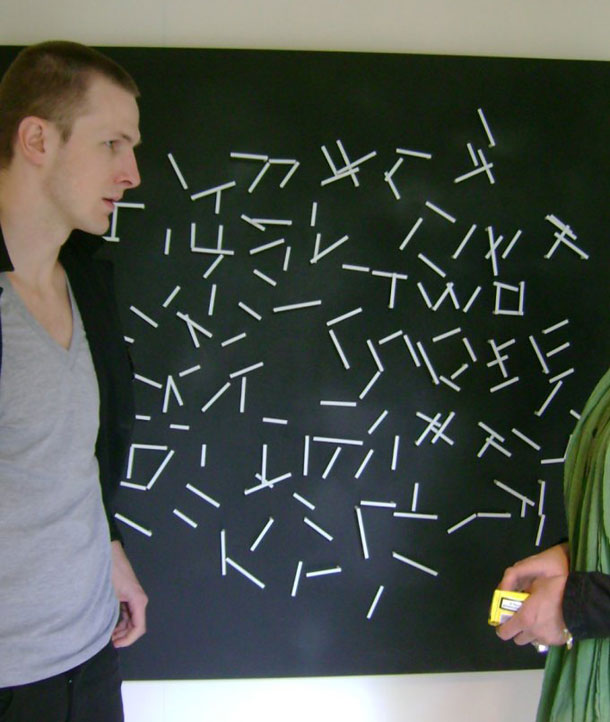 More than 150 individual clockworks are put together to become one clock. Reading clockwise, the time being is visible through a word and readable by the completeness of the word, 12 words from "one" to "twelve". (Designed by Christiaan Postma)
Clock Made From A Recycled Bike Crank
This clock was made using a recycled bicycle crank gear and a new quarts drive movement. The clock measures approximately 8.5″ in diameter. It would make a great conversation piece on your wall or great gift for that biker you know who is so hard to shop for. (Designed by pixelthis)
Recycled Vinyl Clock
The clock hands are crafted out of plastic, and the minute hand is cut to mimic a record player stylus. These one-of-a-kind clocks are simple to wind and install due to the easily accessible mechanism at the back and the simple loop hook for hanging. (Designed by: The Grateful Thread)
Non Ti Scordar Di Me
An artist's review of the diary and memorandum. It is composed by many small plate pieces cut and assembled at random. (Designed by diamantini & domeniconi)
Little Time
The time-teller literally displays 'little time' – the numbers on the timepiece are represented in a microscopic size. However, the hands of the clock include magnifying lenses,enlarging the numbers as they pass over them, so that they become readable,bringing attention to the current hour. (Designed by Rafael Morgan)
Whatever Clock
Funny clock features black rim with "What Ever!" dial face and novelty arabic numbers. This unique clock can spice up your modern room. (buy)
Continue Time
On this Continue Time clock, two out of the three pointers rotate around another pointer, instead of the central point on the clock face, as with traditional clocks. The resulting kinetic artwork, and fully functional clock, is continuously changing its shape during a full rotation of twelve hours. (Designed by: Sander Mulder)
Tik Tak Clock
Designed by Habitat
Sundial Clock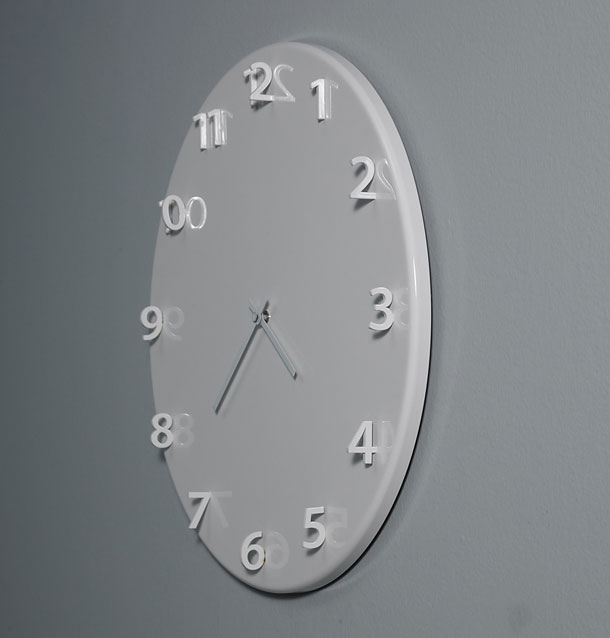 The circular metal disk holds each of the twelve numbers perpendicular to the surface which become evident when their shadows are cast on to the painted white base. When viewed straight on the numbers appear to be a series of simple, parallel lines unlike the playful overlapping numbers which are visible when viewed from the side. (Designed by: frontdesign)
Manifold Clock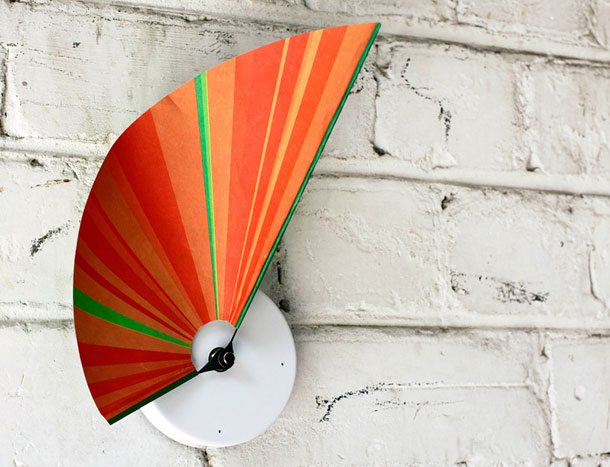 A wall mounted clock with a manifold that connects the two hands to create a 3D movement. At any given moment the manifold is located in a different position and different parts are seen. As the hour can be understood according to the traditional location of hands, a new reading of time is created. (Designed by: studio ve)
Around Clock
The Around Clock is a cylinder with numbers and markings that rotates to show the time as identified by the red wire. (Designed by Lexon)
Color Blind Clock
Take a closer look and you will see numbers hidden in amongst the spots. This clock is made of strengthened glass and will hang on a standard picture hook. (Designed by: Sono Design)
Pop Quiz Clock
Think back to a time when you were a young geek. Sure, you were brilliant at math, but being asked to solve problems on the chalkboard… That's the stuff of nightmares. Thankfully, that time is over… Or is it? The smell of chalk, and the feel of the blackboard is still fresh in your mind. If you close your eyes, you can almost feel the eyes staring at your back as you labor to engage your brain and simplify the polynomial. (link)
Definition Of Time
This clock is not really suited for easy time telling but the piece is quite sculptural easily making it a centerpiece in your home. (Designed by Wooteik Lim)
The Meaning Of Time
You can use just about anything as long as it fits through the holes. (Designed by Bomi Kim)
RND Time
The most unusual feature of this clock lies in its entirely random application to the wall, hence the name "rnd_time", where "rnd" is used to indicate the random factor. (Designed by Rnd_lab design group)
Clock Of Many Petals
Each petal represents 5 minutes. Every half an hour, you've got 6 new petals. Each time a new hour begins, a new petal begins to expand. (Designed by Rafael Assandri)
Re Vinyl
Re Vinyl is an upcycling product fashioned from old vinyl records. By altering the functions of used products for new uses, it effectively reduces the disposal of potentially useful materials and the consumption of new raw materials at once. Discreetly crafted on the theme of scenography or animal creatures, the collection comes in a variety of story-telling silhouettes while retaining the grooves and record labels reminiscent of the heydays of acoustic recordings. (Designed by Pavel Sidorenko)
Cutime
Clock made from saw blade. (Designed by Flusso Creativo)
Mhin Clock
Mhin is made from ceramic (body), rubber and metal ('hands'). Its function and form constitutes a solid simplicity not firmly set in any era or movement. These decisions were made in order to aid longevity and ensure that the design intent remains intact over time. (Designed by James Tobin)
Redundant Clock
Redundant Clock uses hands oriented toward the hour markings for its hour markings. (Designed by Ji Lee)
Clock Made From A Recycled Magnetic Tape Reel
This clock was made from an old magnetic tape reel that was headed for the trash heap. It is approximately 7″ in diameter and comes complete with a new quartz drive and runs on 1 AA battery. (Designed by pixelthis)
Dish Time Clock
Designed by: Lau Design
Clock Made From A Recycled Bike Wheel
This clock was made from a recycled aluminum Mongoose bike wheel. The wheel mounts directly to the wall through the hub using a hollow wall anchor and gives the illusion that it is floating off the wall. The clock movement is a high torque German quartz movement and is attached to a set of rear cassette gears to conceal the movement. (Designed by pixelthis)
Turntable Clock
This clock was created using a recycled Sanyo turntable and a Ronco's Greatest Hits album titled "Get It On" which is replaceable. (Designed by pixelthis)
It's About Time
A clock using the hands as a call to action for the sake of the environment. Two clear discs, with type printed on, rotating to communicate the message and the time. (Designer: unknown)
Mike Mak Clock
Clock consists of two eyes and they turn in order to show time. (Designed by Mike Mak)
Book Clock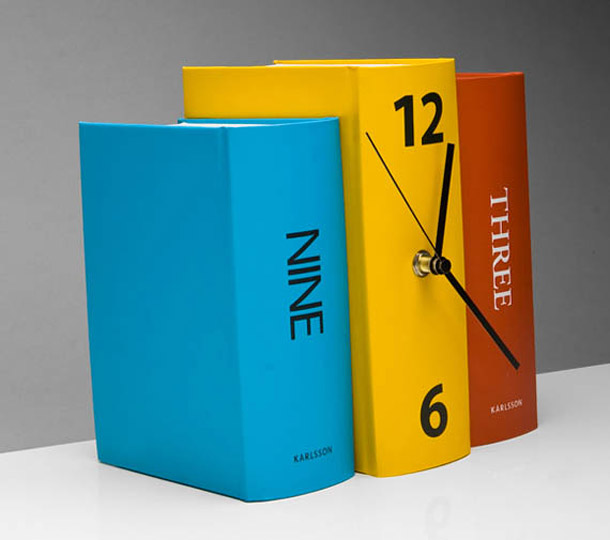 This stack of colorful books function as a clock. A perfect disguise on any bookshelf. (buy)
En Suspend
Clocks deliver three useful items in one a mirror (stainless steel), wall clock, and hook. (Designed by diamantini & domeniconi)
Uomino Clocks
Uomino is an appropriate clock for people always on the go since it quite literally gives the impression that time is running away. (Designed by diamantini & domeniconi)
24h Sentence Maker Wall Clock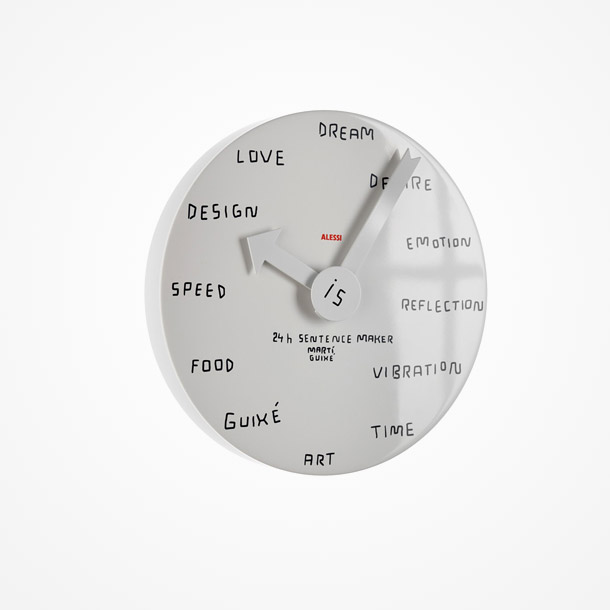 A way to measure time with sentences. The different hours are words and the word IS is written in the middle of the clock. A new sentence every hour, 24 sentences a day. (Designed by Marti Guixe)
Butterfly Clock
Butterfly clock mirrors, a poetic representation of time and those important moments of life that fly away. (link)
Domino Clock
We live in a hectic world. Alerts, alarms, and reminders prod us through our days with unforgiving precision. Challenging this pressure-filled environment, the Domino Clockâ"¢ takes a simple, iconic object and transforms it into a new way to tell time. (Designed by by Carbon Carbon Design)

[mashshare]