Looking for some cool DIY Projects for teens? Being a real teen means working with sports, juggling school or music practice, and just being on the go generally.
These are your golden years. These DIY crafts for adolescents are easy and enjoyable – and you will really need to make them. So I've put together this insanely amazing roundup of great and smart craft ideas there is plenty of dumb lists out there. Have fun!
1. How To Make Letter Art With Thumb Tacks
via diyready
We picked up thumb tacks at the dollar store for this quick, inexpensive and stylish decor. Design your DIY craft with the word of your choice.

2. How To Make DIY Coasters Out Of Instagram Prints
compliments of adashofash
Make a statement with your favorite photos! Plus, you get to share and enjoy them.
3. Tiny Succulent Cork Planters
We love tiny little crafts and we love succulents. What more could you ask for than a craft that uses both?
4. Duct Tape 101
(For more awesome DIY duct tape ideas, check out our post on the basics of duct tape making).
Here are some cool things you can make with some duct tape and a little patience. You can make lot's of really neat stuff.
Here's a simple video if you're having trouble:

5. How To Make A Flower Pen Using Duct Tape
Aren't these flowers super fun? I can't wait to try to make my own using different colors that I like.
via whawillwedotoday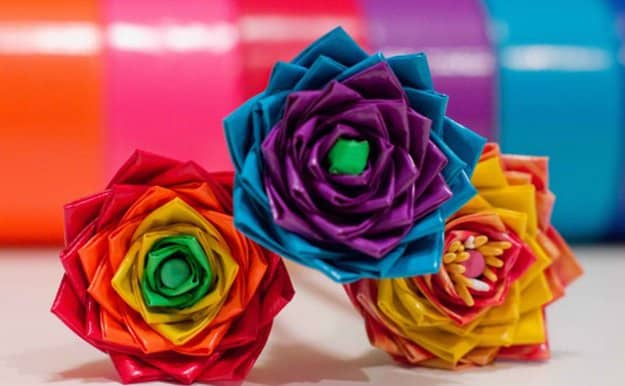 6. How To Do Nail Tape Art
This is a great slumber party favorite. Impress your friends with your tape art know-how.
via diyready
7. DIY "Play Ball!" Baseball Bracelet
via:Â icanfindthetime
A great gift idea for girls or boys – it's up to you. All you need is an old baseball and you can make this simple bracelet. Check out how it's done:
8. Tie Dye T Shirt Using Sharpie Markers and Rubber Bands
via Pinterest
All you need for this is a mason jar, rubber bands, alcohol, and some creativity.
9. Sharpie Mug Ideas (Cool gifts for your friends).
Love, love, LOVE this blog. Her idea is so cute.
via homeheartcraft
1o. How To Make A Rideable Easy Segway
via (instructables)
While this may look like a time consuming project, instructables.com tutorial assures that this can be done at age 12+! What a fun weekend project.


11. How to Build A Drone
This project may take some adult supervision. I would say ages 15+ can probably build this with a little bit of help! How cool are they?
via kickstarter
12. DIY Phone Cases You'll Actually Want To Make
via mrkate
13. Galaxy Printed T Shirts
Seriously!? This is so cool and I can't believe I've never thought of it. All you need is a little bleach and voila. You have your own galaxy printed shirt. Check out how its done on byhandlondon'sblog.
 14. How To Build A Ship In A Bottle
via instructables 
15. How To Make Ramen Noodles Relatively Healthy
via instructables 
Here's a basic survival guide to living off Ramen noodles. If you add a few ingredients you can have Ramen everyday (Well, sort of).
16. But First…Let me make Guacamole.
via instructables 
17. How to Make Homemade Queso
via instructables
This is the easiest darn queso recipe you ever did see! Cheese addicts beware.
18. DIY Custom Colored Candy
Who doesn't love sugar? Check out this awesome custom colored candy tutorial on papervinezblog.
19. Custom Wrapped Text Books
(Note: This is only for personal text books as the Modge Podge will ruin the covers!)
How cool are these patterns? You can make your own custom patterns or buy craft paper from your local craft store. Thanks for the lovely photos, gorgfabgoodies.
20. How To Make A Real Peony Headband
So the website may look like it's solely for bridal pieces, but something there is something very wearable about this piece. You can custom choose whichever flower you'd like on it. Perhaps a sunflower? Check out how it's done here
21. How To Easily Stud Your Duds
Check out these awesome Chuck Taylor's! I've seen them being sold in the store and they can be pricey. Save yourself some money and make your own at home.
via trinketsinbloom 
22. DIY Easy Rings
23. DIY Designer Inspired Horn Earring
Ok, so you want to look cool and might not be ambitious enough to gauge your ear holes. No worries. Thanks to runwaydiy and this awesome how to tutorial you don't have to! Check it out.
24. How To Make DIY Friendship Bracelets
via diyready
25. How To Make A Duct Taped Purse
via romanceonadime
26. How To Make A Bowl Out Of A Balloon and Confetti
This may look like a cool project for little kids, which it is, but it is actually a super looking craft that even adults enjoy making. This one uses confetti, a balloon and regular school glue to make a beautiful, unique bowl. For those so included, you can make your own custom colored confetti, either with a hole punch or scissors, and then create a confetti bowl in the colors of your choice.
27. Make Chocolate Banana Pops
via makezine
Yum! These look so delicious! A somewhat healthy treat for the athlete on the go.
 28. How To Make A DIY Tin Lantern
29. How To Make Teen Subway Art
via nelliebellie
Make a lovely collage of all your favorite quotes and sayings to get you through the day. Very cute and inexpensive to make!
30. How To Make Wooden Stamped Hangers
via thesitsgirls
31. Make Some More Coasters With Chalkboard Paint
via westermanfam:
First, you need to make chalkboard paint, check out:
Then, check out the tutorial for these cool coasters that allow you to draw whatever you'd like on them.
32. How To Do Water Marble Nail Art
via diyready
33. Draw On Some Rocks With Sharpie
If you're artistic this is kind of the perfect gift idea.
via pinterest
34. Simple DIY Refrigerator Magnets
These are just the cutest thing! Check out the awesome how to tutorial here 
35. DIY Candle Holder Out Of A Soup Can
This idea is super cool. All you need is a tea light. Up cycle an old soup can and voila! You have your own DIY candle holder
via puregreenmag
36. How To Make Mustache Cake Pops
These are adorable! I have to try these at home some time…

recipe courtesy of lusciousconfections

photos courtesy of thepintsizedbaker

via DIYReady

[mashshare]