Lock and key tattoos are a clever idea. One of the most popular tattoo designs to get is the lock and key tattoo. Popular with both men and women, they can have a variety of meanings, sizes and styles. We've found some creative lock and key tattoos that showcase how clever this tattoo design can be. Here we have 38 inspiring lock and key tattoo design ideas. These lock and key designs will help you choose what style of tattoo to go for.
This lock and key symbol can portray a variety of styles including lock, padlock, key with added color schemes and decorated with jewels and ribbons. They are stunning, high color tattoo designs.
Possible Meanings of a Key-and-Lock Tattoo
Many different interpretations and meanings can be associated with the key and lock style tattoo. Of course it might be the case that your tattoo may mean different things in the minds of those who view it. In the end, it means what you the wearer of the tattoo ultimately want it to mean. Below, you can find some meanings behind what lies behind the key and lock tattoo.
Lock and Key Tattoos Meanings
Freedom Tattoos. I and no one else control where I go and what I allow. My destiny is my own to control.
Locked up. Controlled, but totally protected.
Eternal love. A sturdy device protects our commitment to each other.
Change. A simple turn of the key can make everything change.
Keepsake. I'll never forget this precious relationship.
Security, safety, protection. I invest lot of effort to protect what I love and cherish.
Valuable. My body is precious to me and belongs to me alone.
Imprisoned, locked away: Prisons of various kinds are real. Not all of us are free in this world.
New beginning. A turn of the key in the lock finally releases me from a cage where I was bound into a whole brave new world. I am free from my past life. While I was a prisoner but then I made some changes and am moving on to better things in my life.

Coupling and joining Tattoos. Sexual imagery can be subtly conveyed by the key and lock and its surroundings: piercing, penetration, joining, total compatibility. Sometimes the lock or key tattoo inlcudes an illusion of piercing the wearer's skin.
Chastity Tattoo. Of course, there was the medieval chastity belt. A tattoo of a lock doesn't have to mean chastity literally, just that there are defenses against unwanted intrusion.
Learn more about Lock and Key Tattoo
Take a Look at These 38 Inspiring Lock and Key Tattoos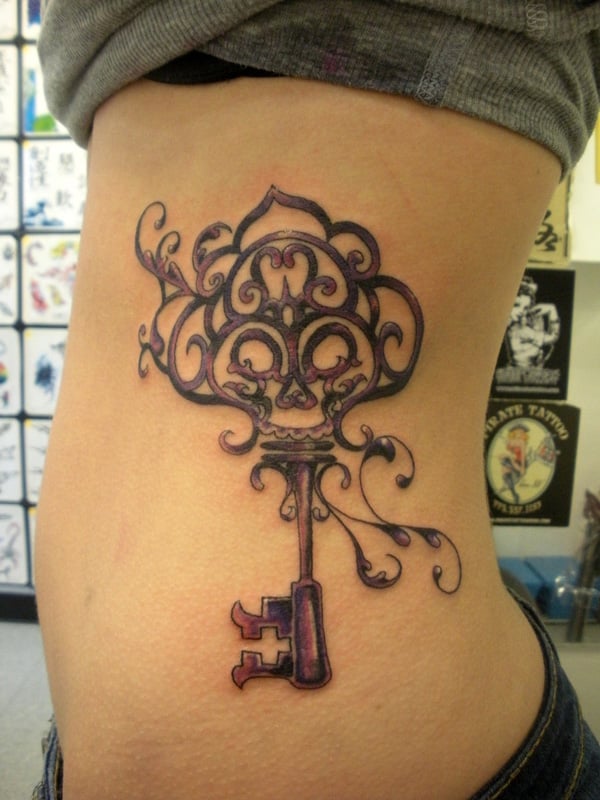 [mashshare]