If you're into history and design, you'll enjoy these 6 Minimalist Pictogram History Posters. Depicting six historical events in simple pictogram form ranging from The History of Jesus, Michael Jackson, Julius Caesar, Bruce Lee, Darth Vader and many others. Italian designer Matteo Civaschi of the H-57 Creative Station made a wonderful series of minimalistic designs and showcase a fun way to portray history.
What is involved in a life? Birth, school, work, love, family and death? When we look at a historical figure what events do we think about? These posters have chosen the some famous people and have condensed their lives into minimalist pictogram history posters.
These historical character have there lives condensed into a minimalist pictogram storyboard poster. Designed by Milan-based design studio H-57, these works might all have some interesting and cool elements about the style.
"The pictogram history posters were born out of an art-like collaboration with the website First Floor Under, which is a creativity and photography blog, a digital publishing house" says a representative from H-57.
"We had the honor and the luck to be selected for the part concerning design and typography, and that's how H-57 started its section called Typodesign. The short stories made with pictograms were born from the idea of creating something funny and ironic, linked with the world of infographics."
H-57 works as a advertising agency, design studio and experimental laboratory.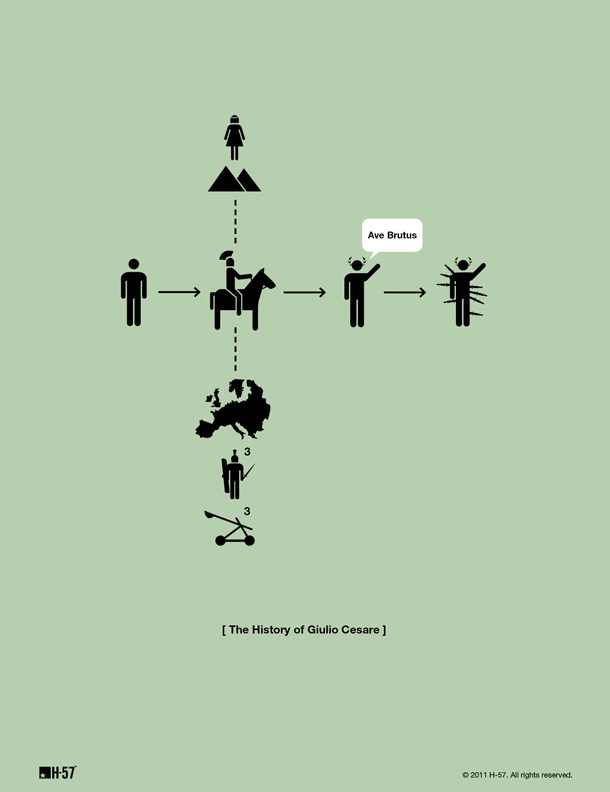 [mashshare]