If the bathroom is on your list of rooms to update, don't underestimate the importance of lighting. How a bathroom is illuminated can make a huge difference to its ambience. As the bathroom is a room in the home that we use every single day, it's ironic that when it comes to interior lighting, bathrooms get the least consideration of all the rooms in the house.
Peering into a poorly-lit mirror first thing in the morning and trying to apply makeup, or have a morning shave, isn't going to get your day off to the best start.
Super bright ceiling lights shining in your eyes when you take a soak in the bath in the evening aren't going to help you wind down either. The last thing you need when taking a relaxing bath is to feel like you are being interrogated!
Bathroom lights should do more than simply provide some form of illumination. They are there to make your morning routine bright and your end-of-day soak in the tub relaxing. Of course, practicality is key but a room designed for pampering and relaxation must have the option for low-level ambient light.
There may not be much you can do about the size or orientation of the room itself, but when it comes to bathroom lighting design there are plenty of options available. See some great bathroom lighting ideas here.
The trickiest aspect of bathroom lighting, and the reason many people shy away from making changes, is the fact that there are strict regulations when it comes to the type of lights you can use in a bathroom and where. For the purpose of lighting and for safety reasons, bathrooms have different zones (find out more in Universal Lighting's Guide to bathroom light zones here).
Before renovating a bathroom, always think about the lighting first. Think about any features you would like to highlight and the times of day you use the bathroom. Is there any natural light? The bathroom is the best room in the home to install a skylight as it not only brings in more natural light (bathrooms have a tendency to feel dark and dingy), but can vent steam and let in fresh air.
Natural light also happens to be the best light for applying makeup.
Here's a quick round up of the types of lighting you will want to consider to ensure your bathroom is illuminated perfectly at all times of the day or night.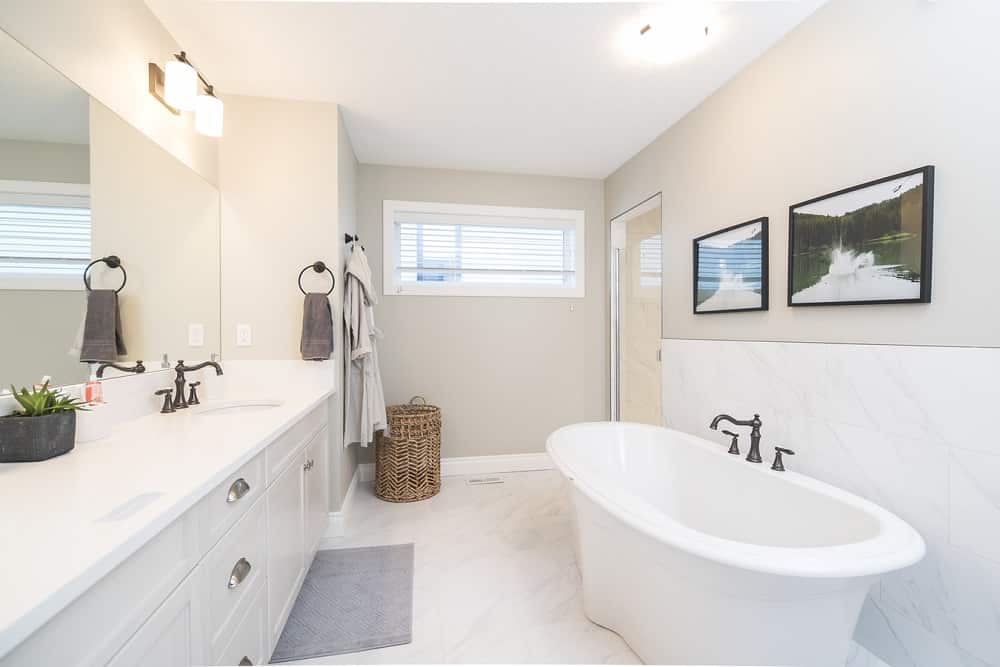 Let's start with the most obvious place – the ceiling. This is one of the most important light fittings in the bathroom to get right. Your bathroom could be one of the smallest rooms in the home and may not even have a window, so effective lighting is essential.
Good overall illumination is best provided by modern or traditional flush and semi-flush ceiling lights. For greater impact, consider a crystal bathroom chandelier or a contemporary spot bar to add target lighting where needed.
Make sure that all ceiling fittings have a minimum IP rating of IP44, which makes them suitable for bathroom zones 1 and 2. See more about IP ratings and technical tips you must know here.
For a more streamlined, modern and space saving aesthetic in the bathroom, downlights are hard to beat, and a popular choice. A down lighter is a steel or cast aluminium lamp holder with a decorative fascia that is held into the ceiling using clips. Available in a wide range of designs, colours and finishes, including metallic (chrome, brushed chrome, brass and nickel), they are easy to fit and give great illumination.
Downlights can be installed as low voltage or mains voltage options. Low voltage downlights will require a transformer, making the purchase of the fitting and bulbs a little more expensive. However, they tend to have a brighter light and longer bulb life. Mains voltage downlights and bulbs are slightly cheaper, and energy saving dimmable LED replacement bulbs can be used.
Jet proof shower lights can be used above a shower. These consist of sealed units behind a glass front which protects from water and steam. An IP65 rating is required for shower lights.
Wall lights are an important addition and can be used in isolation to ensure a relaxed ambience or to light up a particular area in the bathroom, such as a vanity unit or basin. They are a great solution for getting rid of shadows and gloomy corners in the room, and useful for illuminating bathroom mirrors.
Adjustable wall mounted spotlights enable you to direct light to the exact point where it is needed. Use them as target lighting or point upwards to add soft lighting to your bathroom. If you are using halogen bulbs, be aware that these can get very hot, so it's a good idea to keep them well out of reach.
Mirrors are a great way to maximise light in your bathroom and have the added benefit of giving the illusion of extra space. Combine your bathroom mirror with over mirror lighting or choose an integrated design to deliver a beautiful bathroom feature.
Whether you use your mirror for shaving, face cleansing or just general everyday use, good lighting will illuminate your face to ensure there are no shadows, making your personal hygiene routine a whole lot easier.
Always consult a qualified electrician to check and carry out any lighting installations for you, particularly in the bathroom. The combination of electrics and water can be life threatening. An experienced and qualified electrician will ensure work conforms to safety regulations and keep you safe. With a range of lighting options installed you'll have the perfect illumination for your morning makeover and for your evening soak.