For your use we present a collection of free Adobe Photoshop brushes for 2016. Adobe Photoshop, whichever version you happen to use is a powerful graphics applications that is largely responsible for many of the excellent posters, leaflets and commercial images that you see in print and within online media. Creating some of the amazing visuals and text effects seen on certain text and image designs can be hard, long and laborious work.
It does not matter whether you are using Adobe Photoshop 4 or Adobe CS6. The exact methods might change but complex text designs and image effects still require an accomplished user to create them from scratch.
This is where Adobe Photoshop brushes play their main role in assisting designers and graphic artists in their work. In Photoshop the purpose of a brush is to simplify what would otherwise be considered highly specialized and time consuming graphical effects.
The Benefits of Using Pre Developed Brushes
The main benefit of using a brush is to save time and resources. Apply the brush to your digital canvas and set the variables and for the most part that is all the input a designer has to worry about. Of course many graphic designers who use Adobe Photoshop are perfectionist anyway and love to tweak their work, the placement of layers and brushes and so forth.
Nevertheless a good collection of powerful and free Adobe Photoshop brushes is the graphic designers digital equivalent of the war chest. Essential digital weapons to aid the process of working with fonts, photography and text effects. There's a huge variety of free Adobe Photoshop brushes available on the Internet ranging from complex leaf and organic material designs to fabric textures, cloud and weather patterns to typography and fonts.
Brushes can save some serious time when adding design flourishes to artwork and text designs. In short they make graphic designers and users of Adobe Photoshop so much more productive. While we have covered brushes in the past there are always new Adobe Photoshop brushes being developed so we've rounded up our favourite free Photoshop brushes for 2016.
The Best New Free Adobe Photoshop Brushes
So whether you're using CS3, an earlier version of Photoshop or have recently joined the Creative Cloud. Just grab the free Adobe Photoshop brushes listed below and start implementing amazing new design flourishes to your creative work now! These brushes are the most recent for mid 2016.
Dry Brush Strokes Set : A set of 12 awesome dry style  brushes from Chris Spooner. These high resolution dry Photoshop brushes are perfect for a range of design tasks,  detailed brushes, bristly and texture rich.
Fairy Tales Brush Set : A useful collection of enchanting fractal brush styles gathered together under the collective theme of fairy tales due to their magical and mystical appearance. Perfect for any kind of fantasy art or Sci-Fi.
Fire Art Brush Set : An amazing collection of fire and burning flame style Adobe Photoshop brushes. So perfect for your bolder design projects, these flaming brushes will allow you to experiment with flames, smoke, glowing embers, characters and burning landscapes.
Strokes and Splatters Brush Set :Â Add stunning strokes and messy splatters to your creative designs and logos with this set of over 25 free high res strokes and spatters style Adobe Photoshop brushes from Brusheezy.
Grimy Dirty Brushes Set : We all like getting down and dirty with our brushes. Now you can with these filthy, grimy brush sets. A useful set of dirt and grime styled Photoshop brushes for adding a bit of dirty muck and dust to your graphic designs and images, this collection of five brushes from Mattox Shuler is understated but incredibly powerful and flexible.
Moon and Spells Brush Set : The moon is just so cool and haunting. Sometimes it is full, often just a crescent. Other times it fill the sky and casts a eerie glow across the land. Whatever you need for moon brushes we have them here. Perfect for haunting images and night time poster design by moonlight.
Technical Brush Set : A beautiful set of ten illustrative technical brushes for Photoshop that use a technical, engineering drawing theme. These technical brushes include wonderfully detailed cross sectional designs suitable for a range of technical or engineering style artwork, text or graphics.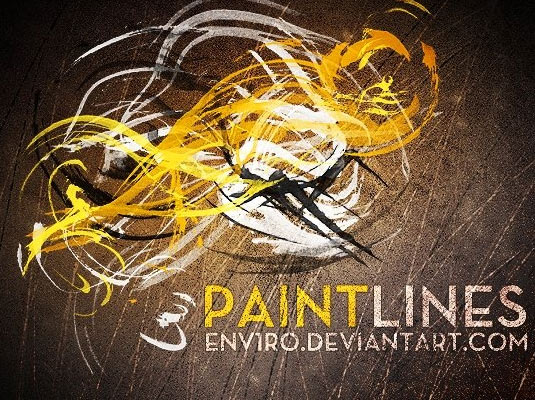 Paint Lines Brush Set : With this crisp unique set of paint themed brushes you can quickly add the look and feel of decorative paint brushes to your work or digital canvas. From sweeping brush stroke to finer details. Some of these brush effects look like paint tin marks, while others are much thicker, providing lots of design options within the pack of Photoshop brushes.
Final Thought
These useful brushes for Adobe Photoshop and the Creative Cloud will enhance your art and design work. Perhaps in ways not thought previously possible. At the same time while saving a significant amount of time in the process of designing new text effects and stunning imagery with that all important wow factor. The best part of all is that these are all free Adobe Photoshop brushes that you can use anytime you have need of extra graphic design tools.