If you're looking for some of the Best Twitter PSD Freebies, this collection is for you! Twitter is a must use tool if you're a Designer or Developer looking to spread the work about your portfolio or business. Having high quality Twitter PSD Freebies can be a fantastic resource to have on tap. If you're a Graphic Designer looking for a quick solution for a Twitter PSD, whether it's for a client or personal use, you'll love this collection of Twitter PSD Freebies.
Creating Twitter PSD's from scratch can be both time consuming and complicated, why not save yourself the stress and download these twitter psd freebies!
Today we've gathered 32 Best Twitter PSD Freebies, ranging from Twitter Icons, Twitter Bootstrap, Twitter Grids, Twitter GUI, Twitter Icons and Twitter Widgets. Twitter is an essential tools for both personal and business use. We hope you enjoy these Twitter PSD Freebies!
Twitter UI
Twitter Thing
Twitter Tweeter
Free Twitter PM Popup
Twitter iOS Icon [+PSD]
Twitter GUI PSD – free download
Twitter Widget
Twitter Icon PSD
Free Twitter Background Template
Clean Popup UI
Twitter Button Free PSD
Another Twitter Thing
Twitter Follow Button
Twitter Controls PSD
Twitter Profile Widget
Free Bootstrap 2.0 Psd Template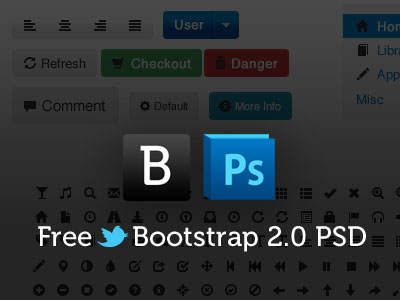 Freebie : Twitter GUI PSD (New home template)
Animated Twitter Widget
Freebie: Twitter Buttons PSD
Twitter Social Infographic
Bootstrap Grid PSD Template
twitter for osx —freebie psd
Twitter UI Rebound
Twitter Hashtag Button – Vector Freebie
Freebie: Twitter 2014 GUI PSD
Twitter Rebound PSD
Twitter Interface PSD
Twitter Profile Widget PSD
Twitter Bootstrap Responsive Grids
Twitter Bootstrap 3 PSD
Twitter Brand Profile Template
Bootstrap UI PSD Template