We are never without a camera now that we all have smartphones. That means almost every opportunity we get, we try to snap the perfect picture. Sometimes while looking back at the photos we've captured, we notice something is a little off about them. Can you tell what's wrong with these photos?
Posing
Groups of girls love to get to perfect photo to post on their social media. If you notice in the background, there is a man who wanted to be part of the picture sitting on a float in the ocean. He definitely got the hand gesture right.
Objection!
Having your boyfriend propose to you is one of the happiest days of your life. A lot of people want to capture the moment, so they will hire a photographer or ask a friend to hide and take pictures. Well, this person photo bombed the engagement moment with a sign that says, "Say no."
Stuck
This girl was super excited to go to the grocery store and wanted to document the moment. Take a closer look at the freezer in the background though. Do you notice something that doesn't quite belong?
Third Wheeling
Nobody likes being the third wheel when going out with friends, especially if it is with a couple that loves to take pictures. This friend wanted to get in on the action, so he snuck into their cute pic.
Chilling Out
This photo looks like an ordinary group of friends chilling on a bench. Take a closer look and you'll notice that they aren't sitting on anything! They are doing the dreaded wall sit exercise, but look so chill doing it.
Penguins Everywhere
We all know how hard it is to get a good picture of an animal at a zoo. This guy nailed his selfie with the penguins. It looks like the penguin was even posing for him.
Love Is in the Air
After a long hike up to this lookout point, this couple wanted to get the perfect photo together. However, it was their adorable puppy that stole the shot by peeking his head out from the rocks.
Please Don't Throw Me
This pup is so small that you just want to throw him up in the air. It doesn't look like he enjoys being tossed too much though.  
Ladies' Night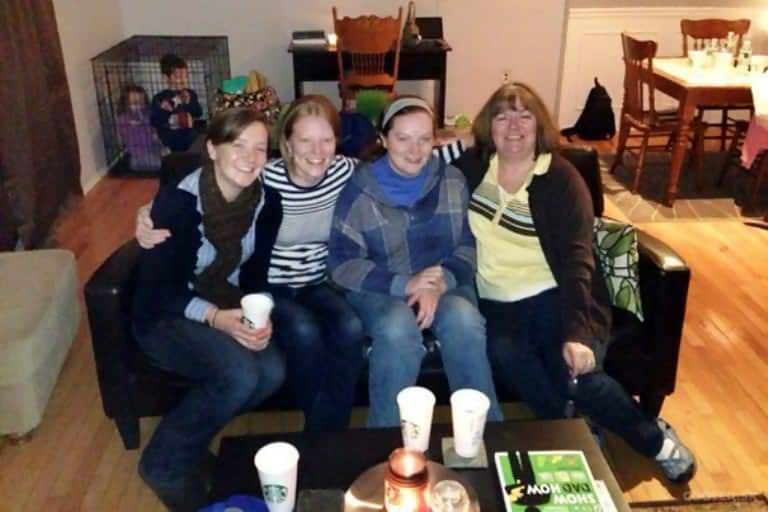 As a mom, sometimes you need some peace and quiet while getting together with your girlfriends. However, getting a babysitter can be pretty difficult. So, these mom's simply put their children in the dog's crate to make sure they didn't get into any trouble.
Waldo Who?
Wedding pictures are a must, especially when it comes to the wedding party. Take a closer look though and you'll notice a man dressed up as Waldo lurking by a tree in the background.
Just Hanging Out
A lot of people will have destination weddings. This couple decided to get married in a tropical place with some pretty interesting animals. This little sloth made his way into this couple's wedding photo and he had the most perfect pose.
Enjoying the Game
People of all backgrounds love watching a good baseball game. Sometimes even pirates, like Jack Sparrow, enjoy watching the occasional pitch.
Peek-a-Boo
This person was trying to be artsy with her sunflowers, but she had a surprise guest enter the frame. Look at the bottom right corner and you'll see a curious little kitty peeking through.
What Are You Doing?
Imagine being a dog and watching your owner do all of these weird things like taking photos of himself. This dog isn't only confused, but also seriously judging his owner for being so self-absorbed.
Star Struck
It can be awkward to go up to a celebrity while they are out in public and ask to take a picture with them. So, respectfully, this person decided to have his picture taken with Radiohead singer Thom Yorke in the background while out at a restaurant.
Hiding from Responsibilities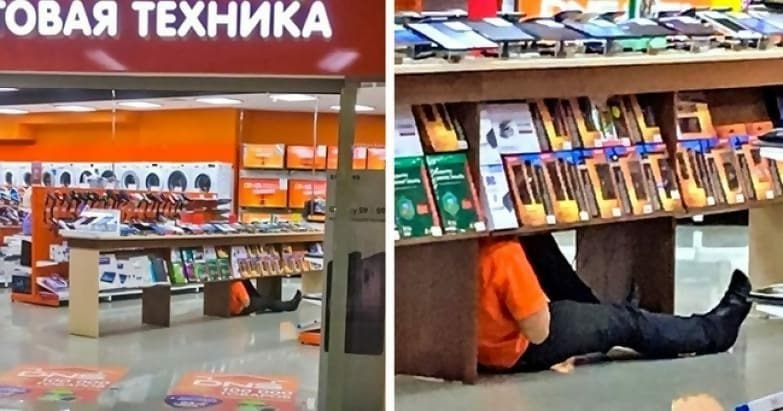 Working in retail is no walk in the park. In fact, this employee is so fed up with dealing with customers that he decided to hide from his responsibilities. Do you think anyone will notice he's missing?
Two Cats
You probably wouldn't believe us when we say that there are two cats in this picture. Of course, you see the first one standing right in front of the television stand. Can you spot the second? We'll give you a hint, it's under the pink box.
Cold Feet
It looks like this man isn't ready to fully take the leap into marriage. We can only wonder if someone in the crowd helped him out.
What Large Hands You Have
It's all about placement with this photo. This father is so proud of his son, but didn't realize just where his hand was. It looks like this little boy has the hand of a grown man!
Wipe Out
When it comes to surfing, it's inevitable that you will wipe out at least once. However, this photographer caught the perfect moment one surfer wiped out on his board.
When You See It
Someone is getting into the holiday spirit with this beautiful wreath! Take a closer look at the middle window panel, though. You can tell who exactly is so excited.
Look Further
There are two disturbing things about this photo. First, it's the state of this phone charger. Second, what the heck is going on with those shoes? Those are not toes!
Photoshop Fail
It's no secret that advertisements are usually photoshopped. Sometimes the graphic designers make a mistake though and miss some things. This ad in particular added an extra hand on the man.
New Student
Nobody likes being the new student in class, especially if you tend to stick out from a crowd. Take a closer look at who exactly is sitting in this lecture hall.
Going Stag
Just because you don't have a date to a dance doesn't mean you shouldn't go and enjoy yourself. This guy knows how to have a great time, even when a slow dance song comes on.
Graceful
This Halloween party looks like a lot of fun! Although, not everyone is having a good time. Take a closer look at the girl on the steps. You can see her just about to trip and fall down the steps.
Reversed Roles
There are two different types of mothers out there. You have the ones that spoil whoever or whatever they are taking care of. Then you have the mothers who are just trying to get by.
The Perfect Halloween Costume
Halloween is the perfect holiday for introverts. Even when you attend a party, you can be a wallflower and not have it be considered socially awkward. This guy dressed up as a tree so he wouldn't have to deal with making small talk.
Bring Your Pet to School Day
A lot of professors in college are pretty chill and laid back. This professor even let his student bring her baby sheep into class one day because she couldn't find someone to watch it for her.
Delivery Service
Can you spot the friendly helper in this photo? We'll give you a hint! Take a look at the white plastic bin.