We all have embarrassing family photos of us when we were younger. We had terrible style and were probably posing with our siblings. These families decided to take old photos and recreate them in present day.
Bike Ride
This dad seemed to be pretty involved with his sons. However, he should probably rethink the safety aspect of having his son ride on the handlebars.
Halloween
There's nothing like matching Halloween costumes with your siblings. These siblings and their father decided to recreate their costumes. It seems like nothing has changed.
Whitey Tighties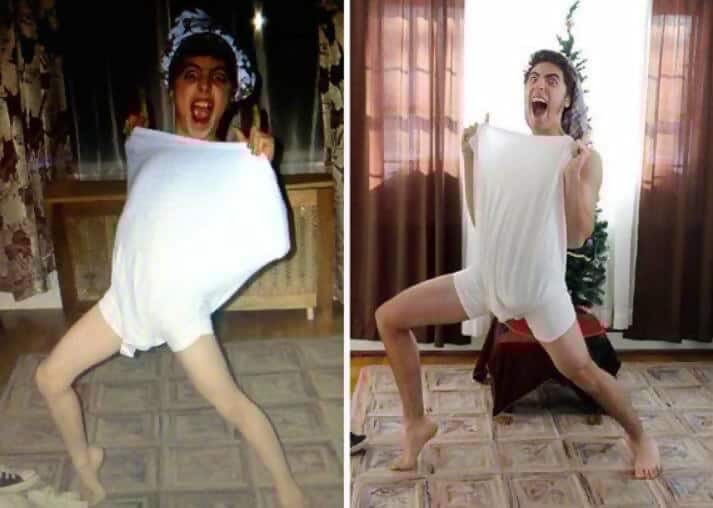 This kid clearly hasn't become shy as he grew older. His personality shines bright in both of these photos and we hope he never changes.
Slipping Up
It's a wonderful thing to welcome a new member into the family. However, this older brother can't seem to hold his baby brother too well.
What a Mess
A common characteristic of kids is that they are messy when they eat. It looks like this kid didn't learn how to use a napkin in his older age.
Beach Bums
There's nothing better than going to the beach in the summer with your family. These siblings decided to bury each other up to their necks in sand. They decided to do it again many years later.
Like Father, Like Son
This son clearly takes after his father. They even have the same expression when they fall asleep.
Fearful Baby
The fear in this baby's eyes is real. It looks like he's still pretty scared of something decades later.
Mud Wrestling
When it comes to having boys, moms can always expect to have a mess to clean up. These boys decided to get into some mud and were proud of show it off. Looks like they still don't mind getting a little messy.
Holy Family
These boys know what it's like to wear their Sunday best and sit in a pew for an hour each week. Looks like they still go to church together even as adults. How sweet!
Halloween Fun
Remember the good old days when your mom would make your Halloween costume? It looks like she's still making her sons' Halloween costumes a decade later.
Same Shirt
There are some items of clothing you never want to give up. This guy loved his Red Nose Day shirt so much that he found it in a bigger size as he grew older.
Uncanny Resemblance
We are surely impressed with this photo recreation. The only thing that looks really different is the cat. Everything else is the same!
JC Penney Photo Shoot
How much did you hate getting dressed up for a JC Penney photo shoot? These boys didn't seem to mind recreating their childhood picture. Although, this time they have much better haircuts.
Portrait Mode

Well a lot has changed over the years for these two boys. The one who had a ton of hair has clearly lost a good amount of it.
Emotional Day
You can tell that these siblings got into a lot of trouble together while growing up. The baby of the family still likes to throw temper tantrums while at the beach.
Wholesome Family Photo
We give these boys a lot of credit for taking their recreation pic so seriously. They went through a lot of trouble getting similar outfits and posing just right.
Larger Seat
Even back then it looked like these boys needed a larger chair to sit on. Somehow they managed to all fit on that same chair again for this picture recreation.
Awkward
The one word to sum up both of these photos is awkward. While it was a little cute when they were kids, it's just uncomfortable to see it recreated as adults.
Rainy Day
Who else loved jumping in puddles during a rainy day? This family lives by the motto, "siblings who jump in puddles together, stay together."
Roles Reversed
When this older brother graduated from high school, his little sister was small enough that he could carry her. Now that his little sister has graduated high school, she can hold him!
Christmas Card
Parents love sending out Christmas cards with cute photos of their children. Although, as the children grow older, they usually don't send them anymore. It looks like they'll have to make an exception this year with this photo recreation because it's so darn cute.
Nervous
It can be a little intimidating to hold a newborn baby. You can just see the nervousness in this big brother's eyes. He's still nervous even when his little brother is fully grown.
T-Rex Arms
These siblings loved running around the house pretending to be dinosaurs with little arms. Looks like they still get a kick out of it even as adults.
Opposite Personalities
Sometimes you come across siblings who are so completely different it's hard to believe they're even related. It looks like their personalities didn't mesh too much more as they grew older.
Same Pose, Different Location
This guy tried his hardest to recreate an old photo of himself. While he got the outfit down pat, his location is a little off.
Too Sweet
This trend isn't just for Millennials. This older father-son duo decided to recreate an old photo of playing outside in the yard. This may be the sweetest thing we've ever seen.
Hulk Hogan
This lucky wrestling fan had the chance to meet with Hulk Hogan twice in his life. The second time he took the opportunity to recreate the first photo they took together. Pretty clever and definitely dedicated!
Plaid Pants
For some reason, mothers love dressing their kids in matching outfits. These boys decided to dress in matching outfits one more time as a gift to their mother. However, we do hope it made her question her fashion choices.
Sassy
You can tell this girl just seeps sass when it comes to her parents telling her what to do. Although, in the recreated photo she can now successfully wear those boots.
Laundry Time
Babies love to play around in laundry baskets and hampers. It seems like it is still a pretty comfortable space for the adults too.
Chef
It's hard to imagine that we were once able to fit in a mixing bowl. While he tried to get back in that bowl, he was just a little too big.
The Reach
Little boys always seem to be touching their, um, private parts. Looks like this guy's habits didn't change too much as he got older.
Tower of Fun
Little kids are so much fun to play around with and throw in the air. It gets a little harder the bigger they get, but this mom doesn't seem to struggle with it too much. The counter definitely helps.
Three Recreations
These siblings were able to get together for two retakes of a childhood photo. Imagine recreating a photo from 50 years ago! It would definitely make a great gift for their parents.
Man's Best Friend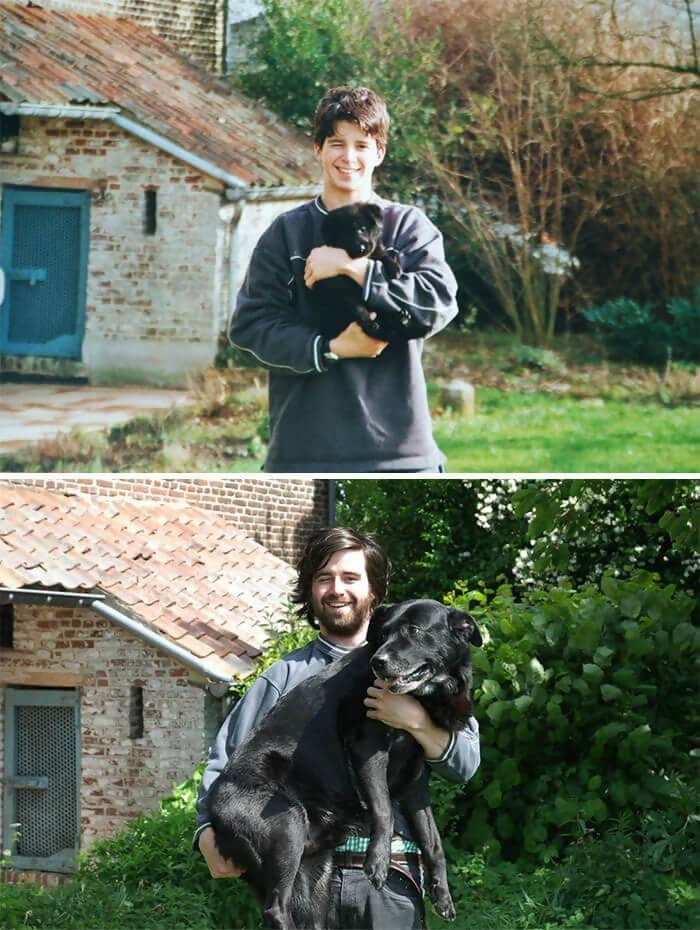 These two have been inseparable for years! It's great to see them grow up together. Dogs truly are a man's best friend.
Thick as Thieves
You can tell just how much mischief these boys got into while growing up. Even as adults you can guess just how crazy they still drive their parents.
The Potty Dance
When it comes to the potty dance, toddlers are the pros. This woman recreated an adorable photo of her with a book with a look of panic that nature was calling. She even got the details of the Band-Aids on her knees right.
New Addition

While this brother and sister recreated their childhood photo, they decided to add in the newest member of their extended family rather than hold a Cabbage Patch Doll. While the poses are very similar, the height difference has definitely changed.
A Born Drinker
This baby knew what kind of beer he had to drink from a very young age. How much would you like to bet that this father-son duo enjoy a Budweiser together pretty often now?
Road Tripping
Road trips with the family can go two different ways. They can be a lot of fun or absolutely miserable. No matter how they turn out, there are sure to be some pretty epic pictures that come from it.
That Fashion Though
There are some outfits that you just have to stare at and question what the heck your mother was thinking when she dressed you that day. We give these kids props for being able to recreate these questionable outfits for their photo retake.
Playing in Buckets
While they couldn't find the same buckets from the original picture, these brothers were able to find yellow buckets that were pretty similar. They really did their best to fit in them too.
Balloons Everywhere
Babies are infatuated by balloons and to be honest, some adults too. This woman clearly has not lost her interest in balloons as you can see in this picture recreation.
Double Batman
What we love about these brothers is that they were able to share the same Halloween costume without it being a problem. That's a good sibling relationship right there.
Dressing Up
How many of you had dress up boxes filled with old clothes from your mom and dad when you were growing up? This brother-sister duo got into their costume box and went all out. Looks like they fit in the outfits a little better when they retook the photo.
Santa's Lap
Taking the kids to see Santa Claus is a tradition for many families. These kids decided to recreate an old Christmas photo from 14 years earlier. However, this time they were weren't all able to fit on Santa's lap.
Story Time
Reading to your kids is important for their development and bonding with them. However, this family seemed to struggle with having everyone pay attention. We can only imagine how chaotic nightly dinner was in this household.
Making a Mess
It's when the toddlers are quiet that you know they are making a mess somewhere in the house. This little girl got into all of the Tupperware in the kitchen as a toddler. So, she decided to recreate the adorable photo for her parents.
Pile on the Love
This adorable photo shows siblings oldest to youngest piling on top of each other by the Christmas tree. 15 years later, they decided to recreate the photo wearing very similar outfits. We just feel bad for the oldest sibling stuck on the bottom.
Helping Dad
Little boys always want to help their dads when it comes to doing things in the yard or around the house. This son decided to recreate a photo of him helping his dad wash the car and it turned out to be pretty successful.
The Creepy Residence
Siblings who can do weird things together end up having some of the best relationships. These siblings, while creepy, were able to share a good laugh with some googly eyes. We can only imagine how much fun they had when they were recreating the photo.
Spaghetti Monster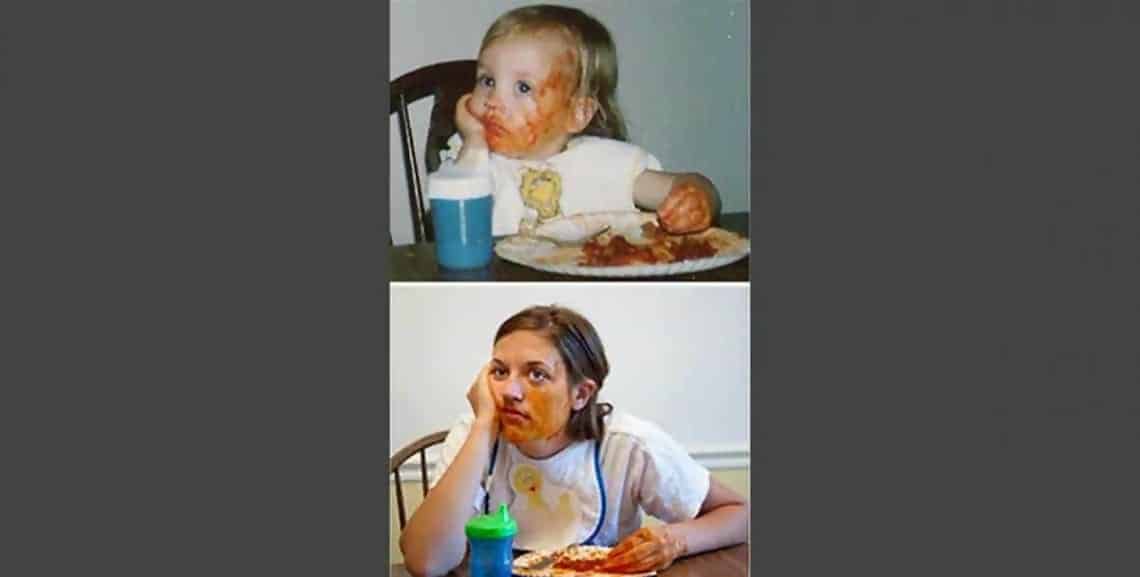 If you want to make sure you have a mess to clean up, feed your toddler some spaghetti. They are guaranteed to get it everywhere and need a bath afterwards. It must have been pretty fun recreating this funny photo.
Not Much Has Changed
The similarity is uncanny in these two photos. We aren't sure just how much time has passed, but it's crazy just how similar this kid looks to his old school picture.
Up, Please!
We must say, we are extremely impressed that this father can still hold both of his children at the same time. At least they still love their dad and want him to pick them up.
Half a Century Later
This photo recreation was taken 50 years after the original. Can you see a resemblance between when these men were children? They have definitely changed a lot.