How to Create an Aesthetic PowerPoint Presentation and Convey Your Ideas in a Stylish Way
Our lives are full of presentations, as we constantly attend educational courses, work meetings, and brainstorming sessions. All these performances often get mixed up in our heads and we hardly remember anything a few days after these meetings.
For many years there was a thought that in order to convince people you need to have a classy and posh presentation. However, nowadays the audience wants to see something different and unusual. It has already been proven that if our brain sees something unique, it grabs this information and remembers it for a long time. That's why we need to think about how our audience will perceive the message and which tools will help to support the ideas.
Since most people are visual learners, having a visually appealing presentation is crucial for them. No matter how unique your text is, it won't be comprehended without clear picture support. However, what to do if you don't have any idea how to make original elements such as icons, 3-D pictures, and diagrams? The answer is simple: find aesthetic and professional-looking templates on such websites as MasterBundles. Investing money in buying a template full of ready-made solutions will pay you back in a short time.
Nevertheless, you may want to craft your template yourself. If it is so, here are 5 tips that can help you to have a stylish performance.
5 ways to create an aesthetic presentation
Pick a soft pastel color theme and stick with it throughout all your performance
It is a psychologically proven fact that people perceive the information given on pastel colors better than on vibrant ones. Furthermore, you can use pastels to evoke feelings of cleanliness and freshness. Such tones will allow people's eyes to relax and focus on your performance.
Put some Illustrations or small designs
Geometric shapes, lines and pictures will add a sense of elegance and minimalism to your presentation. Visual tools will boost understanding of your content and ignite an emotional response. For example, you can use arrows to point to some important information or circles to draw the audience's attention to certain moments.
You can draw or make such illustrations by yourself or use some originally crafted ones in the best ppt themes.
Use Single Images
Pictures help your presentation to be more visually friendly but don't get carried away with the overuse of them. Remember, that your presentation is not a photo album. That's why it will be better to limit your designs to one image with clear or no text.
Keep the Colors Simple
In aesthetic presentations, there is no need to have a lot of colors. Using 2-3 tones from one pastel pattern will make your presentation pretty looking. The combination of shades can be different. You can search some on Pinterest or flip through fashion magazines to get inspired.
Try handwritten texts
This little trick will bring a sense of personality to the presentation. However, it is also important for your text to be readable.
We have covered the list of aesthetic PowerPoint templates that include different types of handwritten fonts and colors that match perfectly.
Top 6 Aesthetic Powerpoint Templates
This PowerPoint template is crafted in pastel colors of green and brown. Everything here is made carefully with attention to each detail.
However, if in your mind the ideal presentation looks another way, you can easily change the colors, graphics and fonts as all visual tools are fully editable.
Thanks to this template, your presentation will look like an aesthetic Instagram blog. This design is crafted in both a simple and engaging way. With its clarity, this template will attract your audience and make your performance visually appealing.
The template is made in purple colour, which is usually associated with wisdom and luxury. That's why it will find a perfect use during all kinds of meetings: from daily gatherings to seminars and brainstorming sessions.
You will also find there originally crafted shapes and diagrams that will support your message.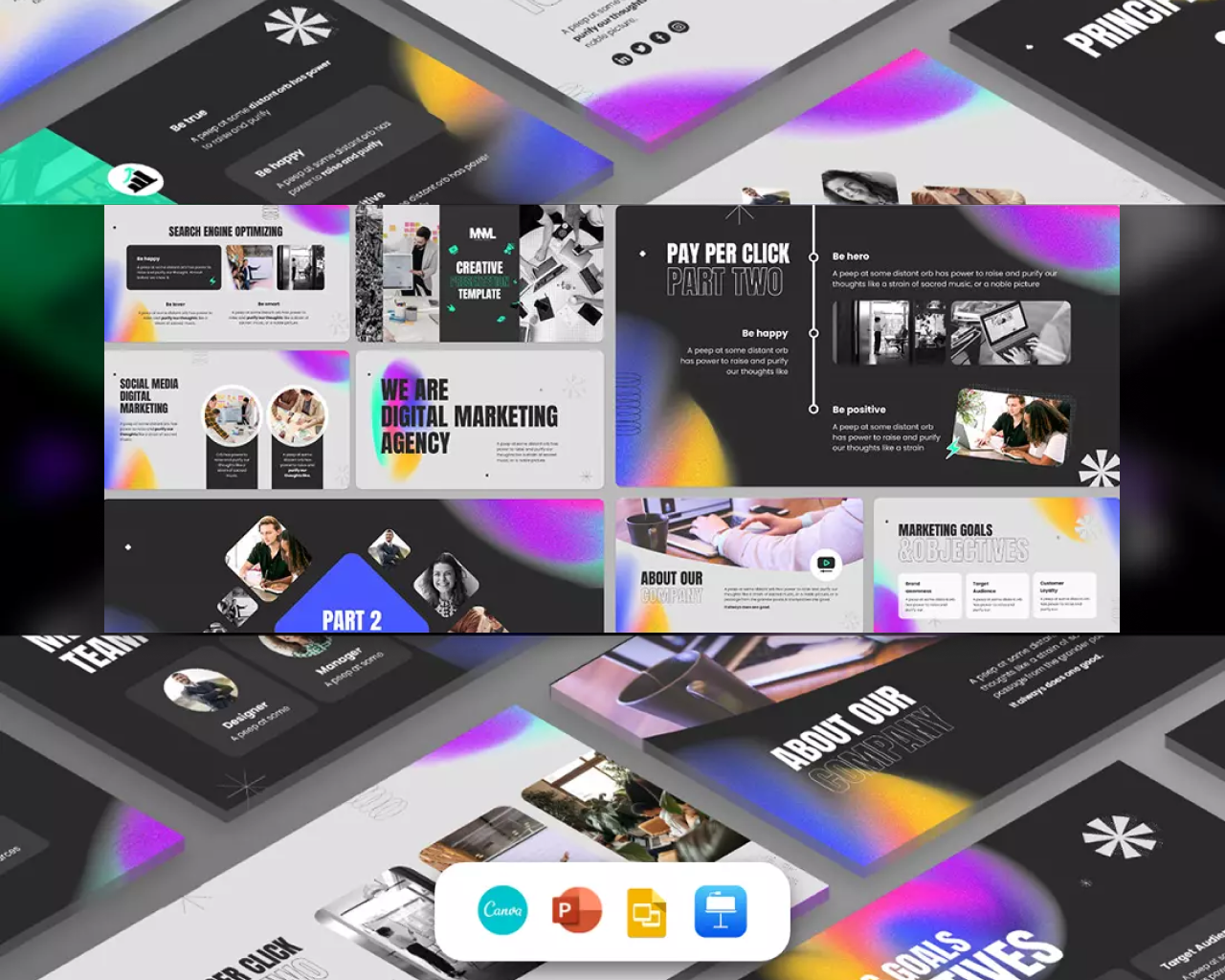 Are you looking for an aesthetic presentation that is full of modern marketing tools? Then you have found a perfect one. Using this template is easy as all you need to do is to write your information, everything else is already done for you.
Moreover, this template has both dark and light versions which give you more place for creativity. It also includes more than 2000 vector icons, tables and charts.
This elegant PowerPoint template will be perfect for someone whose performance is related to dancing. The slides have clear backgrounds and are crafted in a beige and chestnut tone.
With this visually appealing template, you will be able to speak about ballet in a new way that your audience will enjoy.
It will be a great option for you if your performance is related to a girly topic. The pink color used in this presentation will convey the vibes of kindness, and femininity.
All included content from pictures to fonts and coloured spots will help you to express yourself through words and pictures. This PowerPoint template is full of editable icons, so its use is up to your imagination.
Wrapping it up
You may like it or not, but visual tools have the potential to make your performance better. If you play your cards right and use this stuff, you will stand out from the crowd and make your performance both aesthetic and memorable.

By adopting the tips on creating an aesthetic PowerPoint template now you are ready to deliver a powerful message and engage your audience. So go on and add beauty and style to your presentation!

[mashshare]