Some time ago we created a super list of web tools and services. Today we update the list with new entries, web tools and services will rock in 2020.
Among the new entries, there is 24x7WPSupport, the most complete WordPress services we ever saw, Creative Tim, a super popular developer of high-quality UI Kits, templates, and dashboards, and a few others.
Let' start.
Creative Tim is top-notch developer of UI kits, templates, and dashboards, being used, liked, and trusted by almost 1.2 million creatives. It's a huge number that is heavily increasing each day.
They are providing bundles for each technology, including sections, elements, and themes, both free (there are tens of them) and paid.
Browse Creative Tim and pick whatever you need.
Many gorgeous logos that you saw on top websites and which you believed that costed thousands of dollars or more, were made with 48HoursLogo.
This platform is the most affordable logo design contest on the Internet. You pay $29 to launch a contest in which real graphic designers compete for $99, providing you over 20 creative logo concepts. Select your favorite and you get unlimited revisions and exclusive logo copyright.
UPQODE is an award-winning and brilliant digital marketing and web design agency specialized in WordPress.
They provide high-quality services:
Web design and web development
Turnkey websites
Website maintenance and managed WordPress hosting
Digital strategies
Whatever service you need from them, you will get in love immediately. Why? Because these experts do whatever it takes to make you happy and overdeliver, this is very rare these days.
Get in touch with UPQODE.
Total is one of the best WordPress themes on the market, being over engineered. What does that mean? In just a few words, you will get much more than the price you pay for.
What's included:
Over 40 pre-made demos that can be installed with 1-click. Your website will look like exactly as the demo.
Over 500 styling options.
Over 80 builder modules.
Native WordPress customizer.
Drag-and-drop builder.
Brilliant interface that is lightning-fast and intuitive.
Check the demos, you will like them.
Codester is huge marketplace filled with tens of thousands of PHP scripts, app templates, websites themes, codes, and much more. It is the heaven for freelancers, graphic designers, developers, and entrepreneurs.
Browse Codester and pick what you need.
Nobody likes bad links. It is proved that people run as fast as possible from bad links and most of them never return to that websites.
To get rid of bad links is simple, you can use Dr. Link Check. This powerful software will automatically scan the website for you and offer you a detailed report. Repair the bad links as fast as possible.
Use Dr. Link Check.
Bonsai is the smartest and simplest invoicing dedicated software for freelancers and agencies. Use smart and automated invoices, accept global payments, and much more. You can even create your own freelance design invoice template.
Once you use Bonsai, you will never let it go.
Start for free.
FunctionFox is a super popular timesheet and project management software that is used by remote teams from all over the world, and by both small and large companies, including Fortune500 huge corporations.
It works excellent, having a smart, intuitive and quick interface, being a pleasure to use it.
Get your free demo today at https://www.functionfox.com/mekanism.
Mobirise is the best offline website builder in 2020, being a complete package that you can use to create websites that stand out of the crowd.
You will be amazed how easy it is to create engaging and gorgeous websites, when you have the right tool.
Goodie is a professional, yet affordable design to code web development service, used mostly by graphic designers that need a reliable partner, and by business owners that need to amplify their online presence with simple websites.
Discuss with Goodie the details of your project.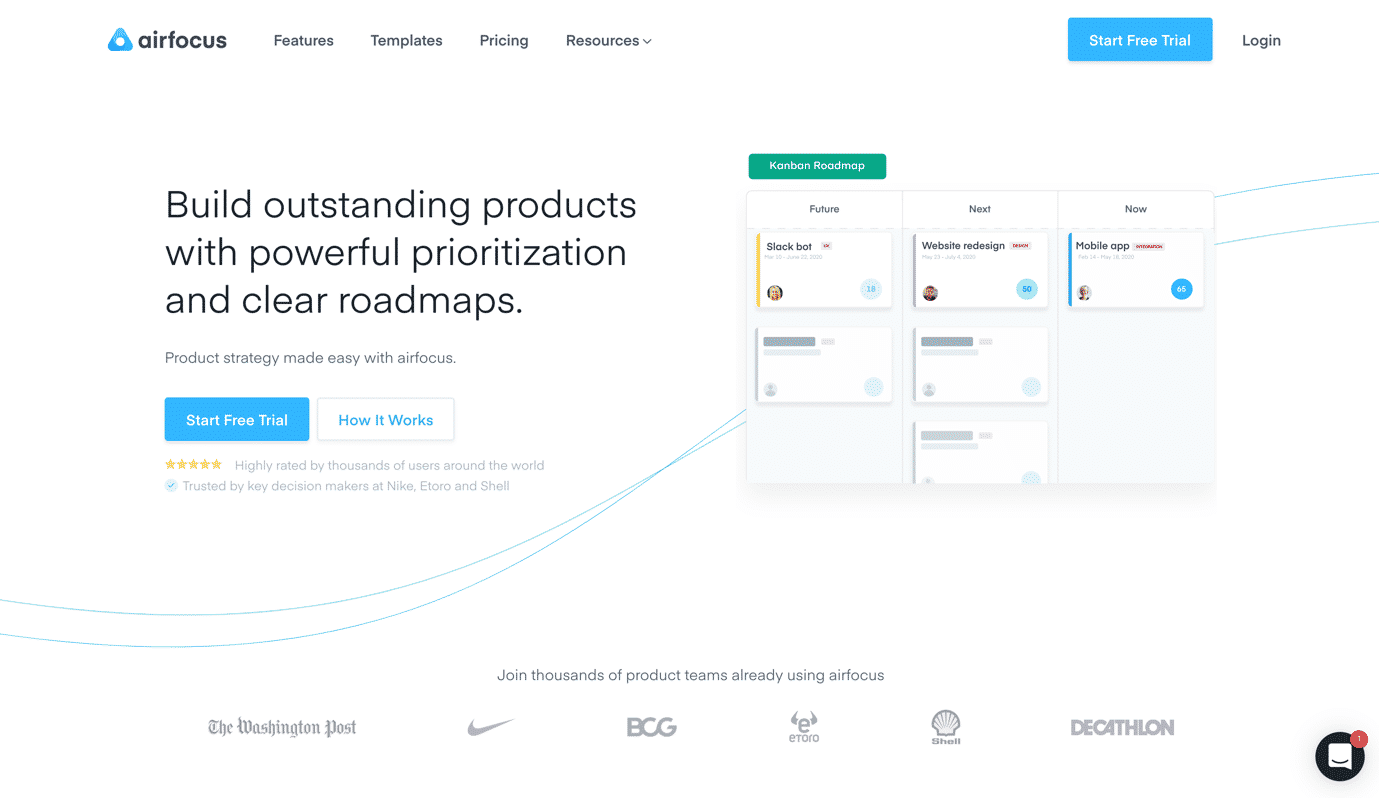 airfocus is the right prioritization and roadmap tool to use if you are looking to create outstanding products fast and efficient, while you collaborate with your team with ease. The software is packed with very cool features that you will see in the free trial (no credit card required).
Another cool thing that you will find on airfocus website is their famous glossary of product management and business terms, it is the largest in the world.
MailMunch is the fastest growing landing page platform that you can use to create unlimited landing pages and squeeze pages in minutes, without having any design skills or prior experience.
Use the included drag-and-drop landing page builder and the beautiful pre-built landing page templates, to create any layout in minutes. The process is fast and simple, the intuitive interface will guide you each moment.
Increase your conversions by up to 400% with MailMunch.
Unlayer is the easiest editor that you can embed on your website, letting your visitors create superb landing pages and email templates, without having any design skills or prior experience.
Sign up to see how it works.
XStore is the ultimate package of plugins that you can use for a fraction of the normal cost (over $300) to create a super store that stands out of the crowd. You will get lots of plugins for only $59 and over 90 store demos that look outstanding.
Get XStore and make your store great.
To create a professional shop that is suitable for selling huge amounts of items, you don't need tons of complicated tools. You can simply use Zento, the most advanced and complete eCommerce platform built on the foundation of Magento 2.
Check it.
Photo Creator is a free tool to make custom photo collages. It lets creators choose from the diverse gallery of models, objects, and backgrounds. Now the collage maker provides more advantages: it is powered with AI, offers the extended gallery with thousands of masked elements, lets users try face swapping and upload their own content.
Stop wasting hours each week to collect content and files from your clients. Time is money, right?
Let Content Snare do the work in your place, for a very small cost. The configuration is quick and simple, and the tool is very efficient in collecting content.
Try it for free by registering for the free trial.
Enjoy the ease of creating a personal portfolio page using Quanzo WordPress theme. This is the ultimate choice for copywriters, designers, photographers, artists, and other kinds of creative professionals looking for a multi-functional ready-to-go design for their official web page. The theme is intended to be modified without any special design or coding skills. It's made with the Elementor page builder, which provides for code-free web development. The theme is also equipped with all the widgets and shortcodes that you may need to use on your site. It also provides you with a selection of 11 stunning homepage designs.
HelpJet is a brilliant knowledge base software that will help you automate your customer support and even increase your website sales.
Let customers find quick answers to their presales or support questions. It is a simple way to do both.
Use HelpJet.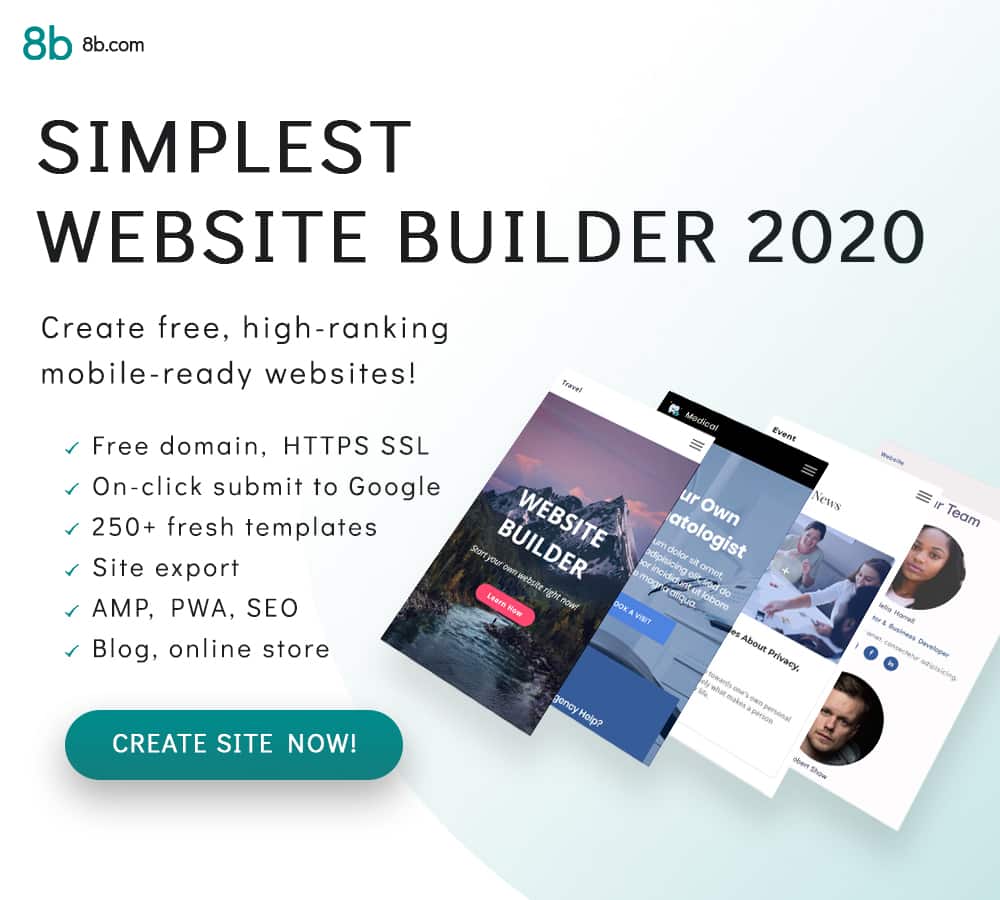 8b is the simplest website builder in 2020, being over engineered.
You will get a smart and intuitive interface, over 250 awesome website templates, a drag-and-drop editor, and even more.
Creating converting and engaging websites with 8b is simple and you don't need any experience at all.
Build your next website with 8b.
If you have come up with the idea to launch a crowdfunding website, then the Impacto Partonus WordPress theme should definitely meet your needs. This is a multi-functional ready-to-go web theme that lets you build a website related to COVID-19. This can be used for informative purposes or with the intention to collect funds for those people who need it. This is a fully editable WordPress theme that you can adjust to match other niche-specific websites. It's built with the Elementor page builder that lets even a newbie to modifying any element of the theme in the intuitive visual mode.
There is no need to spend weeks or months to launch a blog. Simply choose a theme that would meet your demands perfectly. If you want to start an online magazine or any other kind of media-related web resource, then you should enjoy working with the Topper theme. This is a multi-functional WordPress theme that is intended to be used for travel, fashion, food, tech, and other kinds of industry-specific websites. The theme contains a wide choice of layout styles that you may import to your own web resource. The theme supports Gutenberg, Elementor, and a number of popular plugins and extensions for WordPress.
SuperbWebsiteBuilders.com grants access to the list of website builder reviews, which provide detailed information about these systems, their main characteristics, pros and cons, pricing and customer support options as well as highlights that make them stand out from the crowd. Users may view the reviews of popular hosting providers that enjoy the utmost user popularity. This content will certainly be of great help both to beginners and web design experts.
Create a beautiful logo quickly and easily with the GraphicSprings logo creation app. Add your business name, search through all of their templates and then make any needed edits. Downloading cost starts $19.99 but it includes business cards, social media profile images, website files and even a PowerPoint presentation template.
Logaster is a popular slogan generator that you can use for free.
Write your company name, select your business industry, and right after Logaster will show you hundreds of slogans to choose from.
Use Logaster, it is free and you will be impressed by the results.
Opinion Stage is a popular and efficient quiz maker that you can use to create smart and engaging quizzes and surveys in no time. Use the included templates and the powerful editor to make your customizations.
Register for the free plan.
The most trustworthy friend of an Internet salesman, the uKit website builder is an awesome tool to kickstart your online business fast and smooth. A very easy to master visual editor will allow you to create a professional-looking website all by yourself with no coding whatsoever. More than 300 templates from different areas will ensure that you find that perfect one that suits you.
InvoiceBerry is a simple, yet super smart invoicing software that is mostly used by small businesses and freelancers.
To create a professional and fully customized invoice takes less than 60 seconds, the interface being super intuitive and easy to use.
Register and see InvoiceBerry in action, you don't need a credit card.
stepFORM is a surefire solution for small businesses, freelancers and web studios that want entice more audience, analyze the data and improve the metrics. Plus, the platform has many features you can benefit from such as Wallet One — a payment system that supports over 100 payment methods. You can also set up your Logic Jumps, configure CSS properties, and more.
Pixpa is used by thousands of people to create all in one website: store, blog, and client gallery.
It is a very efficient and simple to use website builder that you will highly enjoy. You will find included tens of gorgeous templates and a drag-and-drop builder that will make your customizations easy.
Sign up for free.
uLanding is a feature-rich platform for building a modern-looking landing page. No programming skills are required due to the intuitive drag-and-drop editor. You just select one of the fantastic designs, add custom texts, images, videos and any other type of content, set up a contact form and it's all set. In addition, you can run A/B tests to check your landing page.
Fotor is used by millions of people to create gorgeous and engaging content for websites and social media channels.
You need 0 design skills and experience to create superb pictures.
Try it.
WordPressToWix.PRO positions itself as a reliable and functional website migration service. It ensures easy, fast and smooth conversion of WordPress websites to Wix, considering all the details of the transfer process. They assign a personal manager to each project to guarantee individual approach and best result.  The assistant will stay in touch with a client to discuss the stages and milestones of the migration procedure on time.
On WrapPixel you will find professional and top-notch admin and dashboard templates, and also gorgeous UI Kits, built on top of Boostrap, Angular, Vuejs, and React.
Their most popular template is the MaterialPro Bootstrap Admin which is over engineered, check it.
RumbleTalk is the leading solution to add a moderated group chat for live Q&A and web events on your website.
In maximum 2 minutes the installation is made.
Register for free.
WhatFontIs – The Best font finder
WhatFontIs is the best font finder and the single one that identifies both free and paid fonts.
It works brilliant, you only have to upload a picture of the font you want the software to identify. In just a few steps and in less than 40 seconds, you will find out everything you need and even more than that:
The name of the font
The price
The location to get it
Over 60 free and paid alternatives
Use WhatFontIs, it is free and super-efficient.
PCloudy
pCloudy is a cloud based continuous testing platform which helps to increase the overall efficiency of testing and enables end to end continuous testing.With access to more than 5000 device browser combinations, pCloudy solves the issue of testing apps on multiple devices with different specifications and saves the user from spending big bucks on setting up a device lab. It Offers public, private and on-premise cloud.
Conclusions
These tools and services will help you automate your business and create more free time that you can use any way you want – with your family, for your hobbies, or to create even more business, it is your call.
Let 24x7WPSupport to handle your WordPress website, WhatFontIs to identify fonts from any given picture, 48HoursLogo to help you with awesome logos, and so on.
Automate your business, this is the future.