There are only a few types of results you can receive when utilizing an image editing and enhancing application. Most applications feature very limited image editing tools, especially when it comes to online photo editing applications. Not to mention the scarcity of innovative editing tools. VanceAI has created a Creativity series to meet that requirement. This series offers a collection of tools targeted toward creative photo editing that can assist you greatly in graphic design, photography, and a variety of other creatively inclined jobs. With that in mind, we'll look at the Creativity series tools in this review to give you a better picture of their capabilities and performance.
The Creativity series includes products such as an old photo repair tool, a photo to cartoon or anime sketch converter, a photo colorizer, and others. Individually, these tools can drastically transform the aesthetic of your images. While this is achievable with other complex picture altering applications such as GIMP or Photoshop, VanceAI provides outcomes without the need for user input. As in, you don't have to do anything with the photographs. Simply submit an image, select your preferences, and your output will be generated automatically. There are numerous use cases available. You can easily create an anime-styled snapshot of yourself and use it on social media, depending on your own imagination. Similarly, you can utilize each tool in a different way to meet different needs.
Pros:
The VanceAI internet program features an excellent user interface, particularly its Workspace, where you can handle all aspects of your photographs.
It is an active and continuous web app that adds new updates and capabilities to its list on a regular basis.
VanceAI provides a variety of subscription levels that are both feature-rich and cost-effective.
Cons:
It needs to be more compatible with various file formats like as RAW, WebP, and others.
VanceAI offers two distinct Workspace designs that can be perplexing. Furthermore, the old design included sample photographs, whereas the new one does not.
What exactly is VanceAI?
VanceAI, as mentioned briefly earlier, is an online image editing tool that processes photos using AI and Machine Learning technologies. One of the most significant features that distinguishes VanceAI from other online and offline image editing applications is its AI technology. VanceAI provides users with automation, which is what AI is all about. Photo editing is complicated, but with VanceAI's AI technology, you can achieve results automatically.
All you have to do is upload an image and wait a few seconds. Whether it's image cropping or photo colorization, VanceAI will produce results in a matter of seconds. As you can see from the graphic above, VanceAI has created a vast number of tools that serve diverse functions and provide various types of answers to various image editing demands.
The Creativity series is your best buddy when it comes to creative photo editing. It includes a good set of features that you will undoubtedly find useful, especially if you work with photos and creativity on a regular basis. But don't be afraid. VanceAI is primarily an automatic application, but it does include enough customization choices to give you control over the outcomes you want.
Overview of VanceAI Creativity Series Tools with Results
In this area, we will provide a summary of the VanceAI Creativity series tools, as well as pictures processed by the products.
Convert Black and White Photos in Colored with Photo Colorizer
You can always go a step further when repairing photographs, and one of the greatest ways to do so is to colorize them. This is true not only for vintage photographs, but also for black and white photographs in general. You don't even need to hunt for other applications to colorize your images because VanceAI Photo Colorizer is already a part of the Creativity series. The system in place here improves with each image it colorizes and analyzes. In this situation, the technology is clearly advanced enough to add solid and realistic color to the black and white photo you provide.
When we look at the sample image above, we can see that the tool correctly recognizes and delivers the ideal colors for the image. Even the snow has been tweaked to fit the new image. The rest of the image's details are well-lit and convincing. With this program, you may colorize a large number of photographs and perceive them in a new light. This also applies to headshots and product photographs, which can make an impression on a large number of people online.
Photo Restorer Repairs Old Damaged Photos
Old photo restoration is a very useful technique that is also quite complex. You may easily and rapidly repair old images if you use VanceAI Photo Restorer. This app employs a number of algorithms designed to fix old, damaged photographs. As a user, you may find this tool beneficial for a variety of reasons. One, you can always give your old family photos a new style and preserve them in digital format again. Alternatively, you could polish your old family images and have them reproduced in real life, which could lead to the creation of a new and updated photo album.
Two, you can refine a large number of historical images to aid you academically, whether you're a student or a teacher. AI old photo restoration can also be used to improve the quality of old antique photographs. Vintage photographs are popular on social media, particularly in photography and aesthetic channels. These photographs can help you earn followers or increase overall engagement.
The photo restoration tool did an excellent job at restoring the image above. While some marks are still apparent, they can be run through the restoration tool again or treated using picture enhancing tools to smooth off the few residual marks.
VansPortrait Adds Personal Touch to Portraits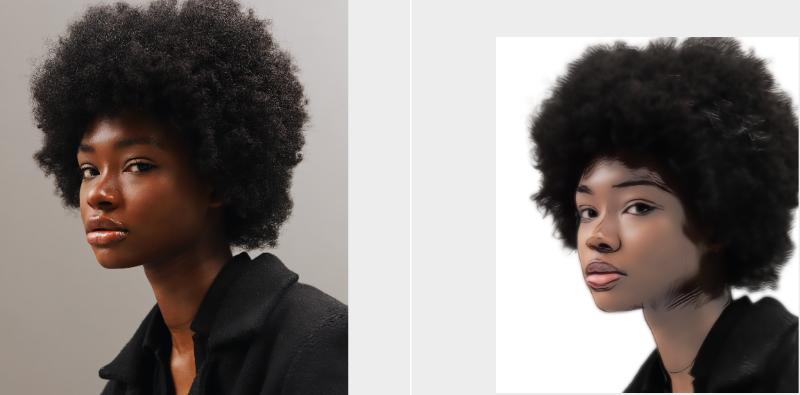 The title pretty much sums it up. If you're seeking for a highly creative tool that can substantially transform the style and aesthetic of your original images, VansPortrait is one of the finest VanceAI tools. Sketching, artworks, digital art, and other forms of artistic activity are becoming increasingly popular on the Internet. They are quite visible not only on social networking platforms, but also on forums, portfolio web pages created by other designers, and similar profiles. These images can also be used as design inspiration for many digital artists. VansPortrait's ability to generate such graphics without user input is just astounding.
When using the tool, you can select several models to improve the clarity of your results. When you click on a model, the tool will generate a sketch that looks like it. As a result, users have some control over the image before it is transmitted for processing. One of the most typical applications of such programs is to produce cartoon-styled photographs of oneself to use as your profile picture on various internet networks.
Toongineer Cartoonizer Makes a Cartoon or Anime Version of Yourself
Toongineer Cartoonizer, like VansPortrait, is a VanceAI tool that can allow you produce cartoon or anime styled photos in seconds. Both tools can also convert full photographs into a different style, which is a great useful function because it allows you to create a complete picture rather than just a portion of it. Not to add that the results produced by this tool are usually of great quality. Converting full images into cartoons or anime is uncommon on the internet. You can surely achieve this with software programs, but it will take more time and knowledge to do so because software apps aren't automatic tools like VanceAI.
This VanceAI application is great for transforming full photos to cartoons, and it doesn't require standard portraits to function. You may even create cartoon-style drawings from images like the one above, which shows a woman in a sideways posture. The end effect is still fantastic, and it looks like a manga panel.
Pricing for VanceAI
You can begin using VanceAI for free by instantly making an account on the official website using your Google account. Every month, you and all other VanceAI users receive three free image credits. You also have access to all VanceAI tools and limited functionality.
The premium subscriptions provide you access to more picture credits and features. The annual plan is the most affordable, with the base plan providing 100 image credits each month for only $5.94 per month. The monthly plan, on the other hand, will cost $9.90 per month for 100 image credits. You can upgrade to a more expensive plan that includes additional image credits. 200 picture credits can also be purchased for $24.99.
VanceAI also provides an API edition of the program. VanceAI API costs $39.8 per month for 1000 image credits. This can be upgraded for an additional $10,000 image credits each month for $398 per month.
Alternatives to VanceAI
photorestoration.ai is a VanceAI alternative website where you may utilize the Photo Restorer's services but with fewer functionality than the original product. It can, nevertheless, continue to provide the essential service of ancient photo repair. colourise.com is an alternative to Photo Colorizer for coloring black-and-white photographs. VanceAI also offers a free online PDF processing tool called VancePDF.com. VanceAI is an emerging platform that provides solutions to a variety of common productivity challenges.
Final Verdict
When all is said and done, the VanceAI Creativity series is quite outstanding. The series includes a variety of creative tools that are all equally useful and work admirably. In addition, you get the advantages of using VanceAI itself. The platform is expanding and has an excellent UI design, which benefits the Creativity series. The Creativity series' main limitation is that it can still add more tools to its collection. The Creativity series, for example, appears modest in comparison to the Productivity series. VanceAI, on the other hand, is certain to offer additional tools in the near future.

As a powerful website, VanceAI, AI photo enhancement and editing tools, is also accessible to Japanese users, as proved by VanceAI JA. Here you will get the same services mentioned above.

[mashshare]