In today's collection we've gathered 15 Best Free Responsive WordPress Themes 2014. These WordPress Themes are all responsive and the best of all they're free!
It would be quite difficult to imagine our modern world without the Internet. The saying "If you're not online, you do not exist" speaks volumes about the importance the Internet has gained and how much we rely on it for almost everything – getting information about a product or service, staying in touch with others, learning, shopping online, making reservations, and the list could go on. Every business, company or organization benefits from having a website, but that's not enough in order to ensure its success over competitors. For a potential customer trying to decide over two companies that are both present online, a user friendly and reliable website will inspire trust and make him more likely to choose it. Therefore, having a website with an impeccable and visually pleasing design is a must.
Furthermore, nowadays more and more people are using mobile devices or tablets to surf the Internet instead of (or alternatively with) a laptop or desktop computer. It is even predicted that mobile web will surpass desktop Internet usage by 2015. Hence, it has now become mandatory for websites to have themes which are able to adapt to different screen resolutions, so that visitors won't encounter any issues with the website regardless of the device they're using. Luckily, this can now be done with the help of a responsive theme, which automatically adjusts a website's layout and design to suit all screen types. After doing some research, we carefully selected 15 free WordPress responsive themes that will help your website reach its full potential!
1. The MegaResponsive Lite is a WordPress theme fit for the next generation of responsive websites. The beautiful and uncluttered design of this theme showcases the features MegaResponsive Lite has to offer, such as comprehensive browser compatibility and custom theme widgets, so that your website is guaranteed to look impeccable under any circumstances. You can easily update website settings (logo, social links, colors and layout) from the Theme Options Panel, and, thanks to the easy to use interface, you won't stumble upon any problems during the process. Did we also mention that it's not an issue if your website is not in English, as the localized theme will instantly translate all the theme built-in text, without any modifications to the source code?
2. When it comes to personal blogs or websites, you want to make sure you choose the very best theme to do justice to your personal style. Enter CreativeMag, a widget-ready theme with a distinct design you cannot go wrong with. It includes features such as an innovative author widget which shows information about the author for each article, a full-width template and built-in social media (among which are Facebook and Twitter). You can choose from four different colours schemes to customize the theme and you can also edit the logo, menus and the integrated banners.
3. MetroX is a stunning theme that can take any website or blog to the next level. Carefully coded in HTML5 & CSS3, it is not only feature rich, but also effortless to customize. The cool black background is livened up by colourful boxes of various shapes, each sporting a different use of typography and icons. The lateral menu has everything you need, from the main tabs and recent posts to archive, categories, a calendar and social media share. In a nutshell, MetroX means perfect functionality and an amazing design!

4. Readythemes takes pride in "being more than just another theme site" and in offering fresh, well researched and tested themes for those interested in earning money online. Their Reviewgine was created with a fluid responsive layout and it allows for proper viewing on all modern browser sizes, as well as on mobile devices. Its other features are an innovative design, an advanced review system and a great SEO tool. There's simply no other responsive theme that can help you build a well-performing website in no time like Reviewgine can.
5. Based on the Bootstrap 3 framework, Revera is a premium responsive theme that comes with all the advantages Bootstrap has to offer. It has features such as a custom menu, homepage template, portfolio page template, widgetized sidebar and footer etc. This theme will work wonders for photography websites, as it is incredibly well-structured and exhibits a large image slider. Furthermore, you'll also enjoy the impressive slider on the homepage and the configurable banner for advertising spaces.
6. StanleyWP is a newly-launched Twitter Bootstrap WordPress theme, compatible with WordPress 3+. It is a great theme for blogging that also encourages you to take a shot at personal branding, thanks to all the options and tools available. Have a look over the three pages of templates available and pick your favourite. Use Font Awesome 4.0.3 and portfolio post types to showcase your work in an easy way, browse the lovely theme options panel to see what goes for you and have fun with the drag and drop homepage builder.
7. Arcade Basic, a lightweight and fully responsive HTML5 theme, is the perfect choice if you're looking for a theme you can modify to reflect your preferences as much as possible. Use the theme customizer to add your own header image, page layout, site width and more. Take advantage of the eight supported post formats, amongst which you'll find Video, Image, Aside, Status, Audio, Quote, Link and Gallery to make each one of your posts unique. Arcade additionally comes with an extended widgetized footer. This is a theme packed with a great variety of features – it would be a pity not to put them to good use.
8. If you're on the lookout for a versatile and elegant theme, look no further than Asteria. It can be adapted for any type of website, be it corporate, portfolio, business or blog, and it has great compatibility with Internet Explorer 9+, Firefox 8+, Safari 5 and Opera 12+. You will be delighted by the beautiful slider, the three pages of templates and the multi-level drop down menu, not to mention the incredibly convenient one-click install that doesn't require any plugins. Moreover, Asteria comes with a Ajax pagination feature, so you will be navigating through posts without needing a page refresh. This theme is as user-friendly as it gets.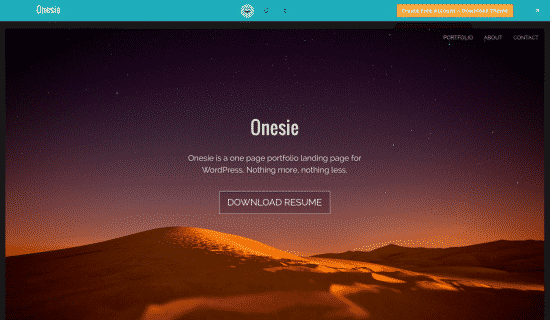 9. For those who need a quick method to build a website without any headaches or simply for those who are still learning the ropes, Onesie is the best choice. This theme is very easy to use and to setup – you'll be done with building your website in just a few minutes. Onesie includes four sections (intro, portfolio, about and contact) and it provides a custom background image support, robust theme options page for adding content to the landing page and infinite portfolio entries on the theme options page. Briefly put, Onesie is the ideal free WordPress theme for creating a responsive landing page website.
10. Wilson's greatest achievement is the ability to focus on content without sacrificing functionality. This theme supports four different post formats: standard, video, aside and quote; thusly, you can post diverse content and have it styled differently. Thanks to the responsive design and high resolution assets, Wilson will work great on any device, be it a 27 inch Mac or a 3.5 inch iPhone. The only thing left for you to decide is if red is your colour – because if this is not the case, you can change it to your preferred colour with the custom accent colour control in the WordPress theme customizer.
11. Pieces is a grid-based blogging theme that can be described as clean and minimalist. Its design will allow you to put your artwork in the spotlight, as the neutral colours and unadorned elements specific to this theme were cleverly added so as not to steal your thunder. Also, you needn't worry about the integrity of your work – Pieces is fully responsive to support various devices from smartphone to tablet or desktop.
12. It goes without saying that the WordPress Theme Directory had to include business themes as well – Interface, by Theme Horse, is one of the very best. The mint green design adds a touch of uniqueness to this elegant theme, which, in addition to being retina ready, is compatible with both BuddyPress and bbPress. Some of this theme's options include two site layout (Narrow and Wide), 4 layouts for every post/page and a featured slider to highlight posts/pages. The social features merge nicely with the theme without creating any issues. In addition to the customizer options, Interface has its own options panel for further customization of the homepage slider, layouts, social links and more.

13. Meris is a theme created for personal and company websites that was built using Bootstrap 3 and the latest HTML5 and CSS3 website standards. You can customize the neat homepage by adding various widgets which will help you create a professional look within a few easy steps. Font Awesome Icons are not only available, but also customizable – you are free to select the colour and the size you prefer. Another notable feature of this theme is that it supports sliders in the sidebar that you can select to appear next to all your posts or pages.
14. Photography lovers will be excited to find out that they can now use the perfect theme to set up a website dedicated to this art: Adament. There are custom homepage templates for you to choose from; you can then proceed to upload your logo image, select the number of slides for the homepage and creat a portfolio page to showcase your photos in a grid. Naturally, this type of theme had to allow for style customization – go ahead and use the colour selector to adjust the main color scheme, accent color, link color, and link hover color so that they match your snapshots and artistic vision.
15. From the very beginning, Fruitful will pleasantly surprise you with its elegant, yet fun design. It can be easily configured even by those with little or no coding experience and it offers an abundance of options for customization (you can edit the background image, menu, logo, slider, social icons, footer and so on) so that it's easy to adapt this theme to your needs. Fruitful also supports WPML and WooCommerce, which means that you can employ this theme to create a multilingual marketplace for your business!
Now that you know what the best fifteen Free WordPress Responsive Themes are, all you have left to do is pick your favourite and get down to work.

[mashshare]