Rings are usually seen as circular band around someone's finger, they're usually a standard design with some containing stones and gems. But what happens when you go out of the boundaries and want to create a weird and creative ring which is different from the rest? In today's post we'll be looking at 31 Fun and Creative Ring Designs.
Strictly speaking a normal ring is a finger ring (which may be hyphenated); other types of rings worn as ornaments are earrings, bracelets for the wrist, armlets or arm rings, toe rings and torcs or neck rings, but except perhaps for toe rings, the plain term "ring" is not normally used to refer to these.
Rings are traditionally usually in metal but can be of almost any material: metal, plastic, stone, wood, bone, glass, or gemstone to name a few. They may be set with a gem or stone of some sort, which is often a precious or semi-precious gemstone such as diamond, ruby, sapphire or emerald, but can also be of almost any material. The custom of giving and receiving finger rings dates back over approximately 6,000 years. Tracing the exact history of this practise is difficult.
Checkout these 31 Fun and Creative Ring Designs below, which one would you love to have?
Clear resin ring with Carborundum
Designer: Sisicata
Cindy Face, Ceramic Ring
Designer:Â MIXKOALEX
Secret Compartment Ring
Via anothermag.com
Filio Ring
Via design-milk.com
Lock and Key Steampunk
Via Etsy
Viking Ring
Via Etsy
Moss Ring
Via Etsy
Penguin Ring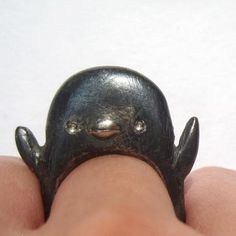 Via fab.com
R2D2 Ring
Via Technabob.com
Peace Ring
Designer: unknown
Creative Rings by Smiling Silver Smith
"Silver rings to make you smile." (Designer: Smiling Silver Smith)
Brass Lighter Ring
"The Lighter Ring in Brass." (Designer: Monserat de Lucca)
Ring Thing Bottle Opener
"This stylish finger ring doubles as a handy bottle opener. Made from stainless steel, the Ring Thing is comfortable to wear, guaranteed for life, and easy to use." (Designer: StuffJunction | buy)
Bitty Bear Face Ring
"A cute little bear to wear on your finger. This ring is a silver color and made with metal alloy." (Designer: Perfectly Whimsical)
Venus Fly Trap Ring
"Ring design inspired by Venus flytrap." Designer: Monserat de Lucca)
Bunny Love Ring
"A bunny that wraps around your finger to form a ring! Approximately a size 7 but can be slightly adjusted up to two sizes bigger!" (Designer: Creative Accidents)
Birch Tree Ring
"Cast sterling silver branch, hollowformed sterling silver "hill," model railroad landscape materials." (Designer: Sarah Hood Jewelry)
I (Thou) Ring
"This gift is perfect for celebrating your first year anniversary and looking for a paper gift! An intimate gift by having your vows or love letters bound together and custom made into a ring that you can wear."[3] (Designer: One Origin Jewelry)
Nut and Bolt Wedding-Ring
"Brass, 24k gold plate, white zircon." (Designer: Kiley Granberg)
Inner Message Rings
"A few years ago a Korean singer wrote a song about the sunburn mark that he found on his finger after he broke up with his girlfriend and removed a ring he had been wearing for a long time. This is the story that inspired Jungyun Yoon to make 'Inner message', a ring with hidden letters on the inside." (Designer: Jungyun Yoon)
Bird Nest Ring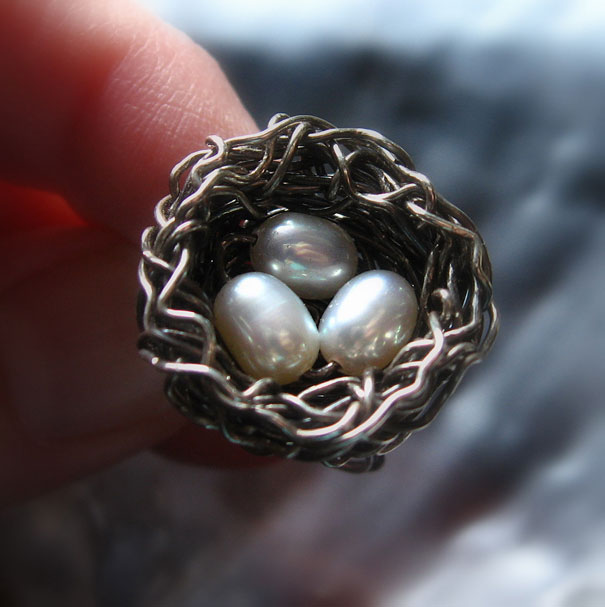 "This hand made oxidized sterling silver bird's nest ring is made with several feet of wire that has been crimped and cajoled into a bird's nest which holds three glowing little freshwater pearls." (Designer: Cindy Roth)
Unique Jewelry for DJs
"Inspired by urban lifestyle and hip-hop culture, Darkloud Silver has created a unique line of DJ jewelry." (Designer: Darkloud Silver)
Space Invaders Ring
"These little buggers are trying to hide behind pixels!" (Designer: Tjep)
Architectural Rings
"Jeweler connects the world of stones and precious metals with the history of art, science and architecture." (Designer: Philippe Tournaire)

[mashshare]