In the ocean of corporate websites of all kinds, it's hard to stand out. Business consulting companies are somewhat restricted by the ethics of their industry: the website shouldn't be too elaborate and has to maintain a professional look. That is why an outstanding business website design is an art.
In this post, we will present you fifteen various website designs, created for the business consulting industry, which are great examples of this art. Professional-looking, with a touch of creativity and originality, they will help you breathe some new life into your web presence.
Why WordPress for a Corporate Website?
As the title of this post suggests, all the themes are built for WordPress, a popular content management system, used worldwide. If you are used to looking at WordPress as a blogging platform, it's time to reconsider: this CMS can make a convenient and functional corporate website as well. In fact, it now powers all kinds of web pages for top companies, including the Forbes website. The main benefit of WordPress is that it is fairly easy to manage even for a non-advanced user, so it won't take a savvy website administrator to add new content to your website.
Why a Pre-designed Theme?
In addition to its user-friendliness, a WordPress website is easy to revamp if you use one of the numerous design themes available for it. Unlike a custom-created template, a pre-designed theme is available right away: you can see exactly how your website will look, and get that look live on your website within just a couple of days. Besides, it's a great deal in terms of pricing: one of these pre-designed templates can be bought for a hundred or two, so you don't have to pay thousands for your own design theme.
The templates we have selected for this post offer more than good looks and attractive pricing. Here are other features you will love:
Flexibility and Usability
Most of these templates are built with Cherry framework, a free framework from TemplateMonster.com. That means they are flexible, easy to install, customize, and use. You can get a personalized look for your website without much effort.
Mobile Compatibility
Cherry framework makes the design themes responsive: they adapt to the screen size and look equally good both on desktop and mobile devices. As the number of mobile Internet users is growing, you should make your website usable for them.
Licensed Images
Images make or break the design – these designs can be used as they are, with all the photos that make them attractive. When buying a template, you will also receive the images and a license to use them on your website.
Support from a Big and Reputable Resource
TemplateMonster, the provider of these templates, is the biggest web resource offering commercial designs. It will ensure 24/7 customer support for you and offer optional help installing and customizing your theme.
So now, here's how the best design themes for a business consulting website look.
Stylish Investment Website – Bootstrap Cherry Framework Responsive WordPress Theme
The pleasant shade of coral harmonizes with black-and-white photos in the lightbox and the clean light background. With its stylish look, this design will make a good website for a business in the investment industry.
Glossy Gray – Bootstrap Cherry Mobile-Ready WordPress Design
Lots of light and glossy metallic elements are the core of this clean and minimalistic design. A website like that will work well for a management consulting company.
Tasteful IT – Cherry-Based Mobile-Compatible WordPress Template
The textured light gray background is brightened up with eye-catching turquoise details, creating a tasteful look. It's a perfect match for the web page of an IT consulting firm.
Colorful Flat Design – Bootstrap Cherry Framework Responsive WordPress Template
With all its colorful elements, this design still remains clean, and the big flat details make it trendier. It will be a great choice for a consulting business with a touch of creativity.
Big & Simple – Bootstrap Cherry-Based Mobile-Ready WordPress Theme
This big-resolution design with a minimum of content and simple elements will make the right web page for a technology-related consulting business.
Best Business Solutions – Bootstrap Cherry Framework Mobile-Compatible WordPress Design
The gray and beige shades look exceptionally good together, and the big flat icons attract attention to the most important content on the page. It's an original, but professional-looking design, perfect for a consulting business.
Dark & Slick – Bootstrap Cherry Framework Responsive WordPress Theme
Dark and glossy, with attractive photos in the lightbox and a white background for the text content to be more readable, this design will make a great website for any consulting firm.
Sales & Marketing Experts – Consulting WordPress Template
This clean and elegant theme with its original image grid effects and a reserved color scheme will make a professional website for a sales and marketing consulting agency.
Elegant & Professional – Business Consulting WordPress Theme
With a black-and-gray color scheme and a subtle textured background, this design has an elegant and professional look, and will be perfect for a business consulting website.
Fresh & Dynamic – Consulting WordPress Design
Light and clean, this design is livened up with photos and attractive turquoise accents. It looks fresh and will make a nice web page for a young consulting company.
Dynamic Development – Mobile-Compatible WordPress Template
Using saturated sandy colors, this design attracts attention, and the white background for the text content keeps it clean. It's a nice option for a consulting business website.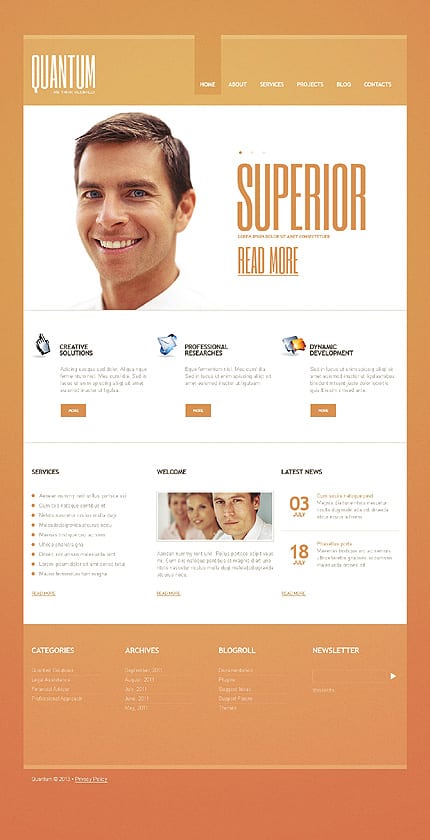 Successful Strategy – Consulting WordPress Theme
This clean white design with optimistic-looking photos and warm yellow details has a positive feel about it. This will be a great choice for a successful consulting firm.
Warm & Professional – Business Consulting WordPress Design
Terracotta shades give this professional design a warm and pleasant look. It will make an original website for any consulting business.
Simple & Clean – Responsive WordPress Theme
With lots of white, this design has a pure look. Keeping it simple, the theme still provides plenty of space and elements for all the information a business consulting agency needs to deliver.
Clever Consulting – WordPress Template
This clean theme has a crisp look thanks to well-designed black icons and light photos. It's the right fit for the website of a financial consulting company.
[mashshare]