What makes you happy? Really. Everyone chooses for himself. Money. Fame. Nice clothes. Delicious food. Children. Successful marriage. Just a view of sunset. Just a smile of your beloved one. Just one look. Just one word. Happiness often conceals itself in small moments. Or better to say these small moments are happiness itself? Happiness is not a permanent feeling. You can't be happy forever. It is not the final aim you go to all you life. No, it is the road to this aim itself. You just need to stop always peering into the distance, but look around instead. And you will discover that life is beautiful. And there are dozens of matters to be happy. Waking up in the morning. Stretching up your body after sleep. First morning sun rays. Warm wind. Birds' song. First spring flowers blossoming. You just need to notice it.
We are often too busy with our own far-fetched problems and thoughts. So we don't have time for anything else except for ourselves. It is quite clear. We need to do lots of things to keep up with the world. Especially if you do business. Internet both eases and complicates your life. Eases because it makes your service available for lots of people. Complicates because you need to worry about the appearance of your website as it becomes a kind of your face on the web. Obsessed with all this thoughts how can you find time to look around in search of happy moments? Fortunately, the team of web designers have already taken care of that.
So what's the decision? Instead of wasting your money and loosing your precious time on custom design templates you can order a ready-made one. There are big template providers who are ready to offer you enormous collections where even the most fastidious client will find something worthy. More over they usually offer 24/7 support before and after you have bought the template. Ready-made templates are easy to handle with. You can easily adjust them to your perfect image of the website. If encounter problems – remember about the support team. The templates below are all taken from TemplateMonster collection. Another good thing about them is that you get all the images the template goes with licensed. A pleasant bonus.
What does the word "flat" in the title mean? Flat templates are becoming extremely popular recently. And there is a good reason for that. Flat design gives people something they unconsciously strive for – sense of simplicity. I mean it is not about adding some new details, but about cutting it off. It doesn't make your website look outworn and uncompetitive. It makes it fresh and stunning. And your visitors will not waste there precious time scrutinizing unnecessary staff and trying to grasp what actually they do here. So you both are in gain. You don't waste time on creating the website and your clients are grateful for you being up to the point.
So here are our 20 flat templates to make you happy.
Be Happy with Water Responsive Joomla Template
Water is life and it's not a secret. But only clean and fresh water can bring happines and turn your life into a miracle!
Feel Happy at Home with Drafting Responsive Website Template
"My home is my castle". To feel happy one needs to feel safe and comfortable. And that is right what your website is about to offer.
Happiness and Hi-Tech with Construction Company Moto CMS HTML Template
Exquisite stile and modern technologies will make your clients happy from the very moment they see the stunning images of your projects.
Smart and Happy with Merchant Services Moto CMS HTML Template
Do you know this felling of accomplishment and happiness when some difficult task is solved and completed? You are just the ones who will bring this feeling to your clients with this template.
Happy minutes with Marketing Agency Moto CMS HTML Template
Orange color is a symbol of happiness and good mood. And this is a psychologically proved fact! So your clients will get a boost of energy and sunny mood just launching your website.
Spread Happiness with Outsourcing Company Moto CMS HTML Template
So little needs to be done to make others smile. In your case it is just a helping hand. And this template is a helping hand for you. so I suppose it makes you smile.
Smiling Happiness with Consulting Responsive Website Template
Happy people in the images and bright original navigation menu is a perfect recipe for a successful consultant agency.
The Happiest Photographer Portfolio Website Template
Photographers are the happiest people in the world. Know why? Because they encounter beauty every day and they capture it in there works. So sharing these works helps spreading beauty and happiness all over the world.
Be Happy and Count on with Accounting Website Responsive Website Template
Who said that dealing with numbers and figures is not a diverting experience? The template is serious enough to be a perfect match for an accountant company and bright enough to be original and fly.
Men's Happiness with Fishing Sport Magento Theme
Fishing is the best way of relax for many men. They will be happy to see all the needed equipment in on place on your website!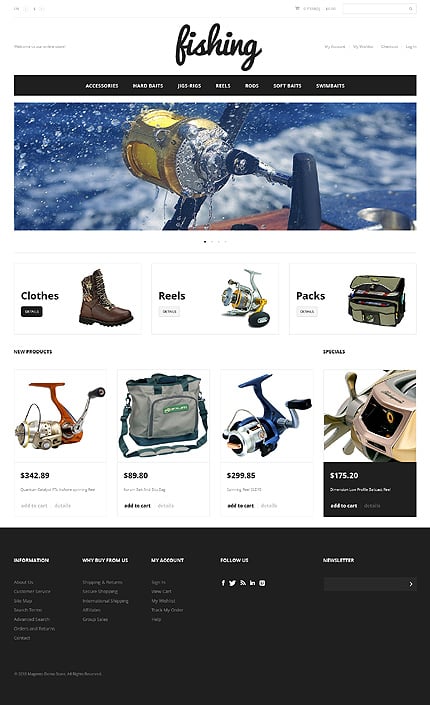 Create and be Happy with Software Company Responsive WordPress Theme
The template uses a successful color scheme of blue and white. It comforts and makes one feel tranquil and happy.
Be Happy and do Business with Outsourcing Company Responsive Website Template
Being happy and being successful is as easy as a piece of cake if your clients use your outsourcing company.
Happiness in Justice with Law Firm Moto CMS HTML Template
The template is as simple as ABC. But it gives the feeling of firmness and trust. People will be happy to entrust their problems to you.
Do Sports and be Happy with Responsive WordPress Theme
Everyone feels happy after doing some sport. And there is a biological reason for that, but I won't fatigue you with all this unnecessary details. Just as this flat template shows the core without going into the odd staff.
The aroma of Happiness in Exclusive Perfumes Magento Theme
Not only visual images can bring happiness. Smells and sounds as well. This template is all about fragrance.
Speedy and Happy with Cars Market PrestaShop Theme
For many people velocity and happiness are synonyms. These people are obsessed with vehicles so they will definitely enjoy browsing your website.
Happy Start with Business For Bold Start WordPress Theme
The hardest thing is to begin. Help your clients to start their business with this flat template and you get +1 to your happiness rate.
Just Smile with Call Center Responsive Website Template
When you encounter some problem it is crucially important to be understood. This template with its images will show your client you are sympathetic and care for them.
Happy Ideas in Obviously Needed For Business WordPress Theme
The solutions are always better when they are proposed by a team of professionals. This template definitely shows you are the team needed!
Slim and Happy with Weight Loss Responsive Website Template
Women are happy when they look good. To look good every woman wants to lose weight. To lose weight they need some program. To get this program they need you. So you make women happy.
[mashshare]