Most table designs today usually are built for practical purposes and hold little creativity. Maybe we can change that and start designing more clever and creative table designs, if you're looking for some unusual table designs to spice up your office or living areas, we've gathered 25 Creative Examples of Table Designs.
These 25 Creative Examples of Table Designs have been built and designed by fantastic industrial designers looking to create something new.
Balancing Table
A custom table made of maple, steel, and concrete. Donated to Montana State University for the Celebration of Architecture 2014. This creative table was designed by Steven Berkas, Zach George, Taylor Proctor.
Kitchen Folding Table
Project subject is folding table with some functional modules. The table has the possibility to transform like as Chinese fan. The user can change table configuration extensively. You will have the access to triangled boxes. You can replace them to opposite site of the table. Right and left table sides are food drawers. Drawer covers can be turned up-down and used as preparation boards. Cutting food will be removed into lower box accurately. Suggested construction will save working space and time. Transparent plastic was used for some parts of the table. The user can watch the content under the cover of the drawers. The quantity of functional modules can be different from two to four items. It depends on the preferences of the consumer. Designed by Olga Kalugina.
Retro Computer Table
This is a plate of mine in my furniture class in Industrial design. The theme of his design is retro furniture. Designed by Gerry Jeff Reyes.
Rising Table
Robert van Embricqs is fascinated by the esthetically pleasing, yet intricate complexity of the natural form. Finding inspiration for his designs in bone structure, plant life and movement.  Designed by Robert van Embricqs.
Bronx Dining Table
This table has a very old style industrial look, made with a  reclaimed boxcar oak top. The crank handles were moved to one side for effect. We build these to order and can custom the size, top, color, and many other details. The Bronx table, a unique design by Vintage Industrial in Phoenix.
Aborism
A small table made in powder-painted metal, which overturns the concept of the artefact: in the legs, generated by the same geometry which regulates nature, the "frattali", and in the surface printed with small falling leafs. Like an object left in the influence of nature changing its aesthetics. (link)
Slicebox
A square coffee table is divided by random cuts. These differ from timber tabletop and base, separated by uprights. The subdivided pieces serve as side tables of different shapes and dimensions (Designer: voonwong & bensonsaw)
Love Me
Domeau & Pérès designed a table which creates an illusion that it's melting. (link)
Binary Table
By expanding the mathematical principles of the 1960s engineering tool Spirograph into 3-dimensions, and linking this with a newly developed computer programme and the latest 3D Printing technologies, its now as simple to create a table as it was drawing a spiral in the 1960s (Designer: Cohda Studio)
Ripple Table
Using sophisticated 3D milling processes and a variety of materials such as polished aluminum, clear polyester resin and a dash of aerospace engineering, Lee J. Rowland created the Ripple Series, tables that appear to stop time in its rippling tracks. (link)
Two Faced Table
Designer Dan McCabe describes his "Two Faced" coffee table as "strikingly modern". (link)
Illusion table
Illusion is a handmade side table of 3 mm acrylic. All Illusion tables are handmade, individual and unique.The design gives the impression of a table cloth on a round table. However, the object uses the structural strength of the folded material to create a magical and surprising experience – an illusion. (Designer: Rafa Garcia)
My Crew Tables
My Crew is a table that is meant to be pieced together like panels for every usage imaginable. (Designer: Minus Tio)
Domino Table
A concept in motion, the Domino table lends new elegance to a classic exercise in physics and play. (link)
Brush Furniture
A few years ago, British designer Jason Taylor created a furniture set made to look like bristle brushes.
Dynamic Table
Chul an Kwak is a young korean designer who aims to inject furniture with dynamic emotion, breaking from the static norms.
Preciuos Famine
Designed by Toni Grilo for an exhibition in Paris, the Precious Famine coffee table is made entirely of kitchen utensils.
Wallnut And Grass
Designer Emily Wettstein uses reclaimed walnut and steel to craft each piece, and to make matters even cooler she incorporates a removable planter right into the center that can be filled with your choice of greenery.(link)
Rubik's Cube Table
The Rubik's Cube table is inspired by the classic toy we all grew up with…and still have today! Makes a great end table, or put two together as a coffee table. (link)
The Watch Table
Watch Table by Lee J. Rowland is a table in the shape of a wrist watch that actually functions. The table can switch between a Clock time mode that tells the time, or Message mode that displays text, with a maximum of 8 letters. (link)
Snowflake Tables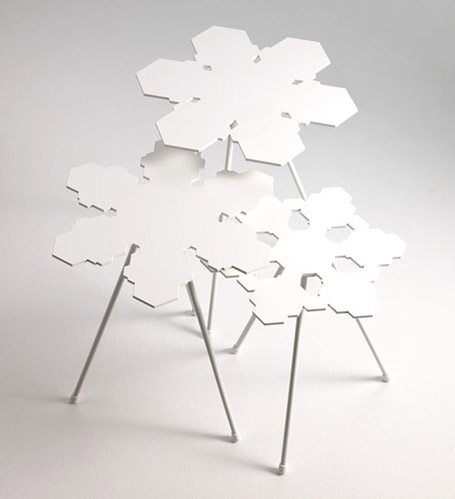 Beautiful snowflake shaped tables,Each and every table is unique. Literally. According to its manufacturers, Snowflakes is the world's first furniture to be both mass produced and one-of-a-kind. The Corian tabletops are cut using a computer program that changes the pattern within set parameters for each table made. (Designer: Claesson Koivisto Rune for Offecct)
Tongue Table
Unique coffee table design inspired by the shape of tongue. (Designer: Louis Durot)
LED Coffee Table
The LEDs are only activated when they see movement. Undisturbed, they calm to a fluid and attractive twinkling (link)
Stink Tree
Where there once was a tree, there is now a coffee table.. take that nature! Paying homage to or simply mocking nature's grandeur, the "Stink Tree" coffee table by Dylan Gold is a beautifully crafted furnishing inspired by the silhouette of the Tree-of-heaven, also known as ailanthus, Chinese sumac, stinking shumac or simply, the "Stink Tree." (Designer: Dylan Gold)
Endless Table
The Endless Nile table is inspired by the slow and perpetual flow of the Nile river. This new design, while inspired by the past, deconstructs conventional table and seating concepts to recombine them in an original and contemporary solution.(Designer: Amr Helmy Designs).

[mashshare]