Do you love watercolor and creating your d0-it-yourself projects? In today's post we'll be looking at 25 DIY Art Projects You Can Make With Watercolors at home. Ranging from Watercolor Bags, Clothing to Stationery and Cards.
Did you know these watercolor facts?
1)Â  Watercolour paint is a mix of pigment
(natural or synthetic)
and gum Arabic,
a natural 'glue' made from the sap of the Acacia tree.
2)Â  Watercolours are transparent
, although there is a slight opacity to some of them.
3)  White (opaque) paint is never used in traditional (known as 'pure') watercolour painting. To lighten colours add more water, for white just leave the paper unpainted.
4)  There IS a type of watercolour that is opaque, it is known as Gouache or 'Designers Gouache' as it used to be used for hand painting advertisements, before computers. Although it can be intermixed with transparent watercolours, as can many other media, Gouache is considered a separate medium.
5)  Most manufacturers offer two ranges of watercolours, called 'Artist's' and 'Students'; Artist's paints are the finest quality, Students are a lower quality, often containing bulking agents and fillers.
These DIY Art Projects are perfect if you're looking to be more creative and get some watercolor inspiration happening! Which one is your favourite? Personally I love the the DIY Watercolor Clutch Bag!
DIY Watercolor Pillows
Instructions Here
DIY Wedding Cards
Instructions Here
DIY Watercolor Stationery
Instructions Here
DIY Pixel Painting
Instructions here
DIY Watercolor Mug
Instructions Here
DIY Watercolor Sweatshirt
Instructions here
DIY Watercolor Clutch Bag
Instructions here
DIY Watercolor Sillhouette
DIY watercolor silhouette. This would be a fun project to do with letter stickers. Stickers on first then paint, dry, and remove stickers. Instructions here
Geometric Watercolor Painting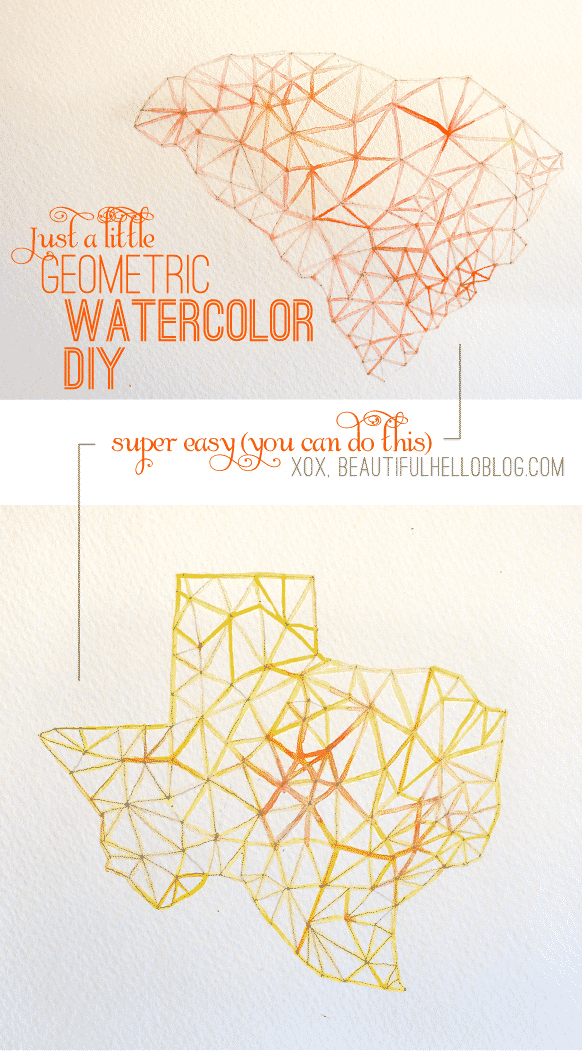 Blend the colors + connect the dots = Instant line art. Instructions here.
 Printable Watercolor Gift Boxes
To start, find the free printables here. Then top them off with…
 Watercolor Dip Dyed Bakers String
Striped Watercolor Bunting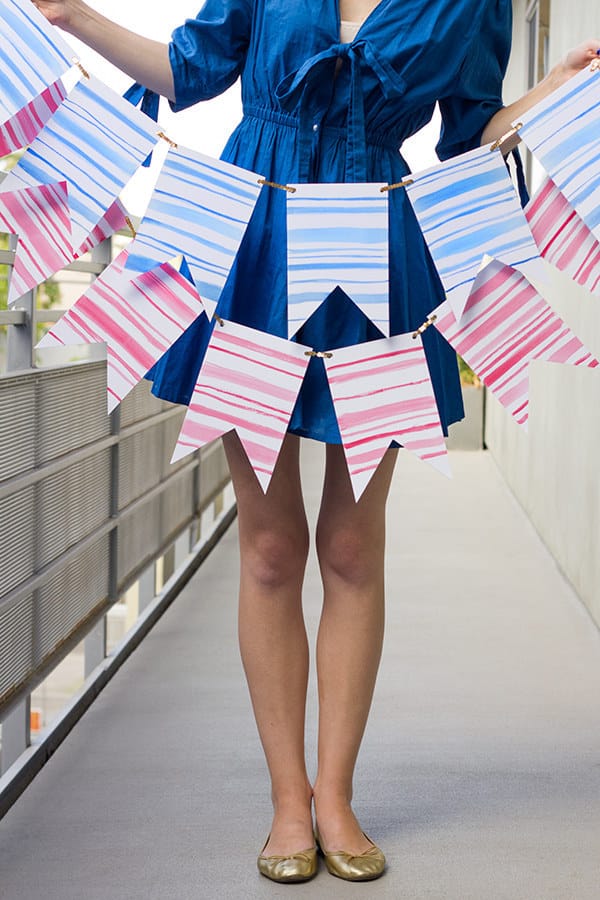 Literary Watercolor Garland
An adorable way to upcycle old books, and simple enough for kids to pitch in too.Instructions here. (Stick with a certain color scheme — like orange and black, or red and green — for easy holiday decor.)
Step-by-Step Watercolor Florals
This versatile design would work well on notecards, place-settings, or even as a print on its own. Find detailed instructions on how to create flowers and blend hueshere.
Ombre Watercolor Shoes
So bright, so right. Just start with plain white canvas sneakers or slip-ons.Instructions here.
Watercolor-Inspired Throw Pillow
Just about any design works here: Sharpie ink is smudged with rubbing alcohol and then set with heat for an (insanely simple) watercolor-esque result. Instructions here.
DIY Watercolor Paper Flowers
Fair warning that these are pretty involved — you're cutting and painting petal by petal — but the end result is lovely. (And it won't wilt after a day!) Instructions here.
18.

Watercolor Sugar Cookies
Because the only thing better than a blank canvas is an edible one. Instructions here.
Minimalist Thank You Cards
Find instructions and lettering tips here. (Also: With this and most other items on this list, you'll want to use to use a thicker paper — ideally watercolor paper, butcardstock works too — for the best results.)
Watercolor Gift Tags
Chevron Wall Print
One of the best things about painting with watercolors? Mistakes don't really matter. The end result usually looks best after you 1) decide on some complementary colors, and 2) blend and match everything. But other than that, there aren't a ton of rules to follow. (And this canvas print is a great starter project.)
Watercolor Mug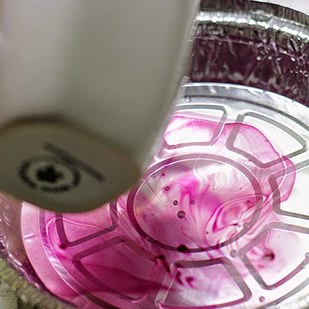 This version actually uses nail polish for an easy, watercolor-inspired look.Instructions here. (Alternatively, you can also find paint-specific instructions here.)
Watercolor Desk Calendar
Completely fool-proof: Just add a streak of color, and you're good to go. Find the free calendar printable here.
Fall-Inspired Watercolor Resist Art
An activity for the whole family: Outlines of shapes are traced with a hot glue gun (thanks to mom or dad!), then kids get creative and color everything in. Instructions here.
Or Resist Art: Crayola Edition
This one swaps the hot glue gun for a white crayon — which you can use to trace a favorite quote, lyric, or design. Instructions here.
Watercolor Clock
[mashshare]