Many of us have heard the saying, you eat with your eyes. Food presentation is essential when you're cooking cakes.  In this collection we've gathered 31 Creative Cakes That Are Too Stylish To Eat. These creative cakes have been made great planning and exceptional skills.
These creative cakes have been made with fondant, which is an edible icing used to decorate or sculpt cakes and pastries. The word, in French, means "melting", coming from the same root as "foundry" in English. Fondant will give a cake a smooth professional look and you can do anything your imagine will allow with a fondant covered cake.
Equipped with the right cake making tools the sky is the limit and any idea is possible, in fact when baking cakes the only limitation is your own imagination.
The fondant icing will also keep your cake moist, once it's covered you are essentially sealing your cake in an "air-tight container" and the cake will keep up to a week, depending on any fillings and decorations.
31 Creative Cakes That Are Too Stylish To Eat
Some of these creative cake designs and ideas are even linked to a tutorial on how to make and bake them! If you're into making designer cakes and need some creative cake making inspiration and motivation then take a look at these creative cake ideas.
Which one of these awesome cakes is you're favourite design? We love the Owl in a nest cake idea but there are plenty of amazing cake designs to choose from. Happy cake baking folks.
Tea Pot Cake
Owl in a Nest Cake
Melted Ice Cream Cake
Home Decor Cake
Olef Cake
Harry Potter Themed Cake
Tim Burton Halloween Special Cake
Halloween Pumpkin and Autumn Leaves Cake
Giraffe Cake
Monster's Inc.
Halloween Pumpkin Cake
M&M's Cake
Easter Cake
Library Cake
Image credits: Kathy Knaus
Up! Cake
Image credits: classiccakesandconfections.com
Earth Cake
Image credits:Â Cakecrumbs
Pigs In The Mud Cake
Image credits: Taartjes Van Fiona
Human Organ Cake
Image credits: conjurerskitchen.com
Steampunk Cake
Image credits: Johannas tårtor
Python Cake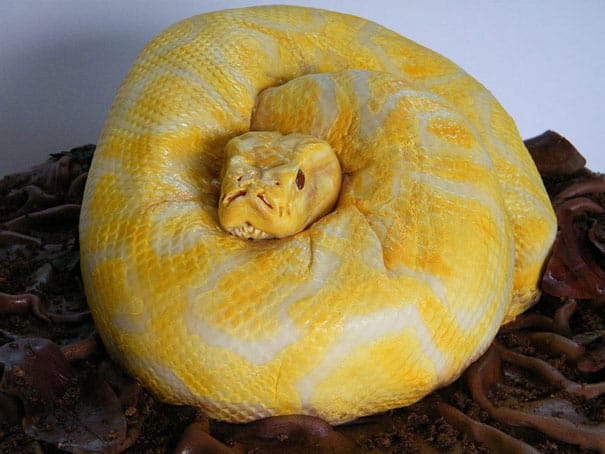 Image credits: North Star Cake
Nikon Cake
Image credits: fsumaria
Panda Cake
Image credits: boredpanda.com
James Bond Wedding Cake
Image credits: David Malki
Mining Cake
Image credits: anonymous panda
Harry Potter Spell Book
Photo credits:Â Vanessa Berry
Planet Cake
Image credits: Cakecrumbs
Starry Night Cake

Image credits: boredpanda.com
Book Lover's Cake
Image credits: boredpanda.com
Polo Shirt Cake
Photo credits:Â rezonans
Giraffe Cake
Image credits: Sharon Wee
Anti-Gravity Cake
Image credits: Rose Aurora
Ice Age Cake
Photo credits:Â imgur
Paleontology Cake
Image credits: Proteon

[mashshare]