When furnishing a living room choosing the right sofa or couch is essential. Couch or Sofa Designs are important to get right, they should stay within the theme of the living room and should be warm and inviting. Personally I prefer warm and cosy couch/sofa designs!
Some facts about sofas 
The term couch is used in North America, Australia, New Zealand, whilst the term sofa is generally used in the United Kingdom. The word originated in Middle English from the Old French noun couche, which derived from the verb meaning "to lie down". It originally denoted an item of furniture for lying or sleeping on, somewhat like a chaise longue, but now refers to sofas in general.
In today's collection we've gathered 33 Most Creative Sofa Designs or Couch Designs, these sofa designs are super creative and modern! Which one would you want in your living room? Comment below!
QWERTY
(Designer:Â Paolo Emilio)
BRC
(Designer: BRC Designs)
Manet
(Designer:Â Marta Szymkowiak)
Alien Inspiration
(Designer: Jonas Jurgaitis)
 Styrofoam Sofa
(Designer: Kwangho Lee)
Brush
(Designer: Ron Arad, student of BCUC)
Cow Sofa
(Designer: Rodolfo Rocchetti)
"Cross" Sofa
(Designer: Elvis Pennetuzzo)
Feel the Deluxe
The Feel Deluxe is made of 120 soft and extremely pleasant balls. (Link)
Inflatable Sofa
(Link)
Lego Sofa
(Designers: Thierry Nahon & Philippe Landecker)
Luminating Sofa
(Designer: unknown)
Monster
(Designer: unknown)
Montanara
(Designer: Gaetano Pesce)
Puma
(Designer: Rodolfo Rocchetti)
Roma
(Designer: Rodolfo Rocchetti)
Phat Knitt
(Designer: Bauke Knottnerus)
East Meet West
(Designer: Tonio de Roover)
Tiger
(Designer: Rodolfo Rocchetti)
Pool Sofa
This Sofa was made for an ad campaign for swimming pool design firm Piscine Castiglione near Milan.
Cactus Sofa
(Designer: unknown)
The Egg Sofa
(Designer: unknown)
"Napoleon versus Napoleon 1999″ – the Double Decker Sofa
(Link)
Brocca
(Designer: Gufram)

Lupita, Peeled or Loop Sofa
(Designer: Victor Aleman)
Harrod's Stuffed Animal Couch
(Photo by: memimenam)
 Wall-Climbing Sofa
(Designer: Lila Jang)
Not a Bit Prickly
You can sit or you can lie on it! (Designer: Caterina Tiazzoldi and Eduardo Benamor Duarte)
Sofa Box
(Designer: unknown)
Sofa Design with Brick Upholstering
(Link)
Ball Pillow Conglomerate
(Designers: Cheng-Tsung Feng and Kai-Ting Lin)
 Crumpled Rumpled Paper Sofa!
Sofa made from crumpled paper. (Designer: Tokujin Yoshioka for Moroso)
 Aston Martin Seat Sofa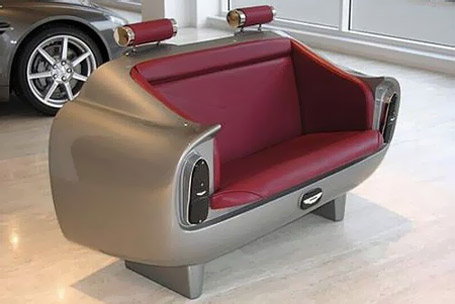 (Designer: unknown)

[mashshare]