Clowns are suppose to be happy and fun, but there is a dark side to clowns that is terrifying! The red nose, white makeup and enormous smile that is more menacing than anything else! In today's culture of Halloween and horror movies, clowns have now got a horrific image in our world. The image of the 'evil clown' has now become infamous and stars in many of our favourite movies, tv shows and books like Stephen King's 'IT' and the murderous clown from American Horror Story Freak Show.
Today we'll be looking at some of the best and most creepiest clown tattoos, many of us are influenced by the dark culture of horror and evil making these bad ass clown tattoos even more menacing! These sadistic and serial killer clown tattoos aren't just scary, they're also brilliant works of art!
Terrifying Clown Tattoo Ideas
Badass Tattooing by Sacred Art Tattoo
Clown Tattoo by Sergey Horror
Valentina Ryabova Nailed This Piece!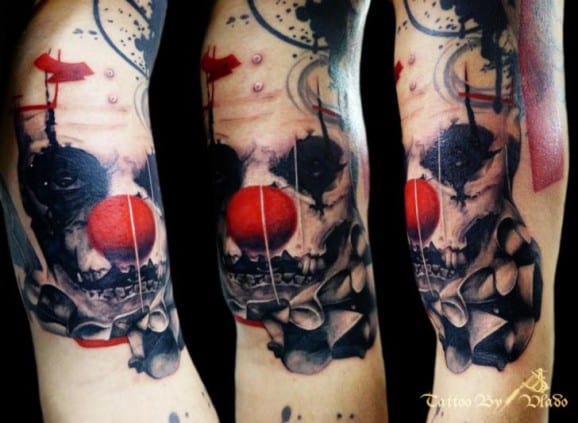 Clown Trash Polka Tattoo by Tattoo Rascal
Joker Clown Tattoo by Balinese Tattoo

Krusty the Clown Tattoo by Mike DeVries
Pennywise Clown Tattoo by Andrzej Niuniek Misztal
Tattoo by Sacred Art Tattoo
Twisted Metal Tattoo by Kyle Cotterman
Realistic clown done by Zhivko Baychev.
I think this one speaks for itself. Artist unknown.
Creepy clown tattoo done by Brandon Bond.
Black and grey piece by Kryz @ Wildcat Tattoo
"Coulrophobia: an abnormal, exaggerated, or irrational fear of clowns"
In Stephen King's "IT"; It turns into a middle-aged male clown to attract children, his preferred prey, and kills them. Thus, being the prototype of a creepy clown. But we all know that children aren't the only ones who can be petrified of clowns, us grown-ups often have the same fear and just that little bit more pronounced 😉 Some might find it ridiculous, but who hasn't had a nightmare where a clown (friendly or not), played the lead?
PennyWise, full color, by artist David Corden
PennyWise from "It" by Saz Tattoo
PennyWise Climbing out of an arm, making him extra creepy
fantastic piece by Kamil Czapiga
full color clown by chris Schmidt
close up of the clown's face, done by Joshua Gomez
done by Kyle Cotterman
American Horror Story Tattoo by Ken Patten
Captain Spaulding Tattoo by Roman Abrego
Clown Blood Tattoo by Qrucz Tattoo
Clown Girl Tattoo by Nikko Hurtado
Evil Clown Tattoo by Alans Tattoo Studio
Amazing Clown Tattoo by Alex De Pase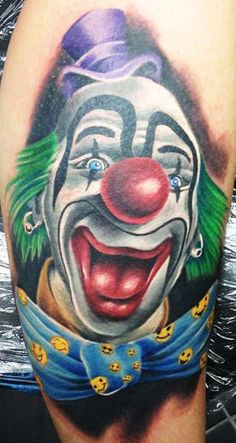 Bold Tattoo by Chris Schmidt
Dark Clown Tattoo by Aero & Inkeaters
Awesome Black and Grey by Beny Pearce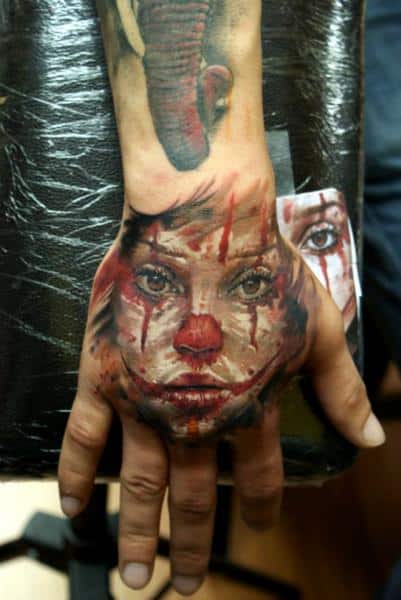 Clown Hand Tattoo by Bloodlines Gallery
Great Work by Cynthia Finch
Clown Tattoo by Eddy Tattoo
Terrifying Piece by Fredy Tattoo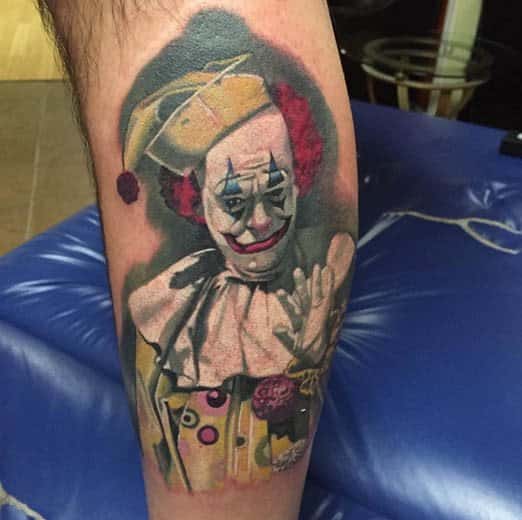 Clown Tattoo by Josh Payne
Villainous Clown by Oleg Tattoo
Clown Tattoo by Qrucz Tattoo

[mashshare]