Don't be fooled, Bus Stops Ads don't have to be the same as billboard advertising. Due to it's location and bus stop location, they can be more creative and are a great alternative to the regular outdoor ads.
Bus Shelter Advertising can be highly effective if done well, they can sometimes cover the entire bus stop if the budget allows it to. Many Bus Stops feature advertising, from simple posters, to complex illuminated, changeable or animated displays. In today's collection we've found 50 Creative Examples of Bus Stop Ads, ranging from Coca-Cola, TV Shows, Movies to Products. Take a look at these creative bus stop ads and see which one is your favourite!
Absolute Lemon Drop
As an evolution of its ongoing "DRINKS" campaign, ABSOLUT VODKA has used the bustling streets of Chicago to bring to life the unique universes created by visionary photographers, Ellen Von Unwerth and Amanda De Cadenet. With a series of bus shelter installations, ABSOLUT has leveraged the imagery of talent such as Kate Beckinsale, Zooey Deschanel & Ali Larter to transform these shelters into tactile installations for people to enjoy. Bringing to life the worlds that embody ABSOLUT "Lemon Drop," Twist" and "Bloody," the shelters (which will run until late December) use original seating, stunning colors and even tropical plant-life. (Advertising Agency: TBWA\Chiat\Day NY, USA)
Ten / The Biggest Loser: Bus stop
(Advertising Agency: Junior, Brisbane, Australia)
The Simpsons
Who is Marge Simpson without her distinctive tower of blue hair? The Comedy Channel clearly think that the Simpson family matriarch would be somewhat lacking without it, so they've defied the dimensional restrictions levied upon them by Canada's bus stops to promote The Simpsons in syndication. (Agency: Unknown)
Perwoll

To promote Colormagic, a detergent that protects colors from fading out, Perwoll created a colour-blindness test to be displayed at bus stops. At its centre is a bottle of Colormagic, made out of rolled up socks and clothing, that may take a few seconds to find. (Agency: Unknown)
Serve: Bus stop
Family violence is all around us. You can help stop it. We can help you find the right things to say and when to say them. (Advertising Agency: SERVE, Milwaukee, USA)
Formula 1

Formula 1 has been growing in Asia and the number of Grand Prix races held in the Far East has grown in the past few years; this bus station was augmented to promote the Singapore Grand Prix and is decorated in the style of chequered flags, with a model F1 car on top.(Agency: Unknown)
Caribou Coffee: Oven Bus Stop
"To help Caribou Coffee launch its hot and fresh Daybreaker breakfast sandwiches, we decided to heat things up a bit. To do this, we created ovens out of transit shelters, complete with real heaters and working clocks. This not only allowed us to showcase Caribou's new "Hot 'n Wholesome" menu items, it also benefited Minnesotans during their frigid winter commutes." (Advertising Agency: Colle+McVoy)
Poster That Responds To People Looking At It
"It happens when nobody is watching" (Advertising Agency: Jung von Matt, Hamburg, Germany)
The Dignity Project
The Salvation Army in Canada has created a series of bus stop ads featuring homeless people reaching out for necessities as part of The Dignity Project, which is attempting to restore hope and dignity for the less fortunate. (link)
March Against the Terrorist Organization FARC
"February 4th is March Against the Terrorist Organization FARC. We took the bus stop posters and chained three iconic characters of the Colombian conflict posing as hostages. A woman who reminisced Ingrid Betancourt (hostage for nine years now), a policeman and a farmer, all tied to the posters that held a message as follows: "Since you can do it, go out and march against FARC." (Advertising Agency: Sancho BBDO, Colombia)
Science Alberta: Invisibility

"Is invisibility possible? Invent your future with a career in science." (Advertising Agency: MacLaren McCann, Calgary, Canada)
San Francisco Zoo: Critter Quest
Advertising Agency: BBDO West
Fisch Franke: Filled with Water and Real Fish
Advertising Agency: Publicis, Frankfurt, Germany
Le Lait: Milk Carton
Advertising Agency: Nolin BBDO, Canada
Fiji Travel – Throw Away Your Clothes
Advertising Agency: TBWAOSLO, Oslo, Norway
Je*s Jeans – No Need to Bend Anymore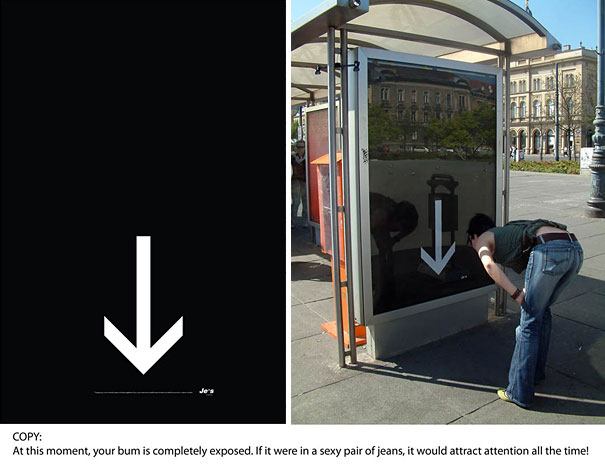 Advertising Agency: Bruketa@Zinic, Zagreb, Croatia
Fitness First: Bus Stop
A health club chain called Fitness First, have actually converted a bus stop bench into a scale that displays the weight of people sitting on it. (Advertising Agency: N=5, Amsterdam, The Netherlands)
Movie up: Balloons
Advertising Agency: unknown
Free Coffee From April 20th till May 3rd
Advertising Agency: Cossette West, Canada
Asian Weeks till 24th August
Advertising Agency: DDB Helsinki, Finland
McDonald's: Night
Advertising Agency: DDB Sydney, Australia
Norwegian Airline's New Destinations: The Kilt
Advertising Agency: Volt AB, Stockholm, Sweden
Norwegian Airline's New Destinations: The Sauna
Advertising Agency: Volt AB, Stockholm, Sweden
Calgary Zoo: Dinosaurs Alive!
"More real. More scary". (Advertising Agency: Trigger, Calgary, Canada)
Australia Post: Personalize Your Post
Advertising Agency: M&C Saatchi, Melbourne, Australia
Coca-Cola Refrigerator Bus Shelter
"Open Happiness." Real Coke bottles settled to the mock-up cold refrigerator. (Advertising Agency: McCann Erickson Istanbul, Turkey)
Hasbro Cluedo: How Does It Feels To Be Involved..?
"How does it feel to be involved in a crime." (Advertising Agency: DDB, Italy)
Playstation Bus stop
This bus station in Malaysia features boards with bubble wrap. I would probably miss the bus here! (Advertising Agency: unknown)
Real Hip Hop: Black Power
"Black music all the way." Cannes Lions Outdoor finalist. (Advertising Agency: Dentsu, São Paulo, Brazil)
Wonderbra: I Broke the Glass
Advertising Agency: Publicis Frankfurt, Germany
Guarana Antarctica: Net
Actual size goal posts were placed in bus shelters around Sao Paulo for the Soccer World Cup (Art Directors: Marcelo Maia, Bruno Brasil, Rodrigo Rodrigues)
Christopher & Dana Reeve Foundation: Wheelchair
Advertising Agency: BBDO New York, USA
IKEA: Bus Stop
Advertising Agency: unknown
Apple Macbook Air: Swing
Credits: Bruno Taylor
Treasury Casino: Let The Good Times Roll

7563 dice were painstakingly set into the face of Treasury Casino's bus shelter sign. (Advertising Agency: Treasury Casino)
Victoria Bug Zoo
This TSA, made from a plastic sheet with hundreds of small magnifying lenses, allowed passersby to see through a bug's eyes. (Advertising Agency: Rethink, Vancouver, Canada)
Osram – Energy Saving Light Bulbs
"Only use electricity when you need it." (Advertising Agency: Saatchi&Saatchi, Cape Town, South Africa)
Alfa Romeo Helps Other People Sell Their Cars
Within days the poster sites were completely full. (Advertising Agency: Duval Guillaume, Antwerp, Belgium)
Coca-Cola: New Grip Bottle
Challenge: Let people know about how the new Coca-Cola Grip Bottle has a better grip for holding.
Solution: Posters printed on Velcro were placed in bus shelters in Paris to make people interact with the grip.Results: People literally hooked to the campaign. On the whole, a 3.8% brand volume growth in France compared to 2007. (Advertising Agency: Marcel, Paris, France)
Livegreen Toronto: Switch
"Hello, have you heard about livegreentoronto.ca?" (Advertising Agency: Agency59, Toronto, Canada)
Etv: Football World Cup
Bus stop ad promoting local TV channel live coverage of world cup 2006. (Advertising Agency: unknown)
3M Security Glass
Break it and you can take $3 million in cash! The true is, that there were actually only $500 put on the top of the fake bills, and people were only allowed to use their feet to break it. In case, someone actually break it – there was a guard to assure that nobody kept the fake money from the glass. (Advertising Agency: unknown)
Rubbish Since Monday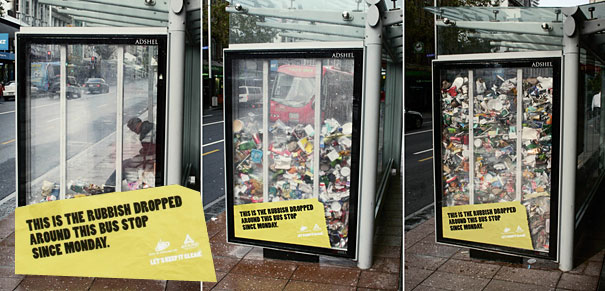 Advertising Agency: Colenso BBDO, Auckland
Star Wars: Lightsabers
Advertising Agency: enVision, Aarhus, Denmark
Quiksilver: Ramp
A real skateboard ramp was mounted on the side of a typical danish bus shed providing pass time activities for the waiting passengers. (Agency: Saatchi & Saatchi, Copenhagen, Denmark)
Ecko Clothing: Bluetooth Graffiti
People will get the possibility to access the citylight via bluetooth with their cell phones and spray their own graffiti with the cursor of their phone. (Advertising School: Design Factory International, Hamburg, Germany)

[mashshare]