Let's face it there are some assholes in the world which usually get all the attention, to help the rest of us focus on the good of people let's take a moment to see some photographs that will restore our faith in humanity. These magnificent photos showcase some acts of kindness, compassion and even acts of bravery.
After looking at these photos maybe we'll be reminded that humans aren't so bad after all! These photographs remind us all that not all people are self centered or bad – and that kindness, compassion and love is always the way when it comes to helping others!
Every Evening, This Man Takes His Sick Dog To A Lake Because The Water Helps His Pain Subside
via huffingtonpost.com
A tourist gives his sandals to a local in a third world country. He noticed that she didn't have any shoes of her own, so he gladly gave his up.
Officer Talks Man Out Of Committing Suicide. Eight Years Later, The Now-Father-Of-Two Gives the Officer An Award At The American Foundation Of Suicide
Every Sunday, This New York Hair Stylist Gives Free Haircuts To The Homeless
Norwegian Guy Plunges Into Frozen Lake To Rescue Drowning Duck
Christmas Elves Surprise The Homeless With Food And Gifts
Young couple gets their meal paid for by an older couple trying to pass on kindness and good parenting skills – a touching display of kindness.
Jacqueline Kiplimo Helps A Disabled Runner Finish A Marathon In Taiwan, Costing Her A First Place Finish
During a raging flood, a man risks life and limb to transport a basket of newborn kittens across a flooded river and out of the danger zone. Most people wouldn't do this for someone they knew, let alone little kitties!
This man who knows how to be a good neighbor
And this man too…
via: boredpanda.com
Workers From Memphis Cleaning Company Dress Up As Superheroes To Cheer Up Patients At Children's Hospital In Le Bonheur
These who will clean your outfit for free
These fans who know everyone should enjoy a show equally
via: imgur.com
These cyclists who gave water to this thirsty koala
via: panoramio.com
This soldier who rescued a kitten during war
via: imgur.com
This family
via: imgur.com
This Afghan man who offered tea to a soldier
via: imgur.com
These protesters stopping to take care of a stray dog that was erroneously tear gassed
via: distractify.com
These guys rescuing a lamb from the Ocean
via: reddit.com
via: reddit.com
via: imgur.com
This runner who helped a injured competitor to cross the finish line
via: huffingtonpost.com
These Subway employees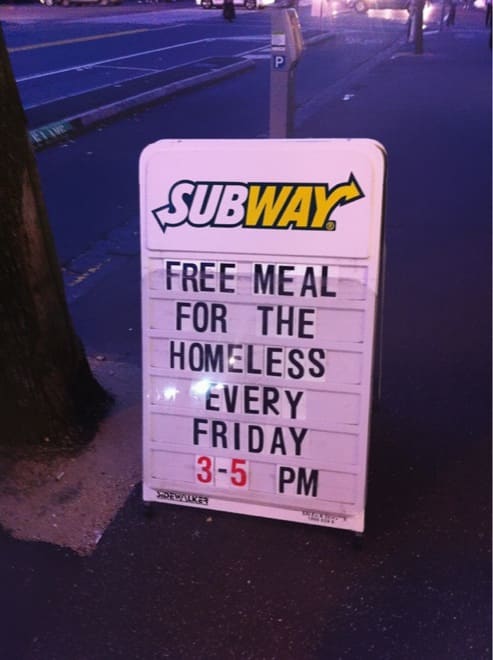 via: reddit.com
This firefighter rescuing a kitten from a fire
via: imgur.com
This man who takes the time at lunch to read everyday to a coworker who can't
via: kindnessblog.com
This guy who became a seat for an elderly lady while stuck in an elevator
This homeless man
via: kindnessblog.com
These incredibly generous customers
via: consumerist.com
This randomly kind person
This security guard who makes the days of little girls
via: slightlywarped.com
This marine who picked up the puppy that had been following him for miles
photo credits: CTMphotovideo
And this one who saved a little bunny
via: cnn.com
This Wendy's employee
via: mindblowingfacts.org
Dan, who brings coffee to everyone at the local Cancer Center
via: rnedhardy.com
The man who repaired this cat from rain
via: aboluowang.com
And this man who left lottery tickets on the gas pump for random customers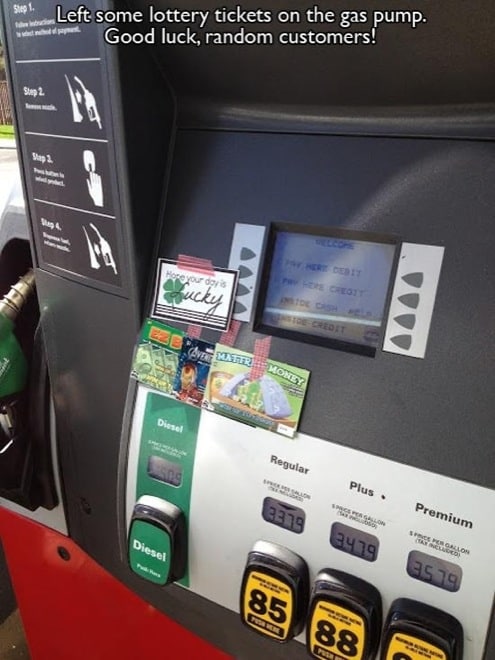 via: littlewhitelion.com
Kind tourist makes the day of a little girl when he gives her a flower – just look at the smile on her face, you know she will remember this for a lifetime.
Two small boys saw an abandoned puppy struggling to get out of a drainage ditch. Together, they made sure the little guy was out of harm's way, even if that meant spending a lot of time risking their own safety to get him out.
During protests in Brazil, a general pleaded with the protestors, saying it was his birthday and he didn't want any violence. What those protestors did to celebrate a stranger's birthday was absolutely heartwarming.
Best friends don't have to be of the same species! This cat and little boy share a close bond, even if they have trouble communicating with each other. Swing buddies for life!
During flash floods, a man in Australia saw a kangaroo nearly drowning. Although the kangaroo is a wild animal, he braved the waters and saved the little guy.
Christians apologize to the gay community for all of the hurt and suffering they caused them…
And the people who were there were crying with joy, happy to be accepted back into the fold by their Christian brothers and sisters. Truly touching!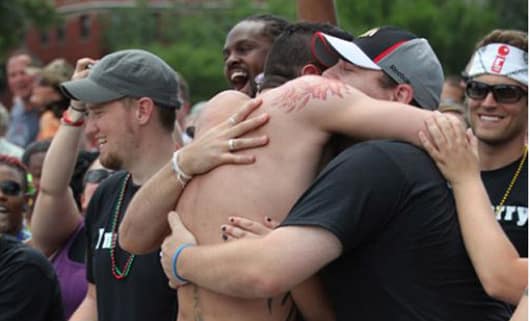 Just because we are individuals, it doesn't mean we have to go through our trials alone in this world. 🙂
Soldiers may be fighting wars, but that doesn't mean they aren't human. This soldier cradles a child in enemy territory, caring for her and trying to protect her from the violence that was going on around them.
A kind child helps a homeless man by giving him something to eat on a cold winter's day.
When a motorcyclist violently wrecked into a car, onlookers braved the flames to pull out the unconcious man from the wreckage. They risked their lives for someone they didn't know by lifting a car that was on fire – simply amazing.
During one man's dying moments, all he wanted to do was be next to his lifelong best friend – his dog.
While forest fires were raging in Australia, a kind firefighter saw a koala that was extremely dehydrated. Instead of passing on to continue with his tasks, he stopped and made sure the poor creature had something to drink.
A caring man washes the feet of complete strangers, playing out a Biblical act and showing so many people kindness and respect they didn't usually get.
During a high school softball game, a girl injured herself while at bat. Instead of letting her struggle, the opposing team carried her around the bases so that she could score.
This firefighter rescued a housecat from a house that was fully engulfed in flames. To show its appreciation, the burnt little cat started snuggling with his hero.
To help people during a terrible economy, a drycleaner in the city offered to clean the outfit of any unemployed person. That way, anyone looking to get a job could be presentable and clean during their interview.
The dad who turned his hospitalised newborn into Iron Man with a DIY costume.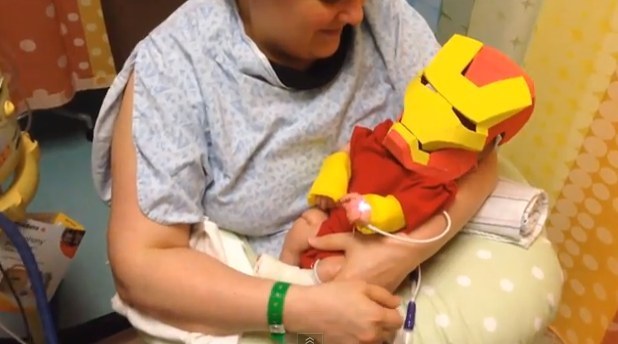 Eric Hart / Via youtube.com
The #Illridewithyou campaign that aimed to help Muslim commuters feel safe in the wake of the Sydney siege.
The crowd who spontaneously joined this little girl's dance at a NYC subway stop.
And the guy who started his own dance party on a Perth train.
And the Santa who learned sign language to communicate with this deaf little girl.
sbs.com.au / Via buzzfeed.com
The man who modified toy cars to help give disabled kids mobility – and started teaching people how to do it at home so everyone can access the tools he created.
The Reddit user who gave his girlfriend a jar of 365 love notes – so she could have a good start to each day of the year.
imgur.com / Via reddit.com
The tattoo artist who gave this woman with Down Syndrome a fake tattoo every Friday.
facebook.com / Via buzzfeed.com
The town that celebrated the holidays (including Halloween and Christmas) over one week in early October so that four-year-old cancer patient Ethan, who only had weeks to live, could take part.
The Reddit users who helped this man attend his son's high school graduation, after he posted that he couldn't afford to travel the 300 miles to get there.
imgur.com / Via buzzfeed.com
The little girl who wrote this letter to her teacher after he came out as gay.
And the reaction of this 13-year-old when his best friend came out via text message.
The friends who helped this deafblind Brazilian man experience the World Cup in real time.
The seven-year-old who set up a lemonade stand to raise money for his best friend's surgery for cerebral palsy, and raised over $60,000 with the help of the community and the internet.
And the six-year-old who wrote a book for his best friend with a rare liver disorder, and raised over a million dollars for research into the disease after copies were sold for $20 each.
The parents who made a video celebrating their transgender son with the aim of promoting awareness and acceptance.
And the family who issued a new birth announcement for their transgender son.
The dad who helped his 12-year-old daughter with mitochondrial disease dance her way through pageants.
The little boy who took it upon himself to feed stray dogs every day.
And his dad, who helped him build an animal shelter in their garage after discovering what his son had been doing.
The basketball team who officially signed a five-year-old fan with leukemia to play with them for a game.
The students who pitched in to buy their school janitor tickets to the Red Hot Chili Peppers concert
The three-year-old girl who decided to cut off her hair (and give Rapunzel a matching cut) so it could be made into wigs for children with cancer.
The community who not only helped clean racist graffiti off this mosque, but also posted messages of support.
[mashshare]