Many of us grab books from shelves without even thinking of the Bookshelf Design it's been sitting on. When walking to a room full of books most of us find that impressive, books contain worlds of knowledge and story telling. But sometimes Bookshelf Designs can take your attention over the books, if they're designed with a unique and innovative way.
A bookcase, or bookshelf, is a piece of furniture, almost always with horizontal shelves, used to store books. It may be fitted with glass doors. Â A bookcase consists of a unit including two or more shelves which may not all be used to contain books or other printed materials. Shelves may be fixed or adjustable to different positions in the case. In rooms entirely devoted to the storage of books they may be permanently fixed to the walls and/or floor.
In today's post we'll be looking at 30 Awesome and Innovative Bookshelf Designs, these bookshelf designs are very stylish with different ways of turning a usually boring concept into something new and exciting!
Chopped Tree Bookshelf

Small bookshelf interpreting the moment when the tree trunk is cut and falls to the ground, transforms a structure that initially looks stiff and essential, in a flexible, mobile and lively piece of furniture composed of four elements that can be stacked and fixed to each others, or used individually.
Designer:Â Lenka Czereova
Bookshelf V03
An innovative plywood bookshelf with a unique diagonal design.
Designer: Don't DIY
Reading between the strings
A bookshelf inspired by a guitar made of wood and formica
Designer: Paulina Gomez
Hex Bookshelf
Designer: Gabriel Manraes
Bookshelf "Branchie"
Branchie is a modular shelves system composed by rectangular elements consisting of multipurpose containers and book cases.
Designer:Â officinemultiplo
USA Bookshelf
Designer: Ron Arad
Between Lines
The work consists of laser cut stainless steel letter bands and then rubber coated in black. Each of the 2.7 meter letter bands can be coiled up to a small roll, unfolded and re-shaped to an infinite array of configurations. Without additional brackets the letter bands are simply screwed to the wall.
By: Wokmedia
Crash
Crash plays with the visual tension between chaos and order: the shape might be perceived as chaotic and out of angle, yet the construction is highly stabile.
Designer: Rainer Mutsch
Wave Shelving
Designer: Julien Vidame
Pulse Bookshelf
Designer: MÃ¥ns Salomonsen
Movement Bookcase
Designer: Sungmin Hong
 Chaos Theory For Books
Designer: Kim Ji-hye
Second And a Half Dimension Shelves
Designer: Bjørn Jørund Blikstad
Hanging Books
Designer: Marianne van Ooi
When a Room Has No Rules
The shelf system consists of three parts that can be combined in different ways. The smallest part is only about 40cm high and the largest is one meter. They can be used as bookshelves, room dividers, art…anything you want them to be.
Designer: Andreas Hegert
Roll Up With a Good Book
Designer: Zhdanova Irina
The Line King
"Line" furniture system incorporates a work table, hanger, bookshelf, wine rack, CD rack, TV stand and lighting unit. The most important characteristic of "Line" is it being a no-break line.
Designer: Aykut Erol
Polar Bear Shelf
Designer: Ibride
Skateboard Shelf
Designer: unknown
Contrabass
Designer: unknown
Stairs
Designer: Levitate
Malus Communis
Designer: Defact Studio
Icelandic Tree
Designer: Maria Yasko
Books On Earthquakes
This is how Barbie's House looks like after earthquake.. Designer: Smansk
Rill
Designer: Maria Yasko
Bee
Designer: Maria Yasko
Milky Waterfall
Designer: Maria Yasko and Igor Marisko
Bookwave Hanging Storage
Designer: Julien Vidame
Collapsing Bookshelf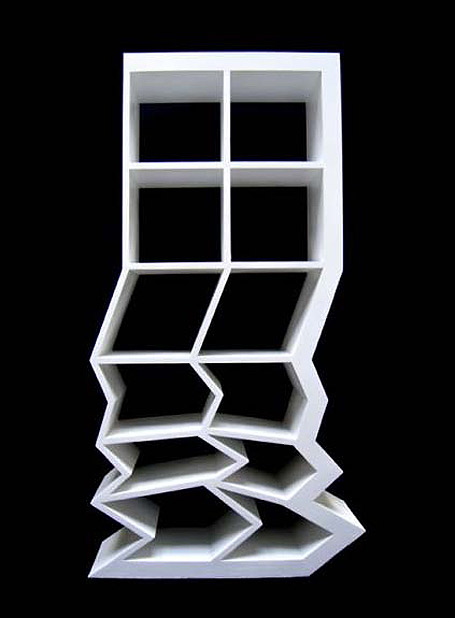 Designer: Parsy Debon
Bookshelf With a Bench
Designer: Stanislav Katz

[mashshare]