The "Tiger King" is the latest Netflix series going viral, which has created a trend of tiger king memes.
If there was anyone who would have lent themselves to be forever immortalized as the king of memes it would be Joe Exotic, AKA the Tiger King. During the coronavirus pandemic, many people are stuck at home with nothing to do. Many people have chosen to spend their time binge watching Netflix. Currently, as of 3/31/20, Tiger King is ranked #1 by Netflix.
Many memes have been going around since Joe Exotic is considered quite a unique character who has been described as a train wreck you can only watch. The 57 year old former zookeeper is now in jail on murder charges, but that hasn't stopped the internet from being obsessed with him. Feel free to also check out our Carole Baskin memes.
Here are 40 Tiger King memes to keep it going…
Joe Exotic for President

2. Your wish is my command

3. Steve Irvwin had nothing on Joe Exotic

4. Stay in place is driving everyone nuts

5. Coronavirus / Joe Exotic meme

6. Thank you netflix

7. Got to have your mullet

8. No one expected Rona or Tiger King

9. Replace Me with Everybody

10. Who remembers them?

11.

12.

13.

14.

15.

16.

17.

18.

19.

20.

21.

22.

23.

24.

25.

26.

27.

28.

29.

30.

31.

32.

33.

34.

35.

36.

37.

38.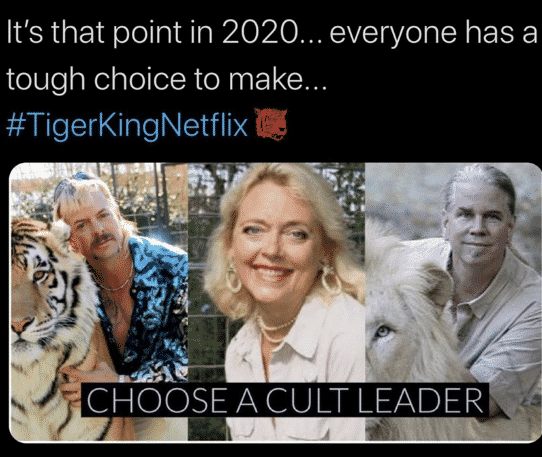 39.

40.

[mashshare]