When designing in Adobe Photoshop it's sometimes handy to have effective Photoshop Plugins to help boost our workflow and creativity. Photoshop is a fantastic Graphic Design tool used by many to create websites, graphics and photographs. There are some fantastic premium and free Photoshop Plugins you can download today, already photoshop is packed full of useful tools, sometimes we can install new photoshop plugins to help improve your design needs.
Photoshop functionality can be extended by add-on programs called Photoshop plugins (or plug-ins). Adobe creates some plugins, such as Adobe Camera Raw, but third-party companies develop most plugins, according to Adobe's specifications. Some are free and some are commercial software. Most plugins work with only Photoshop or Photoshop-compatible hosts, but a few can also be run as standalone applications.
There are various types of plugins, such as filter, export, import, selection, color correction, and automation. The most popular plugins are the filter plugins (also known as a 8bf plugins), available under the Filter menu in Photoshop. Filter plugins can either modify the current image or create content.
In this article I've gathered some of the Best Collection of Photoshop Plugins You'll Love, these Photoshop Plugins will help you work more faster and easier with your graphic design and web design projects. These Plugins will allow you to do tasks in Photoshop which would otherwise not be doable, including such Photoshop Plugins such as CSS3 Plugins, Gradients Plugin, Patterns Plugin and 3D Generator.
A kind of PEZ dispenser for graphic designers but instead of sweets you could dispence graphic elements such as buttons, sliders even icons.
Snapping On / Off: Turns pixel snapping on and off, obviously. Horizontally / Vertically Centre: These are particularly good time savers. Marquee the area in which you want to align your layers then press one of them. The good part is that you can select multiple, ungrouped layers and it will automatically group them before aligning then ungroup them when done so you don't mess up your spacing or folder structure. Trim: Trims the transparent pixels on all sides of the PSD. Export .png: "Save for Web" a .png to your desktop. It will use the name of your PSD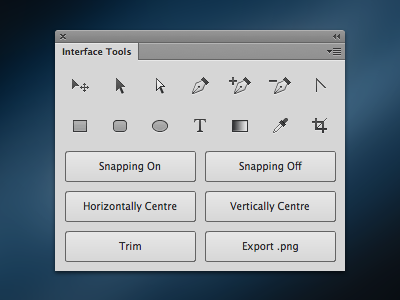 Bounce is a free plugin that integrates and connects the Dribbble design community into the design applications you love to build with everyday.
WebZap is a plugin that provides Photoshop with additional tools and functionalities that are designed to assist web developers with their mockup and ui design workflow.
If you are an iOS ui designer, then you are going to love DevRocket. It's packed with must have features and tools that are designed to make your iOS Photoshop workflow more efficient.
CSS Hat is Photoshop plugin which instantly turns layer styles to CSS3! Speed-up your Photoshop workflow. Don't code anymore. Enjoy your life instead!
WebZap lets you easily create common user interface elements in a range of styles and colors. All user interface elements generated by WebZap are fully layered and crafted from custom shapes, meaning you can edit them in any way you like.
Become a flat design pro in seconds with this simple photoshop plugin.
Long Shadow Generator for Photoshop Plugin
A photoshop extension to create long shadow with one click!
Enigma64 is Photoshop plugin which gets you images from Photoshop in a moment! Get PNG, JPG or Base64 automatically. Enjoy your life instead!
CSS3Ps is a free, cloud based, photoshop plugin for converting layers to CSS3 styles.
Easily add visual harmony to your photos with this essential pack of gradient mapping filters.
26 gradients are included (the only gradients for gradient mapping you'll ever want as presets)

1 click install (.grd file)
Photoshop Plugin to transform your work into a unique perspective. Mac & Win.
Automatically and precisely export multiple layers and save tons of time. Nothing to learn; no prep time; no changing your workflow. Straightforward, intuitive, flexible and faste more at: http://perspectivemockups.com/#sthash.5E0RMqLc.dpuf
Imagine the immense library from Subtle Patterns, fed directly into your Photoshop panel – always in sync! It's finally possible with our plugin for Adobe Photoshop.
Cut&Slice me cuts and exports them in png format trimming the pixels you don´t need, or let you can specify the size you want. Or you can export all states of your buttons in the blink of an eye.
With this SmartIcon – Icon Generator – 3DM you are able to create 3D icons from vector shapes, text layers or images in minutes! The results definitely fit on EVERY original 3D Map maps. And the best of all: You don't have to be a pro to get professional results. Individualize your 3D Maps – everything is possible!
[mashshare]