In this article, you will find 45 awesome Black Friday deals for web designers and developers.
We covered the following industries: WordPress themes and plugins, Front end + back end stacks, premium WordPress support service, website and landing page builders, font identifiers, collaboration tools, and much more.
While some of the companies are offering fantastic deals for Black Friday, others will help you with their standard offers, like FixRunner. But keep in mind that these companies are already having awesome deals for you, some of them being the very best in their industries.
Pixpa
Pixpa is an all-in-one no-code platform for creators and small businesses to create beautiful, professional websites complete with built-in online store, blog, and client galleries. Pixpa's versatile platform has everything you need to showcase your work, share ideas and sell your stuff online, without any coding knowledge.
Time of deal : Nov 24 – Dec 31
Deal Highlight
Use this promo code BLFPIXPA50 to avail 50% discount on annual plans.
Click here : http://studio.pixpa.com/signup/?refcode=BLFPIXPA50
Creative Tim is a super popular creator of awesome UI Kits and Dashboard built on top of Boostrap, Angular, React, and Vue.js. They have more than 1.3 million users from all over the world and the numbers increase quickly.
You will be amazed how cool and useful are the products that Creative Tim team builds from scratch. Even their free stuff looks awesome.
For 2020 Black Friday, Creative Tim offers extremely high discounts.
You can get Front End and Back End Stacks, which includes over 60 UI Kits and dashboards, for only $99 – the regular price is $3,945.
This is a massive discount, get it now.
Total – The Most Complete WordPress Theme
You want the best WordPress theme in the market, and which you can easily use it to create your website?
Total is the right WordPress theme for you. It has included everything you need – 80+ builder modules, 40+ premade designs that you can install by pressing 1 button, 500+ styling options, and even 3 bundled premium plugins – Visual Page Builder, Templatera, and Slider Revolution.
Get Total with 50% discount.
The best solution to generate traffic for your website is through search engines.
If you want a team of experts to take care of your website organic growth, you should talk with The Gray Dot Company.They are a boutique SEO and marketing firm that uses proven strategies to heavily grow your organic traffic.
The results are impressive, get in touch with The Gray Dot Company.
SEO is super important when it comes to building organic traffic. You need a strategy that works, adapted to your needs.
It will help you generate impressive amounts of traffic for your website and rank higher in search engines which again translates into a website traffic increase.
To achieve all of that, you need to work with SEO experts, people that have huge experience in this market and they come with brilliant new ideas that convert into measurable results.
Avidon Marketing Group will help you achieve all your organic traffic targets, no matter how high you have them.
Get in touch for a fully personalized SEO strategy.
Codester is a professional marketplace used by tons of web designers and web developers from all over the world.
Here you can find tens of thousands of PHP scripts, app templates, themes, and plugins, all of them being of super high-quality.
Browse Codester and pick everything you need for your projects.
Freelancers are obliged to pay taxes if they earn over $400 a year.
Bonsai, the most popular suite of software for freelancers, created a super self-employment tax calculator that will help you find out how much you owe the government.
Use it every moment you want to know how your financial situation looks like; it is free.
Webdesign Toolbox is the best directory of web design and web development tools.
Everything is handpicked and carefully checked before is included here.
Why use Webdesign Toolbox?
Because it is much easier to find the right tools than searching them on Google.
Take a look.
Taskade, the Nr.1 product in November on Product Hunt, is a super smart all-in-one collaboration platform that you can use to chat, organize, and get things done.
Use this remote team workspace to supercharge your projects and finish everything much faster.
Register for the free forever plan to see how Taskade works and upgrade it whenever you need.
Mobirise is the most complete offline website builder in 2020, being loaded with much more than you would ever need:
3,600 awesome website templates
Sliders
Galleries
Forms
Popups
Icons
Drag-and-drop builder
The fastest and easiest to use interface
Build your next websites with Mobirise, you will love it.
For Black Friday, they offer a 97% discount, get it.
Goodie is a popular web development service powered by the famous Xfive agency, a company with over 10 year's experience in this industry.
Use Goodie if you are a web designer and you need a reliable and professional web development partner, or if you are a company looking for simple WordPress websites, for 1-10-page websites, or email newsletters.
Reach out Goodie and get your free quote today.
With the code "BLK5G2020" you'll receive 5% discount for your first project.
On CollectiveRay you will find some of the best tutorials, reviews and in-depth tests for WordPress products and services, Joomla, and web design in general.
For Black Friday, they selected the best deals on the market.
Take a look, you will find many goodies here.
Mailmunch is a super popular suite of web and email marketing tools suite that will help you generate massive sales from your mailing lists.
It has included templates for every industry and vertical, including a wide variety of exciting Black Friday newsletters that you can use right away.
You can create newsletters from scratch if needed, or you can customize the premade designs. Both ways are simple and quick. The easy to use drag-and-drop builder will help you achieve that in just a few minutes, no accommodation time is needed.
Use Mailmunch and see your email marketing ROI take flight.
Unlayer is a powerful email template builder that you can easily embed on your website in just a few minutes, letting your customers create engaging emails and landing pages directly from your website.
They will find included gorgeous templates, tons of elements, and a smart drag-and-drop builder.
Start designing with Unlayer.
Schema Pro is the most popular WordPress plugin that you can use to add schema markups to your website, in no time.
You select the pages you want and you press a button. The schema markups will quickly be added, in just a few seconds.
Websites that use schema markups get more organic traffic and rank higher.
Supercharge your website with Schema Pro.
You are looking for an impressive yet free to use WordPress SEO plugin?
Rank Math is an autonomous SEO plugin for WordPress that you will like from the very first moment. Install it, configure it, and let it take care of your website.
Get Rank Math free version right now.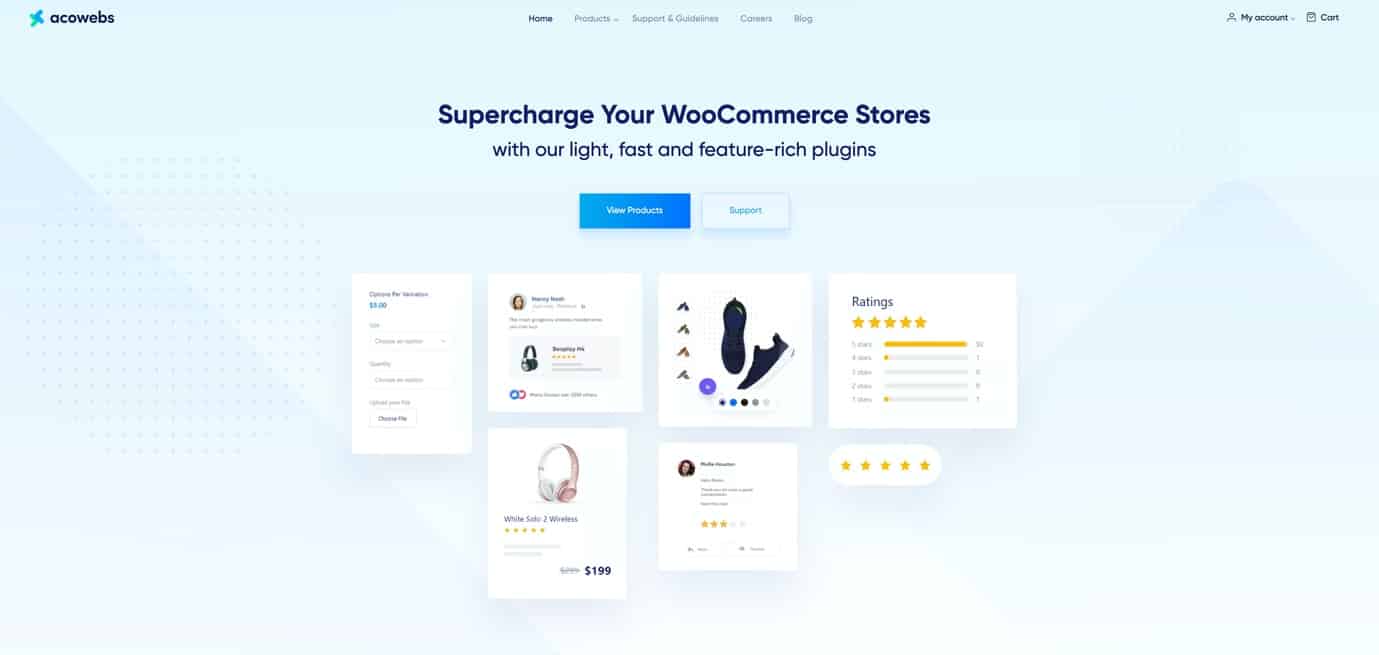 Acowebs offer various kinds of powerful, professional, and simple to use plugins for WooCommerce and Shopify stores.
You want your WooCommerce store to stand out of the crowd and heavily improve its sales? Then you need to use Acowebs plugins like WooCommerce Checkout Field Editor, WooCommerce Bulk Discounts, WooCommerce PDF invoices etc which will enhance your sales.
Heroic Inbox is a powerful WordPress plugin that will help you manage your customer support inbox directly from your WordPress interface.
The plugin lets your team work together and collaborate, and even assign messages to the correct individuals. Heroic Inbox transforms your WordPress interface into your own collaboration tool for managing your customer support email.
See how it works.
Bonsai is the most popular suite of software for freelancers. With Bonsai you can create smart invoices, contracts, proposals, and much more. All the tools are interconnected and it will help you save important time.
They even created a 1099 tax calculator that will help you see the taxes that you will have to pay this year.
It's free, give it a try.
UPQODE – WordPress Web Design Agency
As TechReviewer's 2nd best WordPress web design company, UPQODE creates responsive WordPress websites that are fast, eye-catching, and easy to manage, and grants them the attention they deserve with SEO methods that increase the clients' ROI and make them stay viewable for potential new customers.
With more than 400 pleased customers in the US, UPQODE is one of the most popular web design and development companies that build and design on the most popular CMS platforms.
Notism is a visually collaboration tool that will help you share, review, and sign off work in much less time that normally.
The tool is feature rich and it is used with huge success by professionals from all over the world.
Special Black Friday offer – 50% discount for 3 months – Use this voucher code "BLACK50".
Now or Never Deal for Admin Dashboard Templates deal on WrapPixel
WrapPixel created super Black Friday deals for its admin dashboards templates, offering a 95% discount.
Browse their products and pick these awesome deals.
No matter what is your website about, you need a professional web analytics platform to understand what works and what needs to be improved.
FoxMetrics has the smartest and simplest to use analytics interface that you ever seen, making the understanding process extremely fast and easy.
Sign up for free.
ChimpRewriter is a powerful AI and NLP (natural language processing) tool that will rewrite your articles in just a few seconds, creating original content.
Try it for free and see how it works. It will save you tons of time.
Joanna Vaiou is a popular name in the SEO industry. She is an expert that provided measurable and massive results for high-end corporations from all over the world.
Customers say about Joanna that she does magic for their websites, generating impressive amounts of organic traffic and helping them rank high in search engines.
Get in touch with Joanna and let a SEO expert help you big time.
BeTranslated helps web agencies, website owners and companies professionally translate their websites with SEO in mind. Thanks to WPML, they can quickly and easily translate WordPress websites. They can also set up plug-ins to translate Drupal, Joomla and Magento websites as well as many other platforms.
Connect with professional native speakers for your website translations.
WPAOS – Your Remote WordPress Partner
Whether you need a small tweak to your WordPress website, one-time fix, emergency help, malware removal, or ongoing development and maintenance, the best in class WordPress professionals from WP AOS will get you covered from A to Z. However, if you manage at least 5 websites, you can apply for white label services and receive personalized rates. Let WP AOS handle all WordPress related tasks, while you focus on your business and growth.
Use coupon code BLACKFRIDAY2020 at the checkout to receive a 50% discount on all WordPress services.
SEO Works is a professional SEO agency that works with customers from all over the world, helping them increase their website organic traffic. They won 15 awards and they are picked by top companies for the quick results they provide.
They use in-house strategies and tactics, and their results are measurable.
Get your free consultation today.
You want to identify fonts from pictures and from websites?
WhatFontIs is free to use, and it is by far the best font identifier tool on the market.
Use it right now.
Landingi is a brilliant landing page builder used mostly by agencies, marketers and business owners from all over the world. It is simple to use and quick, there is 0 need of previous experience or design skills.
They have a super library of 300+ premade designs and tons of elements and features.
For this year's Black Friday, Landingi offers 30% off the Automate plan in the 6 or 12-month subscription.
You want to create engaging visual content for your social media channels and websites, exactly as the best marketers and designers do?
Use Fotor, it is the most used and popular online photo editor in the world. You will find included beautiful pictures ready to be fully customized for your needs. The interface is very simple to use, intuitive, and straightforward.
Have in mind that Fotor can be used also a background remover.
Start designing engaging content with Fotor.
Looking for a simple yet functional web design tool? Then go ahead to use uKit  – a cloud website builder, niche specialization of which goes down to the development of small business projects. The system works great for all user categories, including those, who don't have any web design/coding background. uKit is affordable, easy-to-use, convenient and feature-laden. It takes several hours only to create a website with it – so intuitive and understandable to everyone the website builder is!
Searching for a free yet full-featured website builder? uCoz is right what you need then! The system makes it possible to create multi-functional websites from scratch without deep coding proficiency. It works great for the development of all types of web projects, ranging from a personal blog and up to a web store or a website of a large organization. The platform realizes its web design potential via module integration and customization. This lets you get the most out of your web design experience.
Pixpa will help you create awesome websites in no time and without requesting you any experience or design skills.
This website builder has everything you need included:
Gorgeous premade designs
Tons of elements
A smart drag-and-drop editor
A simple and quick interface
Sign up for free and start creating your website with Pixpa.
RumbleTalk is the best solution to quickly add a moderated chat on your website.
The process is simple and straightforward, and it doesn't take more than a few minutes.
For Black Friday, they're offering a 50% discount. Use this coupon: 88BFRIDAY50 and get your plan with 200 seats, 3 rooms, 3 admins, and 10 keywords.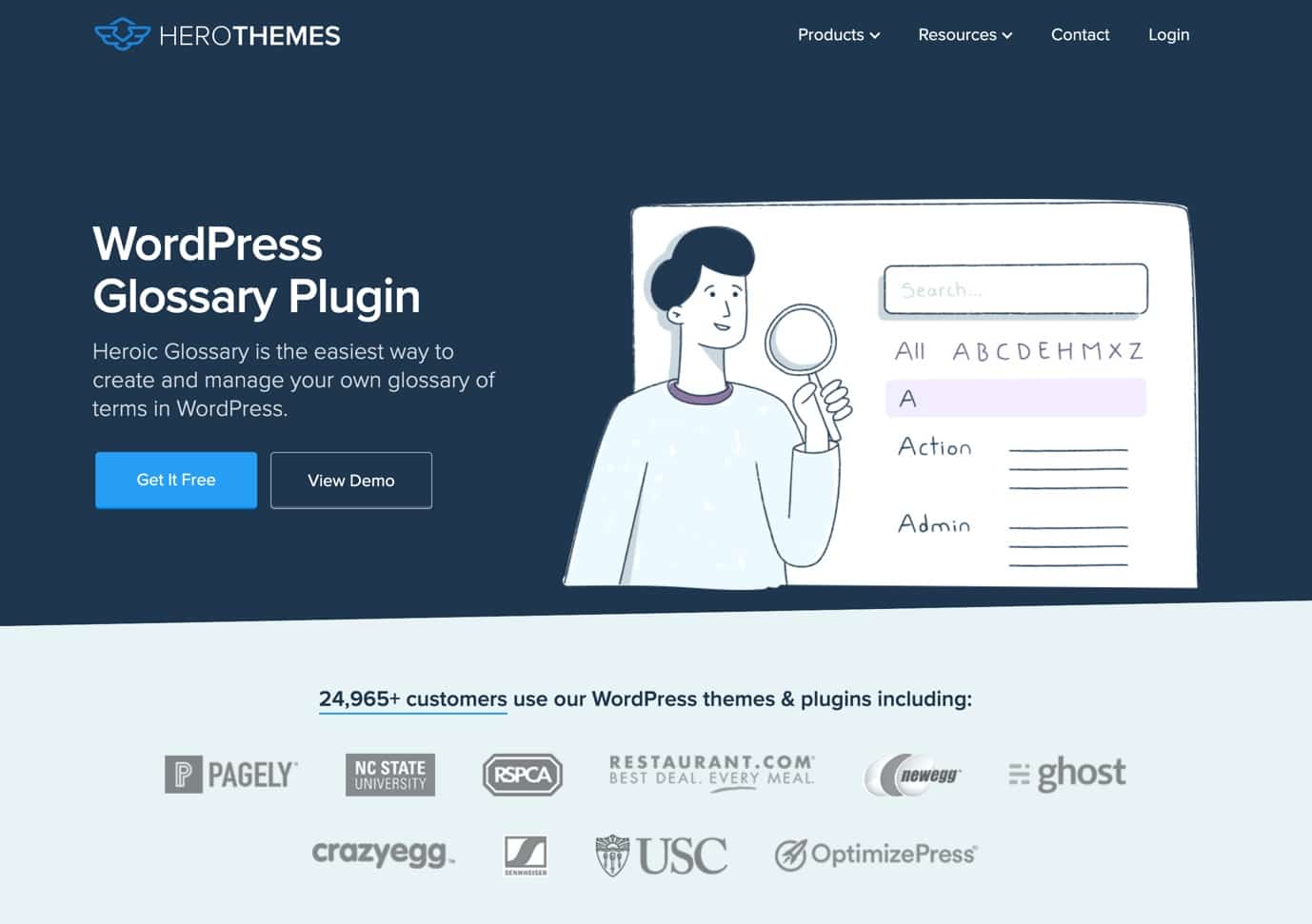 If you use technical words on your website, you should add a Glossary, your audience will love it. The glossary will help your audience better understand what you talk about.
Use Heroic Glossary plugin for WordPress to add a professional glossary on your website in just a few moments.
Get it free.
When it comes to professional migration of websites from WordPress CMS to Wix website builder, WordPressToWix.PRO is definitely the platform to go for. The online migration service employs qualified web developers, who are aware of all the nuances of the transfer process as well as of special parameters of both systems. This is what ensures high end result with minimum effort/time investment.
Blabber – All-in-One Elementor Blog & News Magazine WordPress Theme + RTL
Blabber is the ultimate WordPress template for blogging and online newsletter. It is absolutely humongous and features over 23 unique demo styles with hundreds of beautiful subpages to choose from. It also gives you complete creative freedom over its visual appearance thanks to the inclusion of the Gutenberg and Elementor Page builders. Advanced review modules allow you to publish articles, videogame, movie, book, and other kinds of review on your blog with custom rating criteria and affiliate links.
Built-in WooCommerce store functionality also lets you open up an online store of your own within minutes. The MailChimp for WP plugin makes setting up an email newsletter for your audience not only possible but also very simple. The theme is also fully integrated with all of the most popular social media platforms and includes social buttons that allow your users to like and share your content on their own social media profiles, helping you grow and spread awareness about your resource.
SiteBuilders.Pro stands out from the crowd as a professional website migration service, which helps move your website between popular web design platforms. The system experts try their best effort to control all the stages of the transfer process. They ensure quality graphic and text content transfer, web store data iport, blog migration, manual design replication along with extra SEO and copywriting services. This eventually ensures excellent result.
Used by over 100,000 web developers from all over the world and by important companies, Abstract will help you get all kinds of powerful APIs (IP geolocation, Phone validation, website screenshot, email verification, and much more).
Get your free API key right now.
XSTORE – Responsive Multi-Purpose WooCommerce WordPress Theme
XSTORE is the most complete and customizable WooCommerce theme on the market, being loaded with a massive library of 95+ premade designs.
Supercharge your WooCommerce store with XSTORE and help it stand out of the crowd.
XSTORE is $39 and you will get much more than you pay for.
Topper – All-in-One Elementor Blog & News Magazine WordPress Theme (Pro Plan)
Topper is a multi-functional WordPress theme ready to be used for online magazines and newspaper websites. The clean and stylish layout of the theme will look amazing on all devices and web browsing apps. Topper is multi-purpose. It features a collection of 10+ ready-made layouts suited for tech, travel, fashion, food, and other kinds of topic-specific websites. It's also easy to edit with the Elementor page builder. In the download package, you can find 12 blog demo styles and 30+ exclusive Gutenberg blocks. The 100% responsive and speed-optimized design of the theme makes your project easier to reach for your target audience.
Gutentype – 100% Gutenberg WordPress Theme for Modern Blog + Elementor
Gutentype WordPress theme includes many useful tools and features that you need for the launch of a functional blog. The theme features a fully responsive layout and clean code. It's fully based on the Gutenberg page builder. Whatever block you choose, you will easily work with it in the intuitive dashboard. Besides serving blogs, Gutentype is also ready to be used for eCommerce purposes thanks to its full WooCommerce compatibility.
Iconscout is a super website on which you will find over 2 million royalty-free vector icons, illustrations, 3D elements, and even Lottie Animations (coming soon).
You want the best pictures and icons for your website and social media channels?
You will find them on Iconscout.
Pricing: 50% OFF on all Annual subscription of Iconscout.
StarterTemplates is the most complete professional package of 600+ Pre-BUilt website templates for every niche. All the templates look amazing and work effectively with any WordPress theme and page builder. Join the 600,000+ users that already use with huge success these gorgeous templates. Free download!
Rhodos is an awesome, powerful, multipurpose WordPress theme for all kinds of modern business websites. Its stunning layouts are fully responsive, Retina ready, and can be completely customized within the intuitive, visual interface of the Elementor drag & drop page builder. In addition, the template comes with over 10 unique demo styles and dozens of subpages rich with widgets, shortcodes, and premium plugins. Furthermore, there are tons of ready-made elements to help you showcase your services, team, and experience.
A fully functional WooCommerce store enables you to start selling any kinds of products right from your website within minutes. Support for Retina images will ensure your site's perfect looks on both the smallest and biggest screens. The ThemeREX Addons plugin greatly increases your control over the theme's backend and the mobile-friendly Revolution Slider is great for showcasing all of the best of your content and grabbing the attention of your visitors with it.
Conclusions
This article is a complete showcase of Black Friday deals for web designers and developers.

We wrote about everything, including an exceptional WooCommerce support service.

Grab these deals now, the offers will expire soon.

[mashshare]