The south is full of charm and fun, but it can also be a little whacky! Check out these photos you will only see in supermarkets in the south.
Tiny Attire
Summers in the south are known for being not only brutally hot, but also insanely humid. Men and women might dress a little less modestly during these months – we don't blame them! When it's 95 degrees and the humidity is 100%, you can't wear much without sweating to death.
No Shoes, No Shirt, No Problem
Since the beach and the lake are incredibly popular locations in the south, it isn't uncommon at all to see people in beach or lake towns to make pit stops in their swimsuits. Kenny Chesney knows what's up.
Sink-o de Mayo
People like to hate on mayonnaise, but in the south it is crucial to many staple dishes like deviled eggs and potato salad. Some people think the condiment is photo shoot worthy!
Southern Celebrities
When you live in Nashville, it is not rare to see celebrities – particularly country singers. Check out the amazing Carrie Underwood grocery shopping – she is just like us!
Cowboy Hats for All
It's not just the men in the south who wear cowboy hats, but the ladies are in on the action too. They're a little kitschy, but this girl is making it look good! Go ahead and try one on – you might be surprised!
Better with Butter
Let's be honest – is there anything that butter doesn't make better? As bad as it is for you, we wish we could say yes, but southerners are onto something. Look at all of these butter options! The south adds butter to everything – from biscuits and cakes, to mashed potatoes and mac and cheese.
Busy with Beads
Beaded necklaces, like the ones worn by this… priest, are a staple in the south during Mardi Gras season. All the way from Mobile, AL to New Orleans, LA, "Fat Tuesday" is celebrated with spectacle and spirits.
Speaking of Mardi Gras
We didn't know about this Mardi Gras King Cake ice cream by Blue Bell, but we definitely want to try it now! The south offers ice cream flavors we can only dream of in the north – especially during their sweltering summer months.
Another Giant Jar
What's a big tub of mayo without its counterpart, mustard? In south Louisiana creole mustard is all the rage. Spicier and more textured than regular mustard, this creole recipe adds the perfect kick to seafood and other Cajun dishes.
Can I Help You, Sir?
Leave it to Florida to have a shark hanging outside of the supermarket. This little guy was just trying to buy some catfish by the pound. We hope he got his food and found his way back to the water!
Palmetto
Pimento cheese is best homemade (as are most things), but if you need a quick fix, you can always find stores like Costco, Sam's Club, and Publix handing out free samples of the tasty treat.
Wickles Pickles
If you've never heard of the famous "wickles" from good ol' Alabama, then you are missing out! These pickles have a spicy kick that make them a delightfully odd treat. Look for grocery stores to be dishing out samples of them to beach tourists in the summer!
RC to go with that AC
AC is crucial during the brutally hot summer months in the south – but so is RC. What is RC, you ask? It is a type of soda that the south can't get enough of. You will find cases of it in supermarkets. Very refreshing on a hot day!
End of the Line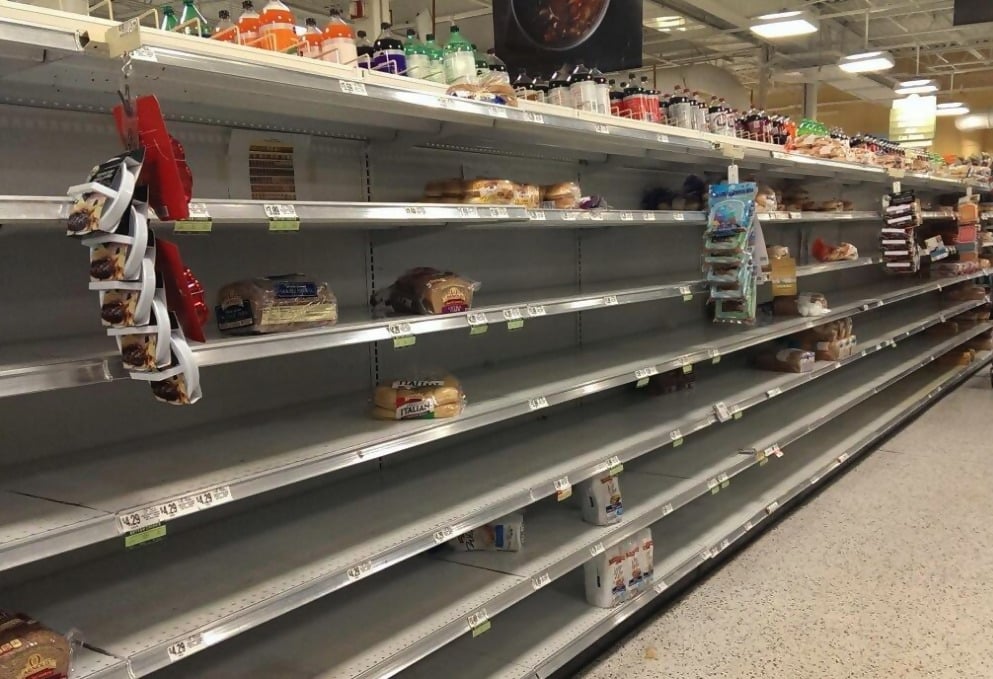 If you've ever visited the south during the hot summer months, you know that the season is prime for serious thunderstorms and tornados. If you go to the supermarket and all of the bread and milk are missing, you better get to a safe space! Bad weather is a-comin'!
Stuck in the Storm
The south might be known for its fierce summer weather, but that doesn't mean they don't have winter also. These Atlanta shoppers waited too late to buy supplies before a huge snowstorm hit. Good thing there was plenty of room for naps!
Football is Life
Pride in your sports team is universal, but southerners seem especially attached to sports – particularly football. The south excels at college football, but check out this sign for the 2017 Super Bowl between the Atlanta Falcons and the New England Patriots. The south takes their NFL teams seriously too! Unfortunately, this game had a tragic ending for the Falcons.
Foolish Fireworks
Why do people in the south love fireworks so much? This Publix in Atlanta had a fireworks display inside that they probably regretted when two dumb teenagers decided to light it on fire. Nice work!
Well, They Tried
This grocery store in Georgia had its heart in the right place, but a quick Google would have let the manager know that Jewish people don't eat ham. It's not quite considered kosher! A for effort?
What Century Are We In?
A horse tied up outside of a store a century ago would've been completely normal; however seeing it in 2019 is pretty hilarious. Horses are a great way to go green!
Separation Anxiety
Okay, we take it back, tying up your horse outside of the store is not that weird – at least not as odd as this man who brought his stallion in the store. He doesn't seem to be bothering anybody, so we guess the manager let this one slide. Maybe it's his emotional support horse for the bullying those chaps caused him to endure – who are we to judge?
Patriotic Pride
The U.S.A. is a pretty great place – the people in the south especially think so. Check out this over-the-top display at a grocery store in Nashville. We need one of those cowboy hats for the 4th of July!
If You Sag, We Don't Bag
This store in Mississippi got sick of looking at "plumber's crack" all day, so they made a new rule – if you can't keep your pants up, then you need to come back when you have a belt! This fashion trend is a big fashion "don't," but some people like the look.
DELIcious
What is a "Publix?" It is a supermarket chain in the south. It started in Florida and has continued to spread because of its friendly employees, clean store, and their sinfully delicious bakery and deli foods. You'll be hard-pressed to find a Publix deli that isn't backed up with a long line in the south – it's that good.
It's a good thing Publix takes pity on the patron in line by offering free samples while they wait. This guy was super pumped to get some turkey!
Publix, Schmublix.
We've talked about how great Publix is, but Texas has its own famous grocery stores: H-E-B. This particular H-E-B is located in the heart of Houston in a trendy neighborhood called "The Heights." The sign has become a popular photo location. We guess grocery shopping is more exciting in Texas.
If I Fit, I Sit.
Grocery shopping might be all the rage in Texas, but some people find it boring and tiring in other parts of the south. This guy had his fill of fun and decided to plop down on a display. We don't blame him, although he's probably not supposed to sit on that!
Heavenly Hot Sauce
The south sure does love its food spicy – especially in Texas. This woman is rocking a cowboy hat and dishing out samples of "the best hot sauce in Texas." In any other part of the country this might seem odd, but it's par for the course in Texas – where everything is bigger and hotter!
Spice is Nice
Texas even likes it's ice cream spicy. Check out this Mexican Hot Chocolate ice cream from H-E-B. Sounds gross, but it's actually quite tasty! Give it a try if you get the chance!
Cravings Galore!
Pregnancy cravings are a real thing, so we aren't judging this woman for treating herself (and her kid!) to a sweet, cold treat! Blue Bell is a staple in the south, and ice cream is a staple for any pregnant woman – perfect!
If you are looking for some interesting sights, then go to the south and pick a store, any store! You will certainly see some silly things and get some delicious food!