Nobody's perfect. It's inevitable that we will all make a mistake or two in our lives. However, sometimes these mistakes can be so big that they end up going viral on the Internet. If you're feeling a little inadequate, scroll through these epic fails to make yourself feel better.
Quick Sand
SUVs are pretty heavy duty cars, except for when it comes to driving on wet sand. Then they don't hold up so well.
Snow Day
Woops! Someone wasn't thinking straight when they decided to open the sun roof after a big snow storm.
Cooking is Hard
You know what they say, a watched pot never boils. Well, in this case it definitely will never boil whether you are watching it or not.
Scissor Happy
Someone got a little too excited when it came to opening up their new phone charger.
Class Project
Let this be a lesson to every student out there. Always read the instructions very carefully.
Customer Complaint
Clearly this customer didn't know the type of product she was buying.
That's Not a Crescent Roll
Pillsbury Doughboy has just made people lazy when it comes to preparing food.
Fill Her Up!
We must admit, she does have some pretty good aim.
This Is Not a Cartoon
This is something you would see in a movie. This guy is just dumbfounded when he finds a piano on top of his car.
Help Me
Always be careful when you have a pet snake. You never know when they're going to get hungry.
Mailman Prank
How is it even possible that the mailman put it in there in the first place?
Free Bike
This lock is completely ineffective when it comes to keeping this bike safe.
Dough Boy
Now who's going to clean up this mess?
Burned
Now remember kids, always rub in your sunscreen as best you can. You don't want to end up with some funky tan lines.
Wet Cement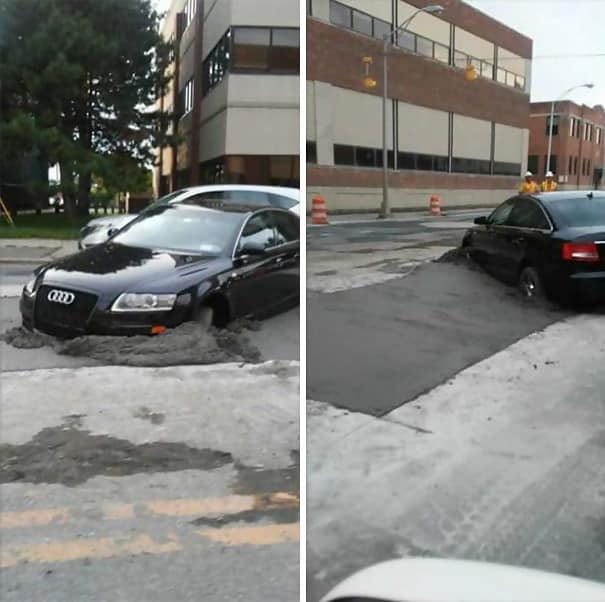 There really should have been a sign there.
Crime Stops for Nobody
When this cop saw a car speeding down the highway, he couldn't wait to finish pumping gas before pulling him over.
That's Not Right
This must be her first time grocery shopping.
Ignorant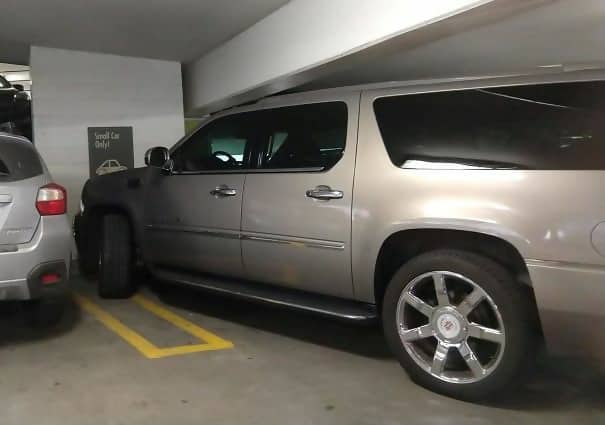 You have people who love to follow the rules. Then you have people like this who blatantly disobey them.
Strap It In
This totally could have been avoided if they had just strapped these planks of wood down in the car.
Technology is Hard
How many times have you tried to help your parents with technology and they just still don't get it?
Crash Landing
This little drone had an unfortunate crash landing right into this guy's head.
Fire Master
Clearly nobody told this kid how dangerous it is to play with fire.
It Wasn't Me
These guys had to have know that they would be caught eventually.
Answer Me
Some witnesses just can't get their head on straight.
Pierced the Cap
Looks like they're going to have the finish that bottle tonight.
Towed Car
Fresh out of a tow truck? This guy has a great new idea!
Added Accessory
We didn't need that saw or any other projects anyways.
Lawn Care
Curb appeal is everything, people! Come on!
Painted into a Corner
How long does it take for wood stain to dry again?
Hair Nets are Essential
If you are given training on how to protect yourself during your job, you should follow them. Or you could end up like this guy.
For Household Use Only
You don't want to be putting this near the toilet when guests come over.
Plastic and Heat Don't Mix
Plastic should never go in the oven, let this be a lesson to everyone who attempts to cook.
Pretty Sure That's Illegal
We are pretty sure there's a sign saying you can't do this next to every gas pump in America.
Protecting Your Screen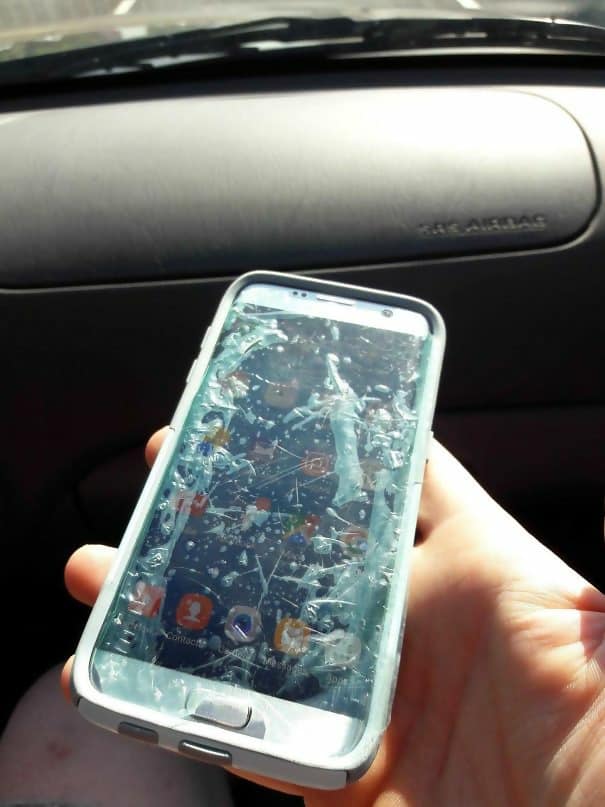 You have to take the plastic off of the screen protector. It's useless if you can't see your screen!
Life Hack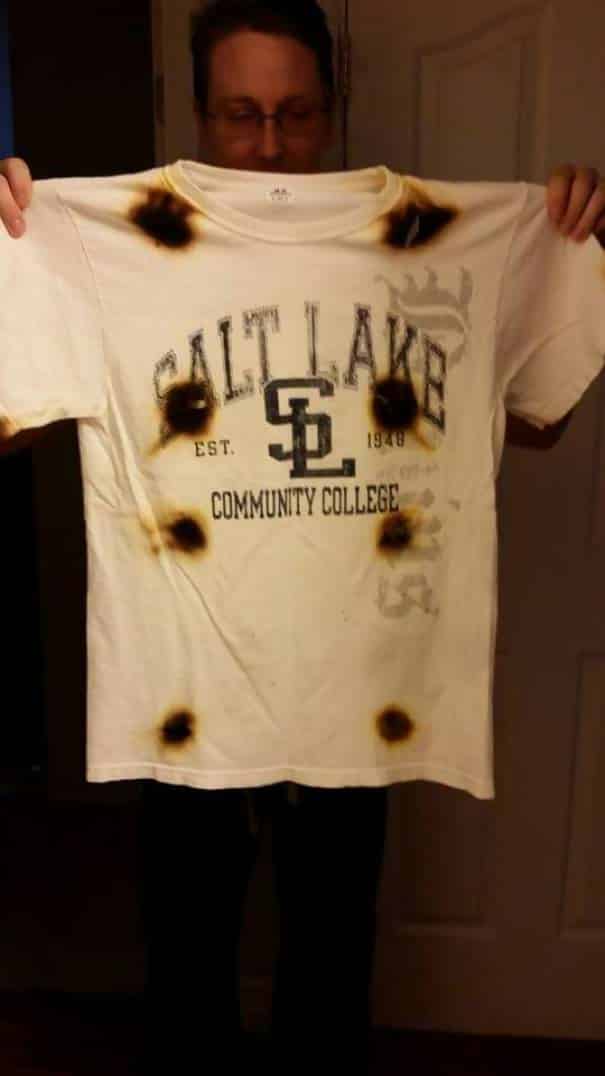 This person tried to dry their shirt quickly by putting it in the microwave. This was the result.
Screenshot
This guy tried to make a copy of his phone screen. Next time just screenshot it!
Something Isn't Right Here
Something seems a little off about this construction job.
Highlights
She's just giving her car a little touch up by adding highlights to it. No big deal.
Bad Day
This is the terrible start to a Monday morning.
Makeup Fail
Always clean your makeup tools and never curl your eyelashes with mascara on. This could be you!
Ironic
If only they could see the irony of this picture and caption.
Stuck
We would just like to know how exactly he got in there.
Getting Ready
So this is why it takes girls so long to get ready.
Driving Blind
Cars have windshield wipers for this very reason.
Not Safe
Never put gasoline in an open container. That's like the first rule of pumping gas.
Foodie
This girl needs to work on her Instagram modeling skills.
Surprise Snow Day
The weather can be pretty unpredictable sometimes. This person definitely wasn't expecting a snow storm when they left their convertible's roof down.
Locked In
This delivery guy had some jokes up his sleeve today.
That's Not Good
Well something bad definitely happened here.
That Won't Work
Something tells me this bike isn't as secure as the driver thinks it is.
Cutting the Line
Nobody likes to sit in traffic. This guy definitely got what he deserved when he tried to cut the line though.
Parking Job
This was a bunch of ice when they first parked here. Then the sun decided to appear.
Wait, What?
We just want to know what is going through her head that she's using a fire extinguisher to put air in her car tires.
Another Meaning
When you see it, you'll know why this sticker should never exist.
Bubble Bath Gone Bad
Someone got a little too carried away with the bubble bath.
That's Not Happening
Try as they might, this box is not getting in that car.
Never Lose Your Keys
You'll never lose your keys again with this handy trick. You'll also never be able to get the lock open.
Wall Art
It's hard to believe that some people don't know Game of Thrones. This mom clearly just liked the design of the map and decided to hang it up in the living room.
RIP
Maybe these weren't the best choice of cookie to hand out to hospital patients for Halloween.
Not Happening
Sorry dude, this just isn't going to happen. Give up now so you don't look like too much of an idiot.
Cooking Rice
We can't all be chefs when it comes to cooking. But you should at least know how to cook rice.
You Had One Job
The hearse driver had one job. They just had to secure the coffin and get it to the grave in tact.
Cereal Bar
This guy thought cereal bars were just compact cereal so he wouldn't have to buy a box and pour it out.
Getting Resourceful
There are a lot of tools in a Swiss Army knife. One of those tools is a corkscrew, ladies!
Contractors, Man
These contractors aren't helping the stereotype that they can't do anything right.
Pool of Blood
This building tried to make their fountain's water pink for Breast Cancer Awareness Month. Instead, it just looks like a fountain of blood.
Disaster Waiting to Happen
This is the worst possible combination to have when on an airplane.
Pen Fail
Whoops! This girl thought the cap was off the pen when she was running it against her leg during class. Now it's time for new jeans.
Stuck for a Bit
It looks like he's going to enjoy the view from his roof for a little bit.
Duct Tape Trend
Someone's trashcan cracked, so they used duct tape to fix it. Then their neighbor saw and thought they were putting their apartment numbers on their trash cans, so he did the same.
Novice Driver
We definitely don't want to meet this driver on the road, or in a parking lot for that matter.
Fake Money
How long do you think it took for this employee to get fired?
Tight Squeeze
We all have that one friend who says, "Yeah, we can make that." And you just don't know if that's true.
Cleaning Your Keyboard
Ever think about how dirty your computer keyboard is? Pretty nasty. It's completely normal to clean it, just don't use boiling water.
Too Heavy
This family is going to be pretty angry when they come home to find their new TV broken and on the floor.
Cat Bath
Cats hate water. Why would you ever try to take a bath with your cat?