Thanks to online dating, height has become a hot topic of discussion. There are women who feel too tall, and men who feel too short. The truth is, height doesn't matter when you find the right person. Just look at these happy couples!
Kevin Hart – 5'4"
Eniko Parrish – 5'7"
3" Difference
Who cares about 3"? Not this cute couple! Look at Enika rocking heels. This couple got married in 2016 and have 2 beautiful kids.
Miley Cyrus – 5'5"
Liam Hemsworth – 6'3"
10" Difference
This happy couple has a height difference of 10". Now we know what Miley's hit song "The Climb" was about!
Sophie Dahl – 6'0"
Jamie Cullum – 5'5"
7" Difference
Writer and model, Sophie Dahl stands 7" taller than her husband Jamie Cullum – but it certainly doesn't seem to be bothering them. They look great together!
Clare Grant – 5'8"
Seth Green – 5'4"
4" Difference
5'4" is not tall for a man, but who cares? Certainly not his tall, gorgeous girlfriend. Go Seth!
Helen Lasichanh – 5'11"
Pharrell Williams – 5'9"
2" Difference
With a couple as good-looking as Pharrell Williams and his long term girlfriend Helen Lasichanh, who is even going to notice a 2" difference? All we see is a happy couple!
Reese Witherspoon – 5'1"
Jim Toth – 6'1"
12" Difference
This couple has a staggering height difference of a whole foot! But we have a feeling Reese's big personality make up for her short stature. Another cute couple!
Nicole Kidman – 5'11"
Keith Urban – 5'10"
1" Difference
I thought the height difference between these two was much greater than 1". I think that's because Nicole has never been one to shy away from heels. They always look great together!
Prince Harry – 6'1"
Meghan Markle – 5'7"
6" Difference
This royal couple always looks great together. Harry is a half-foot taller than Meghan, but they look so happy and perfect for one another.
Shakira – 5'2"
Gerard Piqué – 6'4"
14" Difference
This monumental gap in height is almost as monumental as this singer and soccer players' careers. They have 2 children together who we assume have some very good genes!
Peter Dinklage – 4'5"
Erica Schmidt – 5'6"
13" Difference

This happy couple has a whole lot of inches between them, but that doesn't stop then from looking like couple "goals!"
Hafter Julius Bjornsson – 6'9"
Kelsey Henson – 5'2"
19" Difference

Game of Thrones star Bjornsson is called "The Mountain" for a reason. He looks like his small wife's bodyguard!
Chris Bosh – 6'11"
Adrienne Williams – 5'0"
23" Difference
Chris Bosh's wife is tiny at only 5-feet-tall, but she looks way tinier next to her basketball playing husband, Chris Bosh, who is an astounding 6'11"!
Shaquille O'Neal – 7'1"
Shaunie O'Neal – 5'11"
14" Difference
Shaq's former wife, Shaunie, is supermodel tall at 5'11". But nobody looks tall next to Shaq. Just wait til you see his next lady friend…
Shaquille O'Neal – 7'1"
Nicole Alexander – 5'2"
23" Difference
Nicole "Hoopz" Alexander might be small, but she is strong. She proved it when she gave her man Shaq a piggyback ride across the stage on Jimmy Kimmel!
Kim Kardashian – 5'3"
Kris Humphries – 6'9"
18" Difference

Do you remember the marriage between Kim Kardashian and Kris Humphries? Us neither, it only lasted 72 days. Something tells me it was not the height difference that was the problem…
Lisa Bonet – 5'2"
Jason Momoa – 6'4"
14" Difference
Momoa is 14" taller than his wife Lisa Bonet, and she is 12 years older than him. Who cares? Look at how adorable they are! Momoa said he had a crush on Bonet since the early Cosby Show days.
Christina Ricci – 5'1"
Owen Benjamin – 6'6"
17" Difference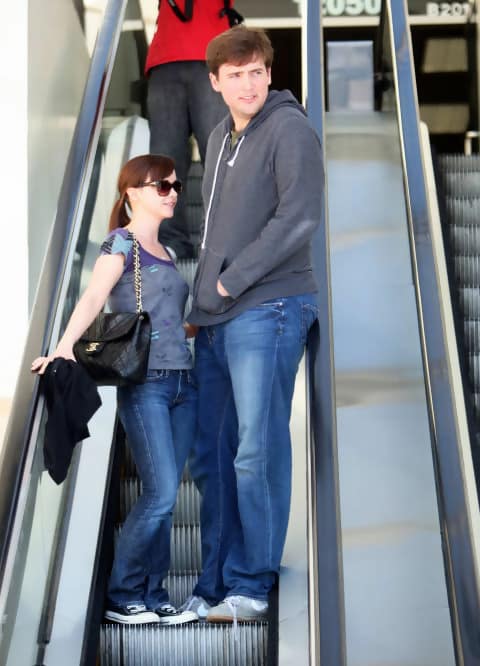 5'1" is pretty short, but it looks much shorter next to somebody who is 6'6". If something bad happens, Owen can put Christina in his pocket and run away!
Reese Witherspoon – 5'1"
Jake Gyllenhall – 5'11"
10" Difference
We think we know Reese's type now. She's been on our list twice now with tall men. I guess she knows what she likes!
Katie Holmes – 5'9"
Tom Cruise – 5'7"
2" Difference

What a good-looking couple! A 2" height difference isn't much. Something makes me thing it was a much bigger issue that tore them apart.
Cameron Diaz – 5'9"
Benji Madden – 5'6"
3" Difference
Cameron Diaz is 3 inches taller and 7 years older than her husband, Benji. Do either of them look like they care? They look adorably in love!
Kristen Stewart – 5'5"
Robert Pattinson – 6'1"
8" Difference
One of the hottest celebrity couples ever thanks to the Twilight franchise. Despite the height difference, they always looked great together! (Who are we kidding? She looked absolutely miserable.)
Khloé Kardashian – 5'11"
Lamar Odom – 6'11"
12" Difference
Next to her short sisters, Khloé looks very tall at 5'11", however standing by her ex-husband Lamar Odom, who is 6'11", she looks shorter than their marriage!
Stacy Kiebler – 5'11"
Jared Pobre – 5'8"
3" Difference
Kiebler used her tall frame to help her during her career as a WWE wrestler. She is 3" taller than her CEO husband, but neither of them cares, and neither do we. They look fantastic together!
Nicole Kidman – 5'11"
Tom Cruise – 5'7"
4" Difference
Wait a minute! Haven't we seen these two already? Yes – but they were with other people. When this couple was married, their 4" height difference looked much greater due to her love of heels.
Tina Fey – 5'4"
Jeff Richmond – 5'5"
1" Difference
Funny gal Tina Fey is an average 5'4" and her husband Jeff is a shorter than average 5'5". Tina doesn't care though, she still rocks heels that make her taller. Looking good!
Mary-Kate Olsen – 5'2"
Olivier Sarkozy – 6'3"
13" Difference
13" is a big height difference, but I'm more shocked by the 17-year age gap. Whatever makes you happy I guess!
Jessica Simpson – 5'3"
Eric Johnson – 6'3"
12" Difference
The famous singer and the former NFL player look perfect together – even with a whole foot between them!
Sacha Baron Cohen – 6'3"
Isla Fisher – 5'3"
12" Difference

This funny man and his talented wife have been married for 9 years and they have 3 kids!
Hayden Panettiere – 5'0"
Wladimir Klitschko – 6'6"
18" Difference
This tiny American Actress married Ukraine heavy weight world champion boxer a decade ago, and the couple has been together ever since!
Dax Shepard – 6'2"
Kristen Bell – 5'1"
13" Difference
This couple might be funny, but they sure don't look funny – despite the 12" between them!
Will Smith – 6'0"
Jada Pinkett Smith – 5'0"
12" Difference
Height difference is not a problem for the Fresh Prince. He and Jada have been married for 2 decades!
Salma Hayek – 5'2"
Edward Norton – 6'0"
10" Difference
This talented couple dated for 4 years from 1999-2003. They were set up by somebody who was certainly aware of their height difference – their chiropractor!
Josh Duhamel – 6'4"
Fergie 5'4"
12" Difference
This couple has a foot of height between them. They also have a son who we imagine is going to have some good genes too!
Jay Cutler – 6'3"
Kristen Cavallari – 5'6"
9" Difference
The TV star and the NFL quarterback have been married since 2013. After his tweet about drinking her breast milk, I think the height difference is the least weird thing they have going on…
Vanessa Hudgens – 5'1"
Austin Butler – 6'0"
10" Difference
The couple that looks at their phone screens together stays together? Who knows, but the height difference doesn't seem to be stopping this couple.
Lea Michelle – 5'3"
Matthew Paetz – 6'2"
11" Difference
This couple looks active and happy! But wow, I have never noticed how much taller than Lea Michelle Matthew is!
Kaley Cuoco – 5'6"
Ryan Sweeting – 6'5"
11" Difference
What a cute couple. It is sad they divorced in 2015 due to Sweeting's battle with painkillers.
When it comes to true love – size doesn't matter! A 2" difference or a 22" difference will never stand in the way of true love… unfortunately other things will.