If you've had your flight delayed before, you'd agree that everyone's response was different. While some might have gotten so angry and frustrated about the situation, others would have switched to their phones for solace.
While waiting to board their flight, a traveler – Tracy Dover – and other airport passengers were startled when someone had yelled that a uniformed soldier shouldn't be allowed to board the flight.
Everyone was confused until they saw the soldier in tears as he stared at his phone. It was then they all agreed that not letting him onboard was best.
The International Airport.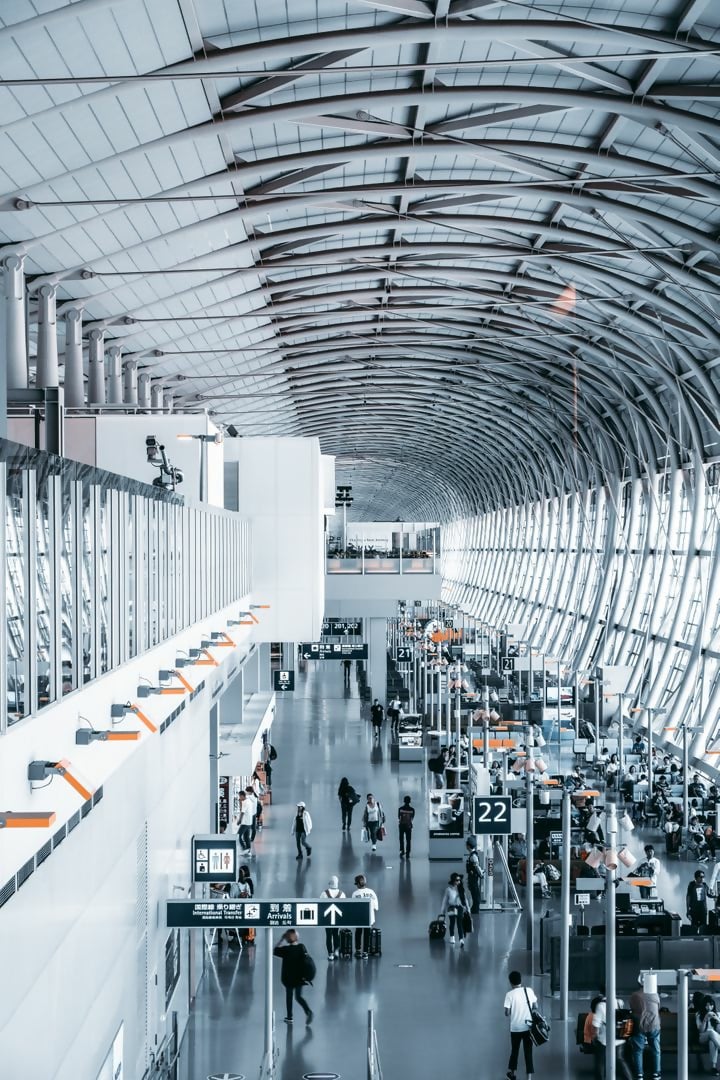 While you're at the international airport, it's quite easy to tell that everyone minds their business and is traveling for different reasons.
It's either you come across two young lovers that don't want to let go of each other, an excited group of ladies going for a getaway, backpackers who love to travel the world and families going on a vacation.
However, the travelers at the Dallas Forth-Worth International airport were in for a surprise on Friday, May 4, 2018.
The Delayed Flight from Texas to Mississippi.
The 3:55 pm flight from Dallas, Texas to Jackson, Mississippi delayed to take-off two hours later due to maintenance issues.
A 25-year-old soldier, Army Specialist Brooks Lindsey, was one of the passengers that were meant to be on the flight.
The dedicated soldier was going home to see his family urgently and so, any delay would be disrupting a lot.
In Love with a Soldier.
Army Specialist Brooks Lindsey was a devout soldier to the U.S. Army National Guard. Hence, when Haley became his wife on November 18, 2017, she knew what it meant to be the wife of a soldier and was ready.
They had no choice but to let love win even when they both knew how demanding being a soldier was and all the times that they'd spend apart. Especially when Brooks had to remain on base for training or had to go on missions.
A Warm Surprise for The Newly Weds.
Brooks and Haley would have told you they didn't know what the future was going to be like if you had asked them but they wanted to be in it together.
After their wedding, they were ready to start a family and so, the news that a baby was coming six months later left them excited.
However, Brooks needed to be back in his training base in Fort Bliss, Texas. This left them both unsure if Brooks could be home on or before Haley's due date.
It's Tough Working in The Military.
When we come across soldiers or uniformed men, it's quite easy to forget that, just like us, they've got families of their own. Yet, to protect our country and everyone, they leave their families and lives to report for duty and bear all the stress of working in the military.
It's even harder when you're married to someone who works in the military and he/she would be away a lot of times and for long. Bearing all these in mind, Haley and Brooks were ready to put in all the work before the baby's arrival.
Every Soldier's Highest Priority.
Indeed, anyone who gets enlisted in the army deserves a lot of respect but that doesn't mean the military world gives enough room for personal matters.
No matter your rank or position in the military, your first and most important priority and dedication is to the army.
Hence, parents who work in the military have very slim chances of being present at the birth of their children except during emergencies.
Missing Out on a Child's Birth or Growth.
Once they've been enlisted or are on duty, you'll find out that many army parents don't get the chance to be present at their children's birth except during emergency birthing situations when they're granted permission.
In an interview with KETV 7, Brooks explained that many people don't get to come home and when they do, their child is already several months old.
Brooks and Haley were having their first baby and time was moving fast. To make sure they were prepared for the baby's arrival, they had to work hard together.
Preparing for Emergencies.
No one knows how childbirth would be like until it comes. To prepare for emergencies, Haley had to rehearse the emergency phone call in case an emergent birthing condition sprang up.
She would have loved her husband to be present but she also understood what being a soldier entailed and so, knew he'd only be allowed to be present in the case of emergencies.
Rehearsing The 'Call to Red Cross'.
On her Love What Matters story, Haley wrote about how she had to rehearse her call to the Red Cross as they both knew that getting Brooks home for their baby's birth would be quite difficult unless she was in distress.
When it comes to emergencies, nobody prays for such situations especially when a child is involved. Yet, Brooks' only chance of witnessing his child's birth was if one or both of them were in distress.
A Visit to The Doctor.
Time went by quickly and Haley was due for delivery in May, and so on the third day of the month, she paid a visit to the Doctor for her last appointment before going into labor.
The next question was if Brooks could make it in time for the birth.
She shared on her Love What Matters story about how she thought her visit to the Doctor would have led to her being scheduled for an induction for a week out but was told that her blood pressure was very high. They carried out blood tests and told her to go home.
What was wrong?
The Doctor's Report.
With Haley finding out that she had high blood pressure, she felt it was time to get her husband back in Mississippi so they could welcome their baby to the world together.
Unfortunately, her high blood pressure wasn't going to put her or the baby in distress and that was why the doctor sent her home.
She informed Brooks and they were both upset that he wouldn't be present at the birth of their child. They had no idea what was about to happen.
An Unexpected Call from The Doctor.
Brooks wasn't happy when he got to find out that he'd be missing out on the birth of his first baby with Haley and Haley wasn't pleased either.
However, Haley got a call from the doctor in an hour and everything changed. She shared on Love What Matters that the doctor had told her that her blood pressure was too high, her baby was been stressed and that she was preeclamptic. She was then told to return in an hour so that they could have her induced.
A Turn of Events.
In an hour or less, Hayley's normal delivery became an emergent one. She immediately called Brooks to inform him of the turn of events.
She found it hard to believe that she was about to be induced one hour after she was told that she'd have a normal delivery.
The Call to Red Cross she had rehearsed with her husband was about to be put into good use and it left her both scared and excited at the same time.
Putting 'The Call to Red Cross' Across.
Without wasting time, Hayley rushed back to the hospital and put her rehearsed calls to use by calling the Red Cross.
She wrote on her Love What Matters story that when she called the Red Cross, they listened to her request and asked for her doctor's clarification.
Once the doctor confirmed the emergency, the Red Cross validated Brooks' release for four days after which he'd need to return to base ASAP.
The Travel Plan.
When Hayley got to the hospital at 3 PM that same Thursday, she was excited that her husband would be around for a few days after the birth of their baby despite his absence during the pregnancy.
Fortunately, Brooks' training was at Fort Bliss in El Paso, Texas and not someplace overseas meaning he was just a few hours away.
The Red Cross told Brooks that he'd need to book a flight from El Paso to Dallas Fort-Worth and take a connecting flight to Jackson, Mississippi.
Another Turn of Events.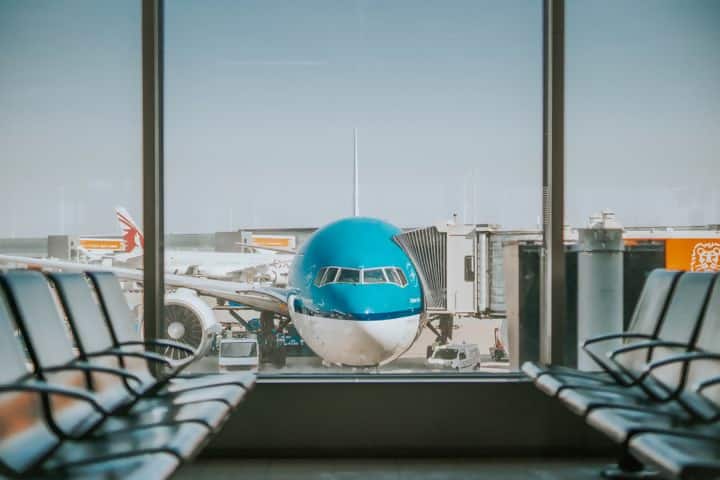 Everything was going as planned and how the couple wanted them to but life isn't always that easy.
First, Brooks couldn't' find any available flights for that same day except for 10 am that was the earliest for the next day.
Hayley shared with Love What Matters how she was quite certain that the baby would have been born by then but she had relaxed knowing that her husband would spend four days with them.
They were, however, surprised when Hayley didn't go into labor until the next morning.
Delayed Flight.
The next morning, Brooks got dressed and hurried to the airport for his mid-morning flight as Hayley's water had broken at 7 am but the baby hadn't come yet.
As Brooks' first flight landed, Hayley was five centimeters dilated and almost set for childbirth. There was still enough time for Brooks to make it for the birth of their first baby.
But as he was about to board the connecting flight to Mississippi, there was an announcement about the plane experiencing maintenance issues and thus, the flight was delayed.
Half-Way Through.
Brooks was half-way through but his flight was delayed from 3 pm to 5:45 pm and so, he had to wait. Hayley was halfway into labor and already frustrated but glad that her husband would be around for the next four days.
After a few hours, the couple decided to have a video call as they both waited. Hayley's mother-in-law and step-mom were present but the doctors let her know it was time to hang up.
Why now?
Hospital Rules.
The doctors tried to get Hayley off the phone as the hospital had a 'no video policy' in the delivery room. This is quite reasonable as live streaming won't be appropriate in a place as private and intimate as the delivery room.
The family had to explain that Hayley's husband was an Army Spec. and was on his way home to be present at the child's birth before the doctors gave their permission.
Brooks isolated himself from the crowd and sat on the floor as tears streamed down his face as a result of the emotional happenings.
Someone Yelled for Brooks Not to Be Allowed on The Flight.
Tracy Dover was boarding the same flight that day with Brooks and had noticed how emotional and intense he was as he sat down in a corner with tears in his eyes as he stared at his phone.
She found it unbelievable and wondered what was happening as the 25-year-old military man was in tears. Her thoughts were interrupted when someone started yelling loud for the soldier not to be allowed to board the flight.
It Was Time to Move.
As the clock struck 5 pm, Brooks' flight was ready and that wasn't all…Hayley was already into labor too.  The couple had decided to hang up once the baby started coming but someone else felt otherwise.
By this time, other travelers were noticing Brooks' state and wondering why someone was yelling at him from his phone.
It was the doctor yelling to his family to keep him on the phone and not allow him to get on the flight.
Doing as The Doctor Says.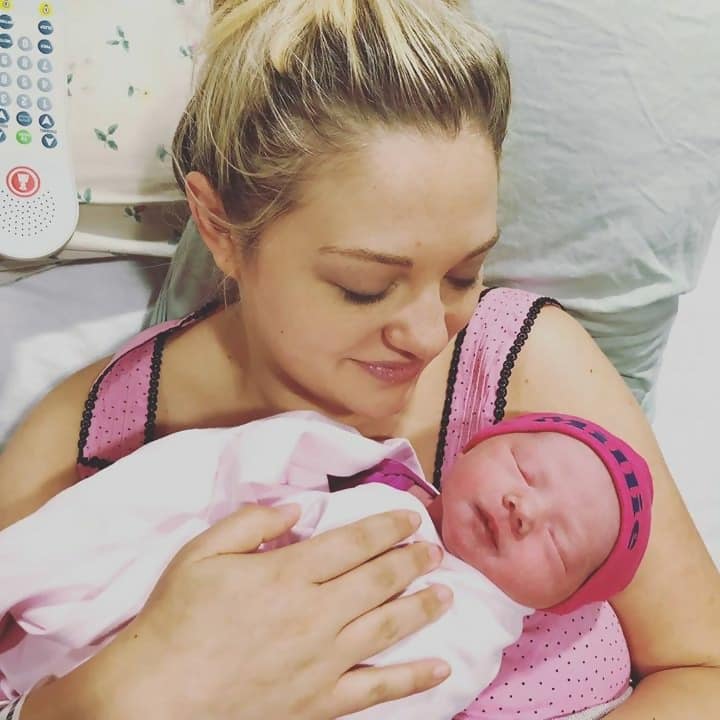 It was the moment the couple had been waiting for and although Brooks wasn't there in person, the moment was perfect!
Brooks told KETV 7 that when his mom had face-timed him to tell him that the baby was coming, he decided to move aside to watch it.
Nothing else mattered to him more and so, he followed the doctor's orders and didn't board the flight.
As he watched his first child been born, he felt like nobody else was in the room but everyone was aware of the beautiful moment.
A Co-Traveler's Discovery.
Immediately Tracy Dover realized how precious this moment was and what was happening, she started recording the moment. She knew why Brooks had to isolate herself as it was an important, bittersweet experience for him.
Hayley explained how it was like on the other end of the phone in her interview with KETV 7. She said Brooks had encouraged her and empathized through it all.
What Happened to The Flight?
If you're wondering if there can ever be a good reason to delay a flight then you've got yourself a winner with this one!
Luckily, the flight staff was aware of the situation and followed the doctor's order. They allowed Brooks to wait for the birth to be over before boarding the flight.
The support from everyone was quite touching as they cheered him on during Hayley's emergent labor.
Bundle of Joy.
It was hard for everyone to stop watching the precious moment but they also knew how important it was for him to have his space and enjoy the magical moment with his family.
Tracy Dover's heart was warmed with Brooks' emotional facial expressions and she felt it was something that the family should remember forever.
Indeed, he wasn't present to witness the birth of his child first-hand but experiencing it via FaceTime made up for it.
The Perfect Reunion.
Brooks and Hayley Lindsey welcomed their beautiful daughter, Millie, into the world on May 4, 2018, at 5:23 pm.
Brooks was excited as he told KETV 7 that his daughter was 21 inches long, weighed 7 pounds, six ounces and had her head full of hair.
He admitted that the delayed flight was a blessing in disguise and immediately the birth was over, he got on the plane and was eager to see his first child.
The story continues.
A Great Moment to Behold.
After Brooks confirmed the health of both mother and child, everyone at the airport cheered on. He was aware that the flight staff knew what was happening but he was surprised at how many people were happy for him.
He had no idea that Tracy Dover had also recorded the whole thing and when he found out, he wasted no time in showing it to Hayley and his family.
Hayley was moved with the video and appreciated Tracy in her interview with KETV 7 as she said: "You don't realize at the moment, how important things are."
Sharing the Story.
Brooks turned off his phone as he boarded his flight home to Mississippi. Everyone, including the pilots, congratulated him and expressed their delight to see one of the military men experience such a magical moment. After Millie's birth, the couple thought it was a good idea to share the story with the online community and was amazed at the feedback they got.
Brooks was grateful for all the support, kind words and cheers he received from everyone but he was most grateful to Tracy Dover.
Tracy Dover's Heartwarming Post.
Within a few days, their story went viral as Tracy uploaded a very heart-warming post via Facebook. She wrote about how Brooks had to watch his daughter's birth on FaceTime and what everyone's reactions had been.
Tracy's Facebook post received numerous reactions and shares. The heartwarming story was quite relatable for so many families and their appreciation for the army was quite touching as well.
He Wasn't Afraid to Show His Emotions.
Brooks and his wife, Hayley, were quite appreciative of everyone's support during the birth of their daughter. They never thought things would work out the way they did but technology made it possible.
Brooks was quite emotional as he shared his perspective with KETV 7 about how many soldiers don't get to witness the birth of their children firsthand. He went ahead to encourage everyone to pray for them too.
We love how this devout soldier wasn't afraid to let his emotions show on being a dad, we believe he'll make an awesome dad and wish him the best.