Working in the military has its difficult, stressful and dangerous sides. It's even harder when you've got a family back at home and you're wondering what you're missing out on.
This is probably how U.S. Navy seaman Chris Daugherty must have felt every single time he was out on the sea.
His wife, Natasha, discovered something that she knew would change their lives while he was away on one of his long tours and decided to keep it from him until he returned.
What was the secret and how did she manage to keep it from him? You'll have to read on to find, we promise it'll be worth your while and who knows? You might cry a little too.
Meet Petty Officer 1st Class, Chris Daugherty.
Chris works as a cryptologic technician in the United States Navy. This means he's always away for several months overseas, aboard some of the Navy's top advanced and important ships. Besides serving an important role in serving and protecting the United States and its citizens, he's also a family man.
Meet the Daughertys.
Chris is married to the lovely Natasha and as of 2016, this young California couple were already parents of three children. Chris and Natasha were always working hard to give their children the best life they could afford. However, Chris' job was a major obstacle as work could take him away from home for many months.
Away on an Adventurous Voyage.
Chris was deployed on a mission in January 2016. This time around, he was to spend five months at sea in the Pacific Ocean and aboard the Nimitz-class supercarrier called the USS Carl Vinson. Being away from home for so long wasn't the favorite part of his job but he had no choice but to do it anyway.
The Daughertys had gotten too good at tearful goodbyes and so, despite how hard it was, Natasha and the children said goodbye to Chris at the harbor and returned home, praying for five months to run by quickly.
Natasha's Secret.
After Chris had left, Natasha started noticing changes in her body. Chris might have left for his mission overseas but he had left her with something…she was pregnant. Immediately she discovered what was happening, she decided to let Chris know and made to send him an email.
However, as she later recalled, she decided against it and felt telling him in an email wasn't how she wanted to break the news to her husband.
Keeping the Cat in the Bag.
Natasha and Chris built their relationship on trust and continuous communication. That means whenever they got the chance to talk to each other when they weren't together, they'd tell each other everything and hold nothing back. So, keeping this secret from her husband was the hardest thing Natasha had ever done in their marriage but she decided to go ahead with her decision
Besides they'd still have time to be together when he returned before the baby was born, right? Well, let's see what happened next.
How Life in the Military Works.
A major challenge for partners of those working in the military is that they have no idea what their loved ones are passing through. But this wasn't the case with the Daughertys as they met in the Navy.
Natasha was then, an IT systems tech. When Chris saw her, he immediately fell in love and so, after Natasha quit working for the Navy, she still has an idea of all Chris has to deal with and the kind of environment he was in when they weren't together.
Keeping the Secret.
Natasha had no obligation to tell anyone she was pregnant or to ask them to keep it from Chris. Yet, she had to let people in on the secret as her belly began to show and she didn't want anyone casually mentioning it to her husband and ruining the surprise.
However, Natasha wasn't the only one trying to keep secrets, her husband was also learning some military secrets that would later test the strength of their marriage.
A Change of Plans.
As Natasha was busy keeping her pregnancy away from Chris, Chris and his crew discovered some pretty disturbing military intel. Things were getting hot in North Korea and his ship was in a vital strategic location near the East Asian country. The North Koreans were testing ballistic missiles with some of them being tested over the Sea of Japan. This meant changing gears for Chris' unit and also, a rescheduling of his return home but for security reasons, he couldn't let his wife know about it yet.
Things Got Harder.
The couple surely had a lot on their plate and it's difficult to tell who had it tougher. It was either Chris with the heated-up situation in the Pacific or Natasha who was working two jobs, looking after their three children and keeping her pregnancy from her husband. The pressure was proving difficult for her but she knew that waiting till he returned was best.
A week before Chris' return home, she received a phone call to update her on Chris' prolonged return home by an additional 30 days due to the events in North Korea.
The Wait.
After Chris' call to announce his prolonged arrival, Natasha was seriously worried. She was worried that if his arrival got extended now, the probability it could get extended again was high and she was bothered if something bad happened and he never got to know that she was expecting.
After a deep thought, she decided not to give in to fear and wait for an extra month, if she had waited this long, one extra month won't be so hard.
Almost There.
Natasha talked about the distress she went through as she waited for Chris in her interview with NBC. She said that the issues with North Korea got her so worried and when Chris had said goodbye, she got very emotional. She was very close to telling him but she decided to keep calm and wait a little longer.
The Return Home.
The extra 30 days moved by very slowly but it was finally over and Chris was on his way back home. The children were pretty excited and couldn't wait to see their dad but Natasha was still worried. She was hoping her pregnancy news would be a delight to Chris and that he wouldn't be mad at her for keeping it away from him for so long. She was quite anxious as to how he'd react when he found out.
A Befitting Welcome.
Chris reached the port in the good old U.S of A. on June 23, 2017. Immediately, he got down from the ship, he saw his wife and three children waiting for him all dressed in Navy-themed outfits and holding "welcome back" signs.
He was beaming with smiles as his children ran to hug him. Natasha didn't move, she just kept holding her sign and waited for Chris to get to her.
A Huge Surprise.
After Chris finished hugging all of his children, he walked towards his lovely wife, Natasha. She was beaming with signs as she held a huge sign in front of her which read "Welcome Home Baby Daddy." As he got closer, Natasha got more and more anxious until he was close enough to hug her. It was then she dropped the sign to reveal her pregnant belly.
Shocked Beyond Words.
Chris was shocked beyond words. Indeed, he was expecting a lot of changes on his way home but finding out that Natasha was pregnant without his knowledge wasn't one of them Why did she keep this from him despite how they told each other everything? He took a step back before touching her belly then he asked her in a whisper if she was serious and if it was real.
It Was Unbelievable.
After their story had gone viral on the internet, Chris recalled how he felt when he found out his wife was pregnant in an interview. He said he kept looking at her and poked her stomach to make sure she wasn't tricking him. He was surprised but also full of joy. The fact that he was going to be a dad to another child with the love of his life was enough reason to be joyful.
Happy Father's Day.
As fate would have it, Natasha's plans worked perfectly with Chris making port a few days after Father's Day. It was great to reunite with his three children and to find out that another one was on the way. It was the best Father's Day gift ever. In an interview, he said that having a fourth child would add to the excitement, craziness and fun in the house.
No More a Secret.
Indeed, Natasha wasn't only keeping her pregnancy from Chris, she was also keeping it from her family and friends but as her belly grew, she had to let people know about her plan to surprise her husband to avoid a ruined surprise.
She told Chris' parents and a few of the family's close friends. One of the close friends even decided to be present at Chris' return and film Chris' reaction when he found out about Natasha's pregnancy.
A Tough Secret.
Despite Natasha's decision to keep the pregnancy a secret, she had a tough job. She was always speaking with Chris, making video calls and sending pictures to him, she needed to make use of props, diversions and camera angles to get rid of any telltale signs that might expose her secret. Besides family and friends, Natasha still had to make sure three other people didn't spill the secret…their three children.
Sealed Lips.
Their son, the oldest, was old enough to understand what his mom was on to and to keep his mouth shut. However, his four-year-old sister wasn't old enough to fully understand and might spill accidentally. So, to avoid this, Natasha had to tell her that she was getting fat else she would have spilled as she liked to talk a lot.
Couldn't Believe It.
Natasha was happy that her surprise plan had worked although she admitted to it being very difficult. In her interview with ABC News, she told them that she had discovered she was pregnant a week after Chris' departure and she couldn't believe even after she retook the test. She had emailed him to call her ASAP but had second thoughts and sent him another email to say she just missed his voice. She then decided to take pictures and document them for him so he wouldn't miss out on anything.
The Hardest Thing in the World.
Natasha admitted to her secret been the hardest thing in the world that she had ever done since she got married. She had many second thoughts most especially when things started getting out of hand with North Korea but she decided to go ahead with her plan and it paid off in the end. Fortunately, Chris was able to have about a month and a half to look forward to before his fourth child's birth. However, another surprise was cooking up.
Counting on More Time.
Natasha was counting on two things. She was counting on Chris returning just in time before she put to bed so they could make up for the months he wasn't around and that that there would be enough time for them to talk about the pregnancy. That wasn't all she was counting on though, luckily Chris' delayed return didn't affect that too. They needed to know if they were having a boy or a girl.
Baby Shower.
Immediately Chris returned home and was settling back into being a civilian, he decided to organize a baby shower with Natasha to reveal the baby's gender. They were pretty excited and wondered what sex the baby was.They got their families and friends together and popped the traditional balloon and out of it came a swirl of pink confetti. The Daughertys were having another girl!
Spending Time with Family.
Since Chris and his wife had some time before the birth of their fourth daughter, they decided to spend quality time together as a family to make up for the lost time They went on a trip to bond as a family and when they returned, they got the house and nursery ready for the new baby. Despite all the occasions, there was something that was still not clear to the family.
Reporting Back to Duty.
Despite all the festivities and family outings, the Daughertys knew that it wasn't yet a fairytale ending for them as Chris could get called back to work at any time. The question was to where and for how long this time? Indeed he was able to spend enough time with his family and participate in everything that involved the pregnancy but would he be present at the birth of his fourth child?
Good News.
Soon enough, Chris was about to find out about his next deployment date and was overjoyed to find out that it was still far away. This would give him enough time to be present at the birth of his fourth child and also help Natasha around after the delivery. Despite the heated-up North Korean situation and his extended arrival, everything still worked according to plan. The couple was over the moon.
Meeting Anara Rose.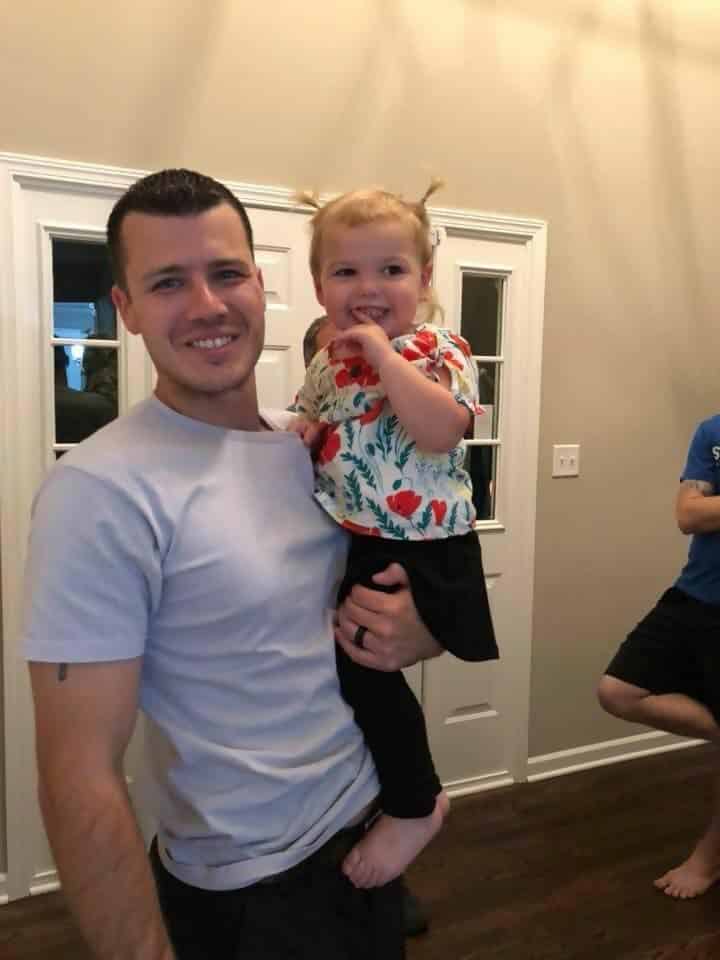 On September 2, 2017, Natasha and Chris welcomed their fourth child, Anara Rose into the world. Chris went on to write on Facebook about how much they loved her and couldn't wait to bring her home to complete their family of six. Finally, the couple could put the ordeal behind them and raise their family together with no more secrets and sudden surprises.
More Surprises?
After all these, should we be expecting more surprises from the Daughertys? Well, Chris admitted that it was an awesome surprise and finding out over the phone or email would have been easy but his wife saving it for his return made it all special. Natasha also added that it was difficult but worth the stress in the end.

However, when a CBS reporter asked her if she had any more surprises in stock, she laughed out loud and said she had none.

[mashshare]