Avid fishermen swear up and down that a day on the water casting lines is one of the most relaxing ways to spend the day; however, these photos look anything but relaxing! Check out these hilarious fishing photo follies.
She's a Catch!
This guy certainly found himself a catch – and a rather large fish! I wonder which one he will throw back into the sea.
I've heard of footprints in the sand…
…but never drag marks! This guy must've caught a big one – or actually I think a big one caught him. Good luck with that one!
Go With the Flow
This man decided to ride out the flood by turning it into his own personal fishing vacation. That bright yellow umbrella looks like sunshine amidst the rain. This guy has the right attitude!
This Big Fish Has Around the Block
This fish isn't as dumb as these anglers think. Not only is he not taking the bait, he is swimming right between it, resisting temptation as a way to say, "HA! Nice try."
I Saw the Sign
These people more than likely saw the sign, but it doesn't look like they are paying it any mind. This must be a primo fishing spot!
Whatever Works for You!
This successful angler can contribute her skills to her use of that net – the one in her hands, not the one on her face. What's with the rubber chicken? It doesn't matter; still caught a fish. Go girl!
Photo Bomb
It's always funny to see a photo get "bombed." However, this picture is especially a delight! This fish straight up took over the shoot to flaunt its modeling skills. What a pro!
Lending a Hand
When you leave your fishing poles at home, you have to improvise. This guy decided to use his friend as a pole. Impressive ingenuity, guys!
Frogs are Amphibious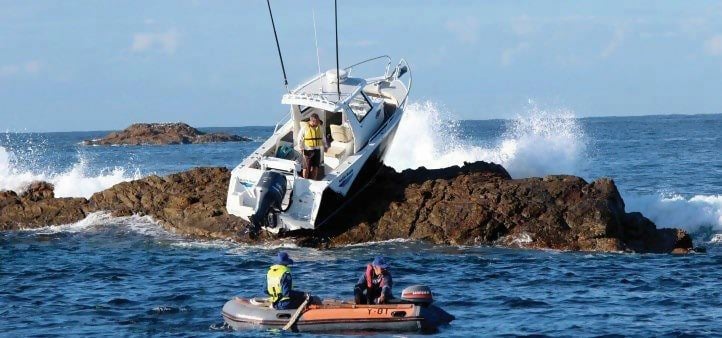 Frogs are amphibious, but most boats are not. Maybe these fishermen thought they could catch some air going over that rock, videogame style. But it looks like they crashed and will have to postpone their fishing excursion.
When a Hobby Turns Excessive
Sure, fishing is a fun hobby… but this man might be taking it a little overboard. I hope this photo isn't on his online dating profile.
A Fishy Fashion DON'T
These dead fish are actually just flip-flops that look like dead fish. Isn't that what everyone wants – dead fish on their feet?
Location, location, location!
This guy was feeling landlocked, so he decided to fish in this pothole in the road. It looks like the only thing he will be catching there is mud. A for effort though!
Who needs a Babysitter?
Not this couple! They found an…. interesting… solution to bringing a baby on board. (But we do not advocate trying this. It doesn't look very safe!) At least the tyke has a life vest on. Partial credit!
I Hope this Fish has Dental Insurance!
Did you know some species of fish have teeth? We knew there were some with teeth, but what are the odds this guy would catch one with teeth similar to his own? This picture is very unsettling.
Necessary Safety Sign
The fact that somebody had to post a sign to keep people from fishing and diving off of this bridge is concerning. It looks like the fish left that stream long ago!
Age is Just a Number
This man might need a waders and a walker, but this tried and true angler isn't going to let that stop him. Go guy!
Bridal Wave
We thought your honeymoon was for… other things. But hey! This bride had to take a quick detour to get a quick fishing session in. This photo is actually really cool!
My Kind of Fishing
This is my favorite type of "fishing." Poles are not even mandatory – just don't forget the beer cooler!
Oh okay. Wait – Huh?
This bridge calls itself a fishing bridge, but then it says it's closed to fishing? Who does this bridge think he is??
Really Sticking His Neck Out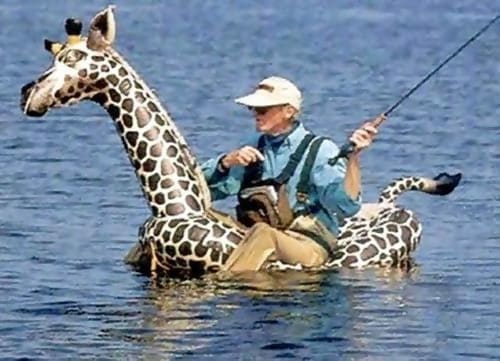 This guy found a solution to fly fish in deeper waters, and we love it! I just hope the giraffe looks natural to the fish so they don't suspect a thing.
Free Therapy
Nature is very therapeutic – fishing in general is a great way to relax and reset. These avid anglers in California have a clever name for their fishing boat – Reel Therapy. They're not wrong!
The Upper Hand
In Sri Lanka fishermen use stilts in order to fish with better accuracy and success. These people went a step further and used a crane to lift them up above the water. Talk about a bird's eye view!
Did Someone Say "Dinner?"
These fishermen aren't fishermen at all! They're cat catchers; the fish are the real lure!
Solo Time
We all need alone time, and spending it on the water can be very calming. This guy built a chair/raft hybrid for one. The best part? It has a small motor so he can zoom around the lake. Genius!
Putting the Cart Before the Horse
I think these people got confused about how to get the boat into the water. These days, there is no longer a need to drive your truck into the sea!
ABF – Always Be Fishing
This man is more than prepared for the flash flood that has struck. One man's natural disaster is another's fishing oasis. It's all about perspective – we can learn a lot from this guy!
No People Allowed
That's the message we are getting from this sign. At least this sign is direct and humorous. I know that my dog has to keep me on a leash at all times!
Reely Romantic
Dress for the date you want, not the date you got. The pretty shirt and high heels on this woman make me feel like this is not the romantic getaway she was expecting! Hey! At least she matches the boat.
Totally on Purpose
This guy didn't cast wrong; he was totally trying to fall in. He couldn't beat the fish, so maybe he decided to join them.
Reel Pretty Interior Design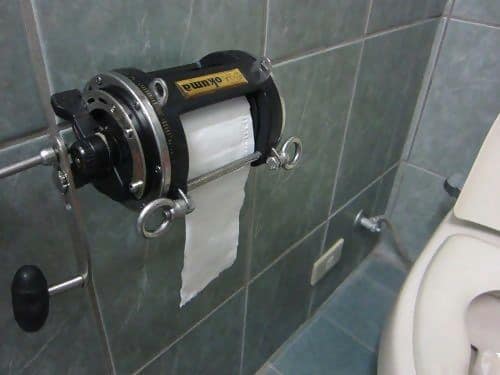 That rural-chic look is totally in; just watch any show on HGTV. Somebody needs to tell Chip and Joanna Gaines about this idea for their farmhouse! Very authentic.
FINish him!
This man thought the cat (or fish, rather) was in the bag. Nope! This giant fish decided to fin slap him right in the head to escape. Better luck next time, bro!
Broken Bridges
This man's idea of making a mini fishing bridge would've been a good one if he had remembered to make sure it would hold his weight. Maybe he didn't account for the delicious fish he had already eaten that day.
Always Be Prepared
You never have to worry about having a measuring tape if you just mark up your leg like a ruler. Not a bad idea for an avid angler! This guy has a leg up on the competition.
A New Way to Tackle Tackle
These lures made from recycled bottle tops are really clever and a good way to reuse trash. These would even make cute jewelry… were it not for the "I'm an alcoholic" connotations.
What a Tangled Web We Weave…
If you have never used a bait caster without an automatic spool, then take a lesson first. If you don't know what you're doing, you will probably end up with a tangled rat's nest of line like this guy.
Not It!
Too many rods and not enough stands? Paper, rock, scissors – and hope you don't end up having to be the stand-in while your friends crack open a cold one.
I Don't Think You Did it Right
In Soviet Russia, fish catch you! Only kidding, this photo is staged (at least we hope). But look at the size of this monster! I bet it could eat a person if it wanted to.
Look Out Behind You!
Talk about a photo bomb. If I were this guy, I'd hand the fish over! I have a hunch this Grizzly bear wants it more.
Another Scary Predator
That last guy almost got eaten by a bear while he was trying to catch fish. This guy was almost a crocodile's lunch. Maybe the people fishing in potholes aren't so dumb after all.
Cowabunga!
This teen in Texas actually has great success catching fish in the sewer system. He has YouTube videos of himself catching largemouth bass! While we love his ingenuity, this still seems somewhat… gross. But whatever floats your boat!
Ostrich Man to the Rescue
We've heard of "burying your head in the sand," but nothing about burying it in ice! Maybe this guy misheard the saying. Maybe he lost something valuable. Maybe he is fishing with his teeth. Maybe in his country, it's customary to stick your face through the frozen lake. There are a million reasons this guy might've stuck his face into frozen water – your guess is as good as ours!
The Next Steve Jobs?
It might take hours to catch dinner, so you might as well bring along some snacks. This genius made a buoyant tray table so he can have a picnic while he waits. I'd buy one!
Fishing might seem relaxing, and usually it is. But now that you've seen some photos of fishing gone wrong, you'll remember that sometimes this relaxing hobby and sport comes with its own set of problems!