Every sport is difficult in their own way. Each athlete works hard, and tend to forget what they look like while they do it. Sports aren't a glamorous activity. Here's a list of perfectly-timed sports moments that were captured on camera.
Air planking
Dennis Rodman may have been a controversial player, but he is definitely the best air planker in the world.
Digging for gold
Lebron is one of the best basketball players in the world, and he has a hidden talent. He's an excellent gold digger.
Milky Way
This may be a wet tennis ball, but from far away it looks like a perfect shot of the Milky Way.
Talk about a broken back
Michelle Kwan is an amazing figure skater, but this shot looks like she just broke her back.
Run- kid- run!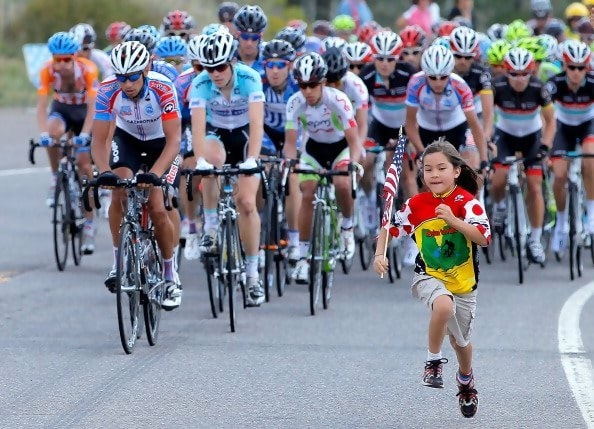 This isn't photoshop, even though it definitely looks like it! Keep running kid!
Reflecting on life
He looks like he is just taking a break to reflect on life. It's a neat picture, though!
80's hair band
This Olympic lifter looks like they enjoy 80's music a little too much.
Head rush
I'm not a professional, but I think you are supposed to jump over it.
Dive in motion
This picture was taken at the perfect time during his dive!
Face catch
This poor baseball player caught the ball with his face.
The headless gymnast
This is not an optic illusion, she's just that flexible. Now that takes skill.
Alien
Some athletes perform at an almost unhuman ability- are we sure he's human?
Picking a winner
Athlete's are always trying to win. This football player is definitely trying to pick a winner, here.
Face tune
This boxer might feel that in the morning.
Back bend
Figure skating is beautiful and graceful. This couple got caught crashing, and did a backbend in the process?
Teamwork makes the dream work
These synchronized swimmers are using team work by lending their noggins for another girls balance.
Face pass
Rugby is a tough sport, and instead of catching it with your hands, let's make it more extreme by catching it with your face?
The headless gymnast saga continues
This gymnast replaced her head with her leg. Impressive!
The balance
She is balancing on her chin, now that's awesome!
All tangled
It looks like their heads are displaced from their bodies! Now, that has to hurt!
Walking the wave
It looks like he's walking on the wave! Finally, someone can walk on water!
The optical illusion
This photo was perfectly timed, because it looks like the second swimmers legs are still attached to the first. She looks like she has the longest torso ever!
Connected at the hip
They look like they are literally connected at the hip!
Double trouble
A broken bat, and then hit in the face. Talk about double trouble.
In the face
Talk about an arch rival, and a swift kick to the face.
Homerun
He's just trying to make a catch and a fan punches him in the face.
Bulls-eye
It seems like he is just doing his job, but that still doesn't mean that he's going to be hurting in the morning.
Holy ledge
Alex Honnold is captured here after his ascent on the record-breaking 3000-foot "Thank God Ledge." He was the first climber to successfully free solo El Capitan in Yosemite National Park.
Sweat happens
This photo captures the soccer player drenched in sweat. Hey, sweat means you're working hard.
Pre twirl
This figure skater was captured getting ready to perform a twirl. We got this gem of a photo out of it.
Big jump
They may be soccer players but the guy in front looks like he is taking a break to do some jumping jacks on the field.
Pain killers
This poor bull rider may feel this in the morning.
Where'd he go?
This picture is so amazingly-timed that it looks like the hockey player is invisible.
Kicked in the face
This photograph sure is a rough moment for the soccer player on the ground. Poor guy.
Look Ma, no hands
This gymnast decided to not use any equipment at all.
Racket ball toss
"Here take the ball and racquet. Might as well take the whole thing."
Hold my beer
"Here hold my glove and my beer. Hurry, catch!"
Spike
This poor kid looks terrified by the ball. Maybe he should rethink if this is the sport for him?
Think fast
This dad definitely had the "dad instinct" when he caught a flying bat before it hit his son in the face. What a great dad!
Hat catch
This guy caught the game ball in his hat, what a lucky guy!
In the air
Gymnasts have many talents, but apparently flying is one of them.
Long way to fall
Can you imagine what's going through that poor skateboarders mind? His skateboard is out of his clasp and he has a long way to fall.
Danger waves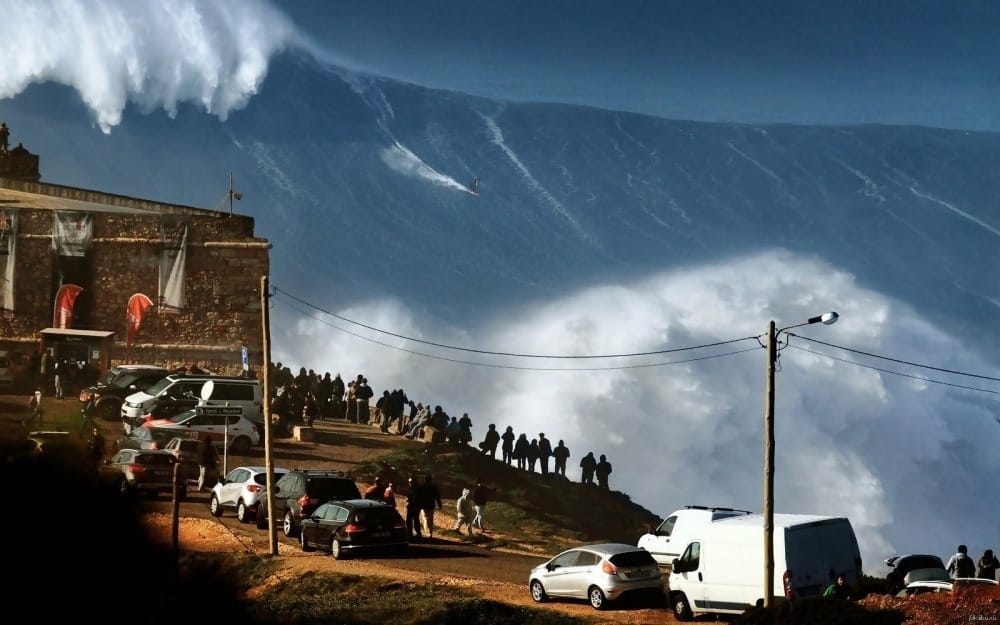 January 2013, a man named Garrett McNamara- surfed a wave that was 100-feet tall in Nazare, Portugal. Talk about a little adrenaline to keep you going.
The kick of pain
Jiu Jitsu is a tough sport, and this photographer captured a painful moment for this guy.
It's all relative
These gymnasts are all extremely talented, and they also all look very similar. Maybe they are related?
Head rush
A punch like this would knock anyone down for the count. But Lucian Bute defended his IBF super middleweight title over Glen Johnson.
This is actually not photoshopped
This is actually real, even though it looks completely photoshopped. Robbie Maddison is known for his extreme motor biking skills. He decided to take his passion of motor biking and surfing and wrap it into one.
Dancing hands
The "Dance of a Thousand Hands", is performed by 63 deaf dancers of the China Disabled People's Performing Art Troupe, and it's amazing.
The tribute
In July 2015, Ian Flanders, a professional BASE jumper and climber had a parachute accident in Turkey, and fell to his death. Matt Blank, his climbing & BASE jumping partner as a tribute to his friend and partner on the edge made a video of him jumping in his honor.
All trust in his hands
This incredible trick from adagio pair, Fiona Zaldua and Dmitry Sukhanov, was performed in 2012, at an ice show in Shanghai.
Ocean view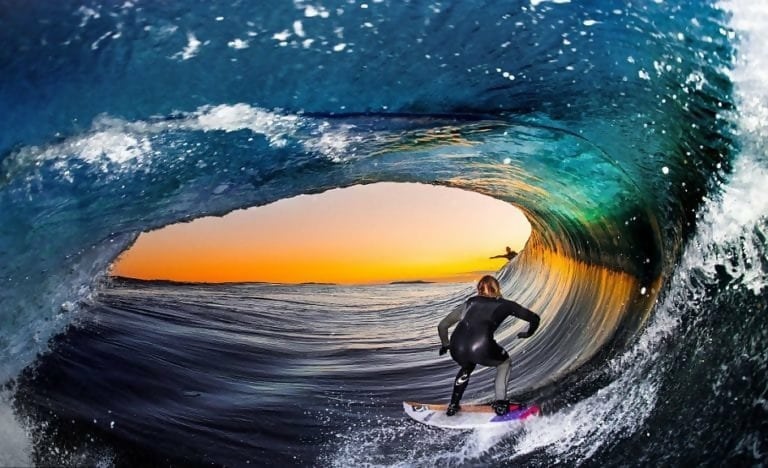 The photographer captured a gorgeous picture of a surfer in the middle of a wave, while the sun was setting.
He's playing basketball
This photographer took a perfectly-timed picture that looks like a statue is playing basketball. Now that's talent.
Speed Skaters
Speed skating may not be the most popular sport, but it definitely should be. This photo was taken in Erfurt, Germany during the 2015 World Cup Race. Skaters reached impressive speeds averaging 30 mph.
Mountain biking
This race showcases complete athleticism. This mountain bike stage race takes place in South Africa, lasts 8 days and is over 435 miles long.
The fight
During an NHL game at Scotiabank on March 21, 2015, in Alberta, Canada, Michael Ferland of the Calgary Flames gets thrown during a fight against Corey Tropp of the Columbus Blue Jackets.
Sunset soccer
The talented photographer captured an amazing photo of someone juggling the sun on their foot at sunset.
Just horsin around
This picture is not photoshopped; it's just perfectly-timed. The horse moved his head in front of the persons head, and the photographer captured this awesome picture.
A school of fish
Fish swim in groups called, a school of fish. They move in groups to protect themselves from predators. Swimming in a large gathering is much safer, than swimming alone.
Matrix
During the 2015 NCAA Basketball tournament, Dayton's Kyle Davis is leaping over Boise State's Chandler Hutchison.
Sky diving
This shot went viral of a skydiver, upside down with a gorgeous background.
Glove catch
The goaltender for the Columbus Blue Jackets, Sergei Bobrovsky, reaches back to make a diving glove-save. We are lucky that this photographer caught this on camera.
High fins!
Eli Martinez, a diver, was interacting with this lemon shark when it approached him. He said, "That initially, it laid back and then came swimming towards him when he raised his arm. Unexpectedly, it took a slight turn and tapped him with its fin like a high-five."
Swimming beauty
A Finnish record holder in swimming, Emilia Bottas, took part in the 2008 Olympics ranking 46th; she competed in the 100m butterfly competition and swam 1:02:31.
An inspiring athlete
Aaron Fotheringham has been on a wheelchair since the age of 8. He is an extreme wheelchair athlete who performs tricks. How inspiring!
Big jump
As a national-ranked pole vaulter, Allison Rebecca Stokke is a track and field athlete. Today, Allison can be seen around as a professional vaulter and fitness & sports model.
The drought
There was a 108-year drought for the Chicago Cubs. They finally won the World Series in 2016, ending that long drought. This fan shows pure emotion after the cubs won.
Perfectly awkward
This awkward photo is a head-scratcher at how this can even happen.
Whack-a-ball?
Michelle Obama is a really down to earth, active, and a relatable Former First Lady. She definitely loves fitness; however, tennis may not be her calling.