Huskies Dream Too
She'll look beautiful in that dress!
Kohl's Cash
All Kohl's shoppers knows the importance of redeeming their Kohl's cash.
Genius Hack
Never lose your cap for Gatorade ever again.
Bothering Steps
Do they bother you as much as they bother this person?
Parking Spot Friends
There are two ways to look at this picture.
Christmas Calories
I was always told calories don't exist on Christmas.
I Relate Artwork
He can be sleeping, praying, or curling up in a ball from stress. Artwork is interpretive.
The Watchful Wife
Why not just empty the entire dishwasher? Chances are that your wife will notice you took out just one plate.
Useless Facts
If only those useless facts could amount to something one day.
2018 Horror Movies
The fourth movie is probably the scariest.
Mirror Tricks
Grandpa, is there something you have to tell the family?
Rough Year
If you didn't die, it hasn't been the roughest year yet. Just wait.
Backseat Driver
People with driver's licenses who sit in the passenger seat always feel they should comment on the driver's driving skills.
The Forever Nap
That sounds right. Let's get this trending.
New Music Group
Their first cover should be a Beyonce song.
Screaming
Well, that's one pessimistic way to look at the world.
Coffee
Whatever you are feeling right now, coffee is always the answer.
God's Plan
God needed a redo on this person. Back to the drawing board!
Affectionate Drunk
It's better than being an angry drunk.
Setting the Rules
Once you realize that kids will always find a way around your rules, your parenting experience will be better.
Cupcakes
He may not be ashamed, but he will probably have to bake a whole new batch of cupcakes.
Chatty Kathy
Introverts can feel this one personally.
False Advertising
It's time to start a lawsuit. This person is owed an extra 13 pizza rolls!
Creativity at Its Finest
Just imagine all of the stares this guy gets on the highway.
Panic Mode
That sense of panic when your mom opens your bedroom door before you've cleaned your room.
Tequila Shots
There is always that one person who can keep it together throughout the night.
Corny Jokes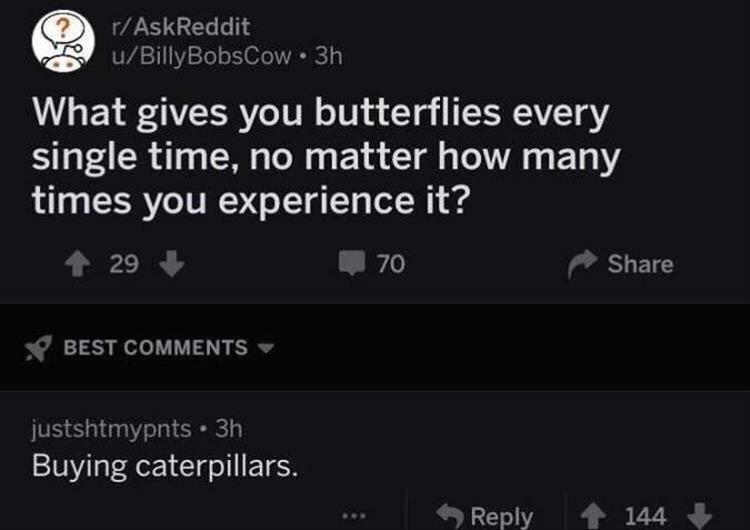 They aren't wrong.
Morning Routines
How many times do you hit snooze on your alarm?
Too Hot
It's time to start being a better person.
Bad Teeth
There are dentists out there who are willing to fix your teeth. Make an appointment!
New Ruler
Rather than getting a ruler, this girl decided to use her dog as measurement.
No Blanket
The most uncomfortable feeling is being cold at someone else's house.
Futuristic Car
Looks like it's time for another trip to the future.
A Mother's Wrath
When that door closes, hell breaks loose.
Talking to People
The funny part is that they probably wouldn't even understand this insult.
Binge Watching
Of course I'm still watching. It's a Saturday!
One with Nature
Campers seem to be on to something here.

[mashshare]