As with anything, there are unfortunately people out there who like to cheat their way to the top. So, with the significant growth of the influencer marketing industry in recent years, we have seen a rise in fake influencers.
Now don't worry, this article won't all be so negative! What we are going to do, is look at the ways in which you can spot fake influencers, and ensure that you are working with authentic people, targeting real audiences.
Why do fake influencers exist?
A recent report last year found that as many as 24% of influencers have intentionally manipulated their audience or engagement numbers. Although a huge statistic here, it's hard to determine where fake followers or 'bots' have been intentional or not. When using any type of audience authenticity tool, such as that available with Heepsy, the result will almost never be 100% authentic. This is because everyone, even you and I will have suspicious-looking accounts that follow us.
Many of those that are new to social media, or merely unaware of the tools available these days to check for authenticity, have believed a common misconception about becoming an influencer. Frequently, we see influencers, Instagram influencers in particular, that are emerging whilst believing that social media popularity comes from mass follower numbers. However, brands who are interested in achieving real results from their influencer marketing campaigns will know that it's primarily engagement to assess, not follower count.
For the following things to look out for, we would suggest using an influencer marketing platform to make the process much simpler. A platform like Heepsy can help you to find influencers to work with, through the use of specified search filter choices such as age, gender, location, category, etc. Once specifying search details, on an influencer profile you can view the following insights. It's possible to do this yourself directly on Instagram, however, could be a much more time-consuming process.
Follower growth
The follower growth of an influencer is essentially just the rate at which the follower count increases over a period of time. For this to be suspicious, there would need to be a sudden jump in followers. This could, of course, be due to a giveaway or similar content requiring a follow. However, it could be the result of fake followers being purchased. Heepsy will show the follower growth over a period of time as you can see below. It should look like a very steady increase for it to not be suspicious.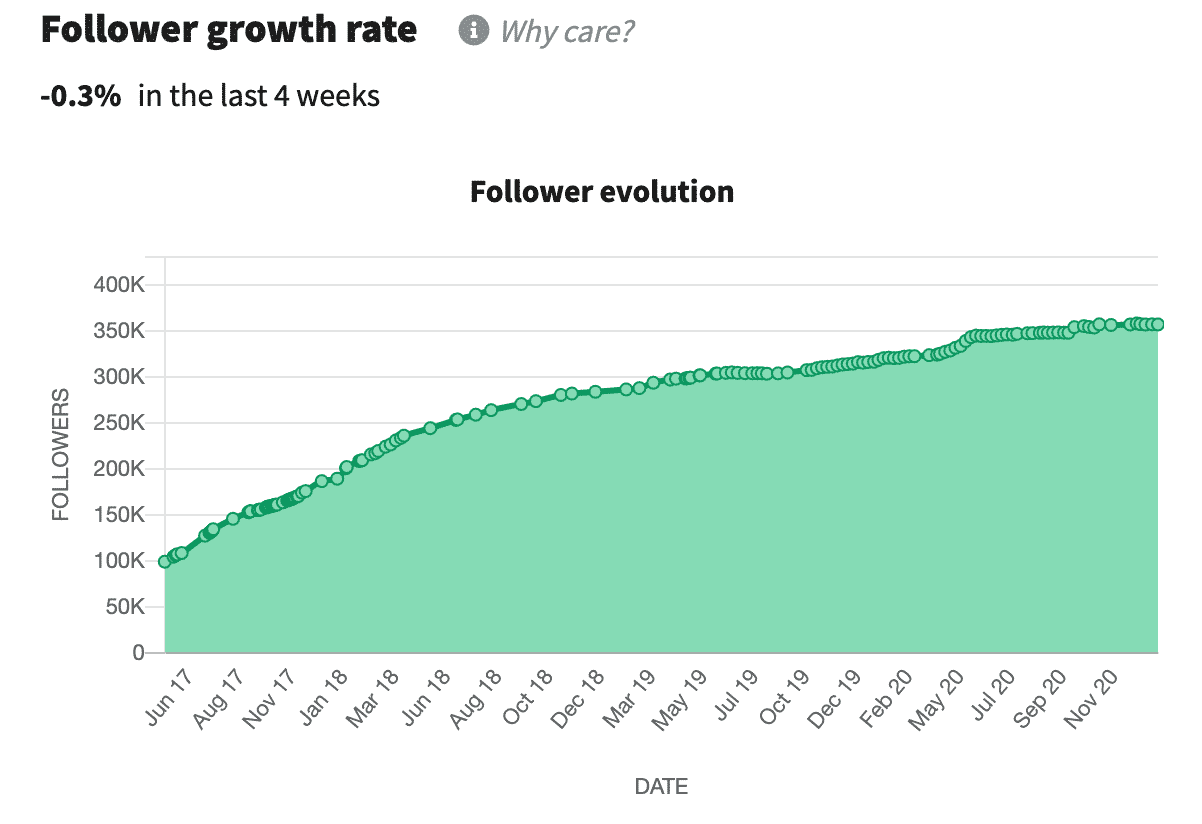 Engagement rates
Engagement rates are another thing that you'll for sure need to be paying attention to. In order to have a successful influencer marketing campaign, it's important that the audience your product is being exposed to is genuinely interested in the content posted by the influencer. By taking a look at engagement rates with Heepsy, it will be compared against an average for influencers with similar follower numbers. Generally, the more followers, the lower the average as there are more people to manage. So, when looking at an influencer's engagement, you'll want to make sure that it's not way too high, or way too low. This way, you know that the influencer has a good level of interaction with their audience and has most likely not bought likes or comments.
Audience insights
Another one of the many benefits of using an influencer marketing platform like Heepsy is the audience insights that you gain. When setting up a new influencer campaign, the most important way to achieve successful results is by finding influencers that have an audience that fully aligns with that of your brand's audience. By doing so, you can ensure that those viewing your brand or product through influencer content, are the type of people that would be the most likely to be interested in purchasing it. With Heepsy, you can analyze an influencer's audience demographics like age, gender, location, and interests.
You might be wondering how this is used to assess fake followers? Well, say your chosen influencer is from the US and they have a lot of followers here and in other English-speaking countries. But, if there seems to a group of followers from a non-English speaking country, with an interest totally different from the rest – this can sometimes suggest bought followers.
Audience authenticity metrics
Finally, with Heepsy you can turn to the audience authenticity metrics to help you understand an influencer's followers better. Here, a percentage is given for what would seem to be suspicious followers, based on the behaviour of these accounts. Heepsy data will recognise account behaviour that would resemble a social media bot or an inactive account.
Additionally, based on all of the above influencer profile insights, an overall quality score will be given. This will be determined by not only the authenticity of the influencer but by the quality of their account, which can be used to understand if they would be of benefit to your marketing strategy.
Conclusion
We don't want to leave you feeling afraid of confronting influencer fraud. Although it is out there, it's important to remember the benefits that can be gained from working with high-quality influencers suited to your brand. In order to do this, we recommend taking your time when finding influencers and creating a long-term influencer collaboration with those that you trust.

[mashshare]