Choosing the right niche for your blog can be time-consuming and demanding. Yes, we are encouraged to step out of our comfort zones and have no fears when starting a new venture, e.g. a blog. But the truth is we all are afraid of failures. That is why at the early stages of your blogging career, it is normal to dread the most common question "How to choose the right niche for my blog?". That is why we have decided to shed light on strategies which will help you find your niche in the blogging world. Strategies we are about to present are universal, work for all sorts of blogs, and are exemplified with the collection of the best themes for wordpress. Our biggest hope is that having read this post, you will have a clear vision what you should write about on your blog.
Choose the Right Niche for your Blog: 3 Strategies to Follow
Strategy 1. Examine your interests. Your blogging niche has to be of interest to you, in the first place. At the beginning of your blogging career, prospective readers will not care much about how advanced your writing skills are. Even your level of the expertise in the chosen niche is not that important. For example, as a professional cook, you can start a successful cooking blog. At the same time you can choose to launch a blog about music preferences of your newly born twins. Either way, there will be people who find your experience valuable if you write about topics you feel passionate about.
Strategy 2. Analyze your dislikes. It also makes sense to look into issues that evoke negative feelings on your part. Is there anything that irritates you and makes you react immediately? Let's say, you find the modern cinema industry superficial. You can name thousands of reasons why it will never live up to the standards of the movie classics. So, if you have enough courage to fight for your cinema preferences, congrats – you have probably found the right niche for your blog. Way to go!
Strategy 3. Visualize your ideal online audience. Think of social parametres of your prospective online reader. How old is (s)he? What is his/her marital status, profession etc? How large do you think your online audience is right now? Will it still be large enough in five years? All these questions are important if you want to build a solid online presence and monetize your blog eventually.
Once you are done with all three strategies above, it is high time to think of ways of presenting your experience to the world. This is when our collection of blog templates comes in handy. Feel free to browse through it and pick the right blog design for your future venture!
Choose the Right Niche for your Blog: 10 Blog Design Ideas
Laura – A Feminine Blog WordPress Theme
Laura is a great example of a professional blog template. Needless to say, imagery matters for a blog, big time. That is why in this WordPress Theme, there are plenty of tools to visualize your content in the best light. For starters, as you can see from the image above, you can choose what layout out of six (!) options to customize your blog in one click. Also, this template makes sure to engage your prospective readers' attention with impressive galleries and revolutionary slider posts.
Handmade Artist Personal Blog WordPress Theme
One more important aspect of starting a successful blog is an appropriate color palette. As CraftBird demonstrates, you can always opt for soft neutral colors to ease up your online audience impatience. This way you can motivate your target readers to stay longer on your blog and reduce the bounce rate considerably. Another advantage of this WordPress theme is the way it makes use of call-to-action buttons. Placed where your loyal readers would expect to find them, these buttons will make your blog well-read within the shortest terms!
Ablogia – Personal Blog WordPress Theme
Ablogia should be your #1 choice for numerous reasons. To begin with, this WordPress theme is minimalistic. It means means that nothing is going to distract your online readers from your content. What is more, Ablogia is a great blog theme for bloggers who are fond of dynamic storytelling filled with audio and video posts! The image above demonstrates how your video post can look to attract as many prospective visitors as possible.
Narya – Food Blog For Cooks WordPress Theme
The layout of your Homepage has to be as engaging as possible. One of the best ways to ensure this engagement is a full-width stunning image. Check out the photo of a home-made pizza on Narya's Homepage. As you can see, the photo is relevant for the chosen blog niche, which is crucial for all the content you publish. In addition, photos like the one above are able to stimulate senses like taste and smell. Thanks to the intersensory nature, your blog get the immediate attention on the global scale!
David Kraemar – Photographer WordPress Theme
As all professional photographer wordpress themes, the blog theme under analysis is 100% responsive. Check out the live demo of David Kraemar and you will see that the content you publish will look equally amazing in all (mobile, tablet, or desktop) modes. Furthermore, this WordPress theme for photographers contains 7 headers and 3 footers. This way you know for sure that your readers will be able to navigate your blog with ease!
Audrey WordPress Theme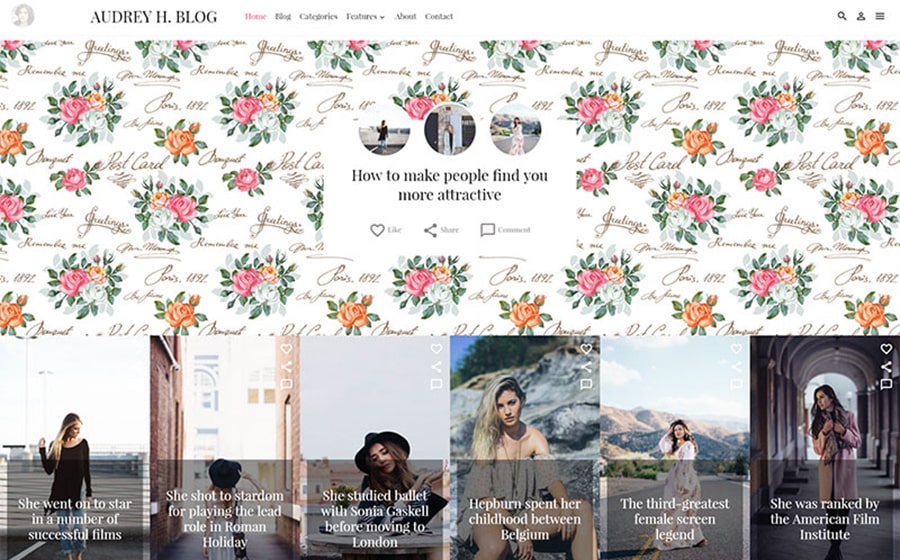 As Audrey proves, a bright background image can function as a real attention-grabber. So, why not give it a try? One more design tool that makes this web theme a real bargain is advanced color options. It means that (re)branding your blog in terms of its color palette will take a few minutes, at the most. Also, if you choose to view the live demo of this WordPress theme, you will notice right away that it makes use of animations. These animations combined with the optimized social media options guarantee that your online audience will enjoy the interactivity of your fashion blog.
Newsider – Magazine & Blog Clean WordPress Theme
Newsider is a clean and minimalist blog theme for travellers, designers, and photographers. It is created to put your artworks first. As you can see from the image above, this WordPress theme is pre-populated. It contains multiple pages to suit any blogger, regardless of his or her experience on the web. Feel free to add, delete, or edit the existing pages to increase your online audience. Combing the impressive content and the memorable imagery has never been easier!
Chika – Creative WordPress Blog Theme WordPress Theme
Chika was created as a perfect combo of three different blog themes. That is why it can cater to the needs of any creative professional, from a fashion blogger to an architect. The interface of this WordPress theme is user-friendly and allows you to customize this WordPress to the fullest. Feel free to choose between multiple options – 3 positions of a sidebar, 5 styles of a background image, 2 types of navigation, 6 types of post formats etc. This flexibility in terms of customization is very important at the beginning of your career as a blogger.
EasyJet – Multipurpose WordPress Theme
If you are not sure what niche to choose at the moment, opt for EasyJet. This WordPress theme contains more than twelve niche-specific Homepages. In practice, it means that once you buy this WordPress theme you will be able to launch a successful blog no matter what niche you will choose. Another huge advantage of this blog theme is that you do not have to be a web design guru to create a professional blog within hours. Thanks to Elementor, the revolutionary website builder, you will experience the true beauty of real-time editing!
Personal Web Designer Portfolio WordPress Theme
As you probably know, each page on your blog has to be topic-oriented and easy to scan. This is exactly what you find in Malcolmy. View the live demo to assess the well-organized Services Page of this blog theme! In addition, this blog theme is packed with web instruments that can boost your blog's performance. The list of instruments includes Social Options, Dropdown Menu, Favicon, Google map, Google Web Fonts, just to name a few. Also, as a newbie to the blogging world, you will definitely appreciate options like Sample content, Live Customizer, and Power Page Builder.
Summary
As a conclusion, there are many ways to find a suitable niche for a successful and (even more importantly) profitable blog. Once you go through all three strategies mentioned above, launch a blog, and make it work. Yes, blogging can be a tough nut to crack at times, for example when you run out of ideas or feel exhausted because you write more than you used to. But however tricky the whole process feels for you now, blogging is definitely worth a try, isn't it?