Alfredo Roagui is a graphic designer and illustrator from Mexico who works on creating pinup and toon-like illustrations of gay men.
When Roagui was 10, The Little Mermaid changed his world. "Ariel is a bit of a rebel and a dreamer. I felt I could identify with her at that age," Roagui told BuzzFeed. "A boy identifying with a princess? How about that?"
"Disney appeals to gay men because we still believe in fantasy and Prince Charming. It reminds us to be in touch with our inner child and makes us dream about happily ever after."
But, as much as Roagui loves Disney, he is critical of its "boy meets girl" formula. "What if we can tell new stories," he said. "As cliché as this sounds, I believe in love. I believe in gay love!" "Maybe we'll see a same-sex animated couple in the future. That would be awesome."
When he is not illustrating gay love stories, Roagui spends his time illustrating the queens of RuPaul's Drag Race in his Disney-like style.
"Drag is an important part of our culture. This show has done a lot for the drag and the gay community," he said. "I love when their characters, like Manila, Bianca, and Alaska, are so creative with their looks. I love big wigs and a whole illusion."
"I was one of those boys growing up who would rather stay home coloring or drawing than go outside and play on the street. … I do what I love and any reaction or feedback about my work is more than welcome."
You can find Roagui on Instagram and Etsy if you are curious to see more.
One look at his work and you can tell that he is largely influenced by the artistic style of Disney.
Alfred Roagui
Alfredo Roagui
Alfredo Roagui
Alfredo Roagui
Alfredo Roagui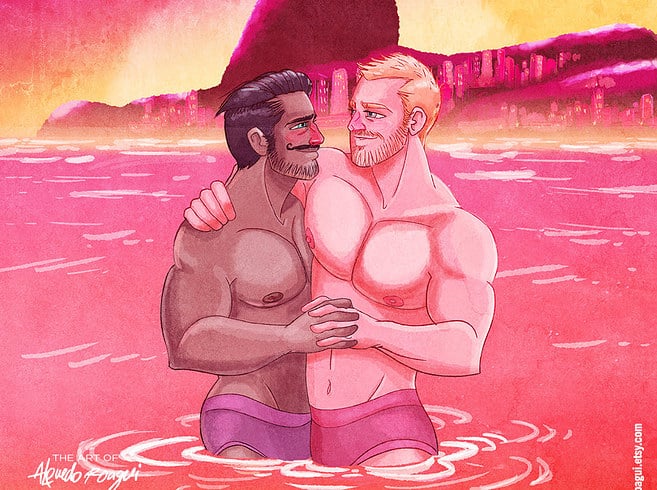 Alfredo Roagui
Alfredo Roagui

via buzzfeed

[mashshare]