Kids say the darnedest things. From inappropriate language to repeating things they've overheard from their parents, some kids are just so funny it can't go unnoticed. These kids are so unaware of how funny they are that it will make you die laughing.
Kiss the Dolphin
This little boy was told to gently kiss the dolphin. Instead, he decided to give it a gentle lick. To each his own, we suppose.
Naptime
There are some days where even the kids know they need a nap. This little girl was so tired that she decided draw herself a pillow and take a nap right then and there.
Where's Your Belt?
This little boy is very confused as to why this man is not wearing his pants on his waist. He even asked why his pants were falling down!
Cousin It
This little kid found his way into his mother's wig collection. While walking around the house with the wig on, he scared the bejeezus out of his father.
Miscommunication
For the school Christmas play, the kids were asked to dress up as elves. This poor kid heard his teacher wrong and thought she said to dress up as Elvis.
The Best Halloween Costume
Boys will be boys. This little boy wanted to dress up as a fart for Halloween. He pulled it off very well.
Get a Job You Like
This kid already knows just how much people can hate their jobs. So, he suggests that the principal quit his job and get one that he actually likes.
Father's Day Card
This daughter definitely belongs to her father if she is making Star Wars references at such a young age. This may be the best Father's Day card we've come across yet.
With Great Power
This brother took his mom's request a little too seriously. Although, we know that he will forever be protective of his little sister.
Christmas List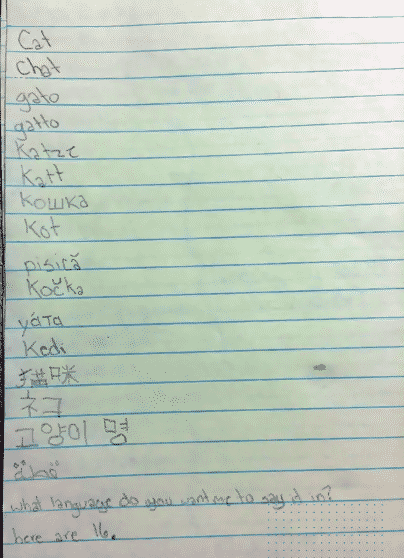 This little girl wants a cat for Christmas. She even learned how to spell it in multiple different languages. We think she definitely deserves the cat.
Big Sister
Gaining a new sibling is a magical feeling. This girl felt that magic when she held her new baby brother for the first time. You can see it all in her expression.
Keep the Earth Clean
This kid is going to grow up to be a comedian; we just know it. This joke is absolutely hilarious! It definitely belongs on the fridge.
Life Hack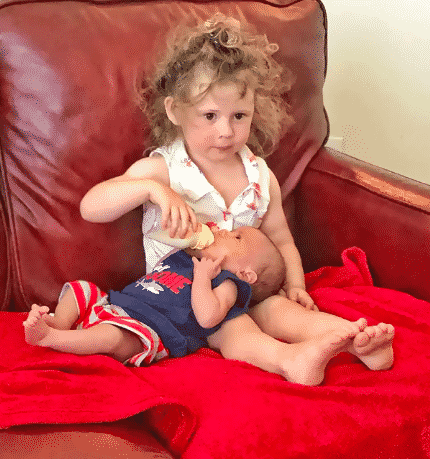 This girl just found the greatest life hack when it comes to feeding babies. She keeps his head supported while still being able to watch her favorite cartoon without being distracted.
Older Batman
If you've seen Christian Bale as Batman, you know that he's supposed to be muscular. However, what happens when he reaches middle age? This child artist created a middle aged Batman with a bit of a beer belly.
Censoring Language
When asked to rhyme words with truck, this kid knew exactly to write. He even censored himself! Now that's some good parenting.
Child Locks
When this child learned about child proof locks, he was absolutely amazed. How could an inanimate object know that he was a child trying to open it?
I'm Leaving
Some kids are really excited about gaining a new sibling. Others pack a bag and threaten the leave forever.
Quirky Kids
These kids are making people laugh left and right. The little girl thinks that she is the girl in the photo she's holding while her brother is kissing himself in the mirror behind her. At least they have great self confidence.
The Scientist
This kid outsmarted his parents when it came to getting the truth about the Tooth Fairy. He will definitely grow up to be a scientist one day.
Round Dog
To be fair, the instructions could have been much clearer. Although, if the dog is fat, then we can understand why he would circle "circle."
Feeding the Cat
When this little girl was asked to feed her cat, she simply left an orange in the cat's dish. You can tell the cat was not amused.
Too Popular
Some kids want to be popular while in school. This kid knows just how annoying it can be and has no plans on being the most popular person in school.
Starting Young
Take away the Peppa Pig costume and this girl belongs right out of Desperate Housewives. We absolutely love her attitude.
Costume Party
This party was supposed to be a princess themed party. However, one kid wanted to go as a puppy and there was no stopping her.
Funeral Game
Kids have the craziest imaginations. These siblings like to play a game called "Funeral," which is a game where one of them "dies" and they hold a service for them.
Getty Images
If you really want to confuse your students, keep the source of the image you use on their test. This kid will now think that Getty Images was the first president of the United States.
Thumbs Up
You just know this baby is going to grow up to be just about the coolest person you know. He's got the thumbs up pose down pat.
Baby Pennywise
Some kids want to be cute princess or astronauts for Halloween. This kid wanted to be Pennywise the Clown. He pulls it off well.
Artistic Expression
This aunt received a piece of artwork from her nephews. It looks pretty nice, right? Well, they used their butt cheeks to make it!
Shoes Off Please
This little girl takes the shoes off of her Barbies before they go into their doll house. This is probably because her parents make her take her shoes off in the house, but it's absolutely hilarious!
Angry Homework
It's understandable that kids don't like doing homework. This kid was just brutally honest about it.
Weirdo
What would make this little girl put her pants over her shoulders? This will definitely be shown on her wedding day.
It's Not What You Think
We know what you think you see in this photo. We promise you it's not people hanging. They're snorkeling!
Naming Angles
We're pretty sure this isn't what the teacher was looking for when she asked her students to name the different angles. However, we would like to give this kid an A+ for creativity.
He's Not Wrong
The beauty of his exercise is that we have learned this kid knows how to spell more than one word with those letters. Our next lesson will be words we shouldn't say.
Hide and Seek
While playing hide and seek with his family, this little kid thought hiding behind a pillow would be a great spot. However, he forgot to tuck his feet in.
This Isn't Working
This little boy wanted to help his family clean up the house. So, while he was trying to pick up a book, he was standing on it. He did this for about five minutes trying to figure out how to get the book off the ground.
A Creative Mind
We would love to know the thought process going through this kid's head when he answered this question. He's going to grow up to do great things.
Jurassic House
Forget Barbie dolls, dinosaurs rule this dollhouse. We love the creativity this kid shows.
A Work of Art
This girl drew a picture of her shouting at the sun because she hates it so much. We're calling it now; she's going to be a hermit when she gets older.
Running Away
This little boy "ran away" from home one day. His parents told him that he could come back to get anything that he may need. So, he took their cat.
Dog Pee
This little kid decided to draw what it was like seeing his dog pee on the couch. He's a cartoonist in the making.
Get Well Card
This is the card one daughter wrote to her mother when she was having surgery on her pancreas. We love the creative thinking behind it.
A Way Out
We aren't sure what this baby was trying to escape from, but it found the cat door and saw his chance to leave. Unfortunately he got a little stuck on the way out.
Dad the Babysitter
When one neighbor received a frantic call, this is what she found. The dad was in charge of watching the kids for the weekend and things got a little out of hand.
Sunglasses Inside

When this little kid learned that he was going to be meeting his aunt's new boyfriend, he came downstairs dressed like this. He wanted to be intimidating.
We're Having Fun Here
When it was time to take team photos of the basketball team, this is how the kids reacted. It doesn't seem like they are much of a time here.
What a Player
This little boy started giving roses out to all of the girls that he knew. Two fo them don't look too happy about it.
Grandma the Superhero
When this grandson noticed there was a resemblance between Black Cat and his grandmother, he was convinced that the two were the same person. His mother had to break the news to him that they were not.
Keeping Warm
This little girl and her dog fight over the heat vent during the winter. She likes to keep her little tushy warm, but so does he.
Reckless
These parents better keep a close on this kid when he gets older. He's going to get into some trouble with those hobbies he's looking into.
Hiding in Plain Sight
This little girl didn't want to go to bed just yet. So, she decided to hide under the rug hoping that her parents wouldn't see her.
A Timeline
This teacher assigned her students to create a timeline of their lives. Unfortunately George's future isn't looking too bright.
Chicken
Chicken nuggets make everything better. This kid knows exactly how to cheer himself up.
Ninja Child
Now this is going to make for a great story when this kid grows up to be a teenager. Remember that time Robbie thought he was invisible because he was a Ninja?
The Thinker
Well now we can't say that his answer is completely wrong. He did figure out how much milk they drank by thinking about it.
Fashion Icon
This father has learned not to ask for too much when it comes to making his kids wear a jacket. If it's on their body, it doesn't matter.
Joining the Force
Yes, this father definitely has something to be worried about. This baby is destined for darkness.
Not Morning People
It looks like it's time to start these kids on coffee early. They are definitely not morning people.
Fish Love
One night this little boy decided he wanted to cuddle with his fish. So, he took his chair, climbed up, and grabbed the fish right out of the bowl. It was a hard conversation to have in the morning.
Upgrading the Art
Some kids just don't appreciate good art. This kid decided to give Van Gogh a little update using his Snapchat filter.
Slammed Shut
This teenager threw a fit and slammed her door shut. She slammed it so hard that she couldn't get it back open. So now she's trying to get someone's attention.
Superhero Training
These kids are going through some intense superhero training. One of them even dressed up for the part!