Sometimes if you are having a bad day, seeing the unfortunate circumstances of other people will make you feel better, especially if they are having a much worse day than you. The following pictures will definitely have you feeling better about yourself because these people are having the worst day ever.
The Clean Up
Toddlers are known to be messy little monsters sometimes. However, this mother probably wasn't expecting to have to clean up this mess today.
Don't Leave Me
It's never fun to leave your pets when going on vacation. This dog really didn't want his owner to leave, so he chewed up her passport. Does the excuse, "My dog ate my passport" work at immigration?
Self Care
This baby is starting self care young. He decided to put on a yogurt face mask to make his skin silk smooth.
Don't Cry Over Spilled Milk
There's nothing better than homemade ice cream on a hot summer day. This ice cream maker definitely didn't expect to spill all of her milk though. Aim is important when it comes to making ice cream.
The Tornado
This little girl's nickname is Tornado, because that's exactly what looks like happened in this room. Her face definitely says, "I didn't do it," though.
Tooth Brushing Lessons
If you have this much toothpaste in the sink, you're doing something wrong. It almost looks like a painting. Too bad it has to be washed away.
Broken Mirror
You know what they say about breaking a mirror; seven years of bad luck. So, not only is this woman having a bad day, but the next seven years of her life will be pretty miserable too.
Inked
It's no mystery that ink will stain. This poor person has to walk around with ink stains on her hand for the next few days.
No Whining Here
The manager of this liquor store is definitely whining over this spilled wine rack right now. Hopefully none of the bottles were broken. That would really put a damper on the day.
The Empty Nester Trick
A lot of parents think that their finally empty nesters once their kids go off to college. Unfortunately, most kids come back home for a little while before officially moving out. This son decided to let his mom know he was moving back home in this Mother's Day card.
Two Mistakes
Dropping one tub of ranch dressing can call for a pretty bad day. But drop two and that's just completely miserable.
Red Wine Stains
We all know how hard it can be to get red wine stains out. Now imagine that red wine stain being on your wedding dress. That's exactly what happened in this picture. Now that's an interesting start to a new marriage.
Backyard Flood
There is nothing better than spending a warm summer day out by the pool. However, when you wake up and find your pool wall collapsed, your day has just turned from a pool day to a swamp day.
Scary Santa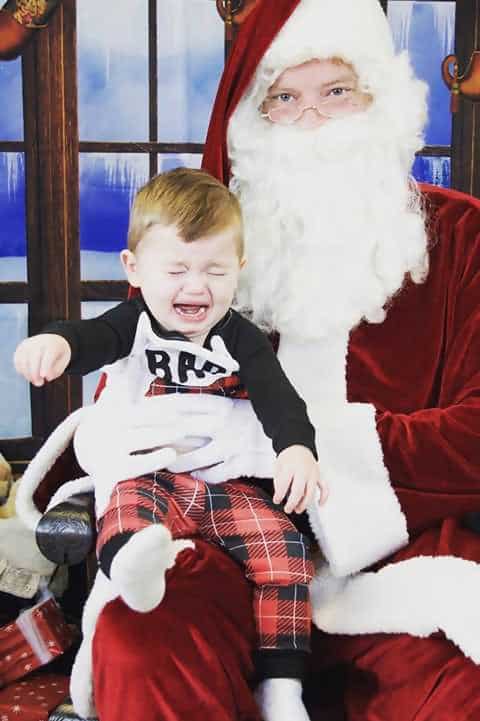 Pictures with Santa are mandatory as a baby. However, this baby definitely didn't feel so lucky to be in the presence of Santa Claus himself during this photo session.
Just the Right Moment
Always watch where you're walking. This girl fell right over a log and her friend just so happened to take a picture at just the right moment.
A Bad Day Starting Off Right
After a successful workout at the gym, this guy made himself a protein shake. However, he forgot to put the lid on and it went everywhere. Now this is the perfect start to a bad day.
Creative Handyman
Setting up new technology is never fun. This creative handyman realized just how difficult it is to put a disc in a Blu-Ray player when it's vertical. So, this is the result of his work.
Head Over Heels
This kid was a little too overzealous when it came to off-roading with his bike. This picture captures the exact moment he went flying over his handlebars.
White Pants and Coffee
You're always taking a risk when it comes to wearing white pants. This woman knows exactly how risky it is after spilling her coffee all over her pants. What a way to start the day.
Puppy Pillow Fight
It can be a gamble leaving your dog out of its crate when you're out of the house. This dog owner lost their bet when they came home to see their pup had torn up just about every pillow in the house.
Pop the Bubbly
Who doesn't like a glass of champagne? Emily Walker, the wine director for the Four Seasons, was so excited to have a glass that she gave herself a champagne shower on live television.
Forgetting Something?
If there is one place you shouldn't put things, it's on top of your car. You're more likely to forget it there when it comes time to leave. This man realized he left his Kindle on the roof of his car right after it had rained.
Organized Chaos
When tax season comes around, accountants are seriously overwhelmed. Just look at this accountant's desk with all of his client's paperwork and files.
Laundry Day
Believe it or not, some people still use clotheslines to dry their clothes. However, you should always check the weather before putting your clothes out to dry. You may have to do your laundry twice.
Demon Cat
Cats are known to have conniving personalities. This cat was obviously mad at its owners because it ruined both of their toothbrushes and broke a beloved vase.
Sunscreen Lessons
This family deserves to have a lesson in putting on sunscreen. They obviously don't know how to spread it everywhere. Now they look like a pack of zebras.
Counterfeit Games
Don't buy video games or DVDs from the street, you never know exactly what you're getting. This teenager had to find out the hard way. Just stick to the commercial stores.
Washed Away
Well this wasn't how the day was supposed to turn out. These off-roaders found themselves in a pretty muddy situation when they got their car stuck.
Well That's Unfortunate
The worst thing you can do is forget your lock combination, especially when it's holding your personal belongings. So, what do you do? You'll have to figure out how to break the lock.
Watch Your Step
There is nothing worse than stepping barefoot on one of your kids' toys. This mother definitely isn't too happy about the mess she has to clean up. Time to put on some shoes.
Ticketed
One parking ticket is bad enough. Now imagine walking out to your car covered in parking tickets. That calls for one really bad day if you ask us.
Always Spell Check
We can't stress enough how important it is to proofread. This tattoo artist really messed up when he forgot the "a" in "breathe."
Now That's a Big Mess
We aren't sure how you are supposed to clean up a mess like this. Maybe it's time to call in the cranes.
Blind for the Day
If you seriously need your glasses to see, this is just about the worst thing that can happen. Looks like it's time to bust out that tape and take on the persona of our favorite wizard, Harry Potter.
Ripe Avocados
Avocados are a delicate fruit. They'll be the perfect ripeness for about a day. More than that and you'll get a brown and mushy inside. That's enough to ruin anyone's day.