Birth announcements are exciting to send out. After a new baby is born, parents will have photo shoots with the baby so they can share the news with their friends and family. Not to mention they'll blow up your news feed with baby pictures.
However, some parents decided to skip having a professional photographer take these photos and do it themselves. Let's just say you can definitely tell the difference.
Not Happy
This baby clearly is not happy to be swaddled up in this blanket. There will be no smiles today.
Caught in a Web
This is a good concept for a photo. Unfortunately, the execution just wasn't there.
Bad Participants
Babies squirm and move around a lot. So, getting a good photo with them is no easy task.
Pouting
We would pout too if our hair looked like this.
Happy Halloween
We can't imagine sitting inside of a pumpkin would be very comfortable. This baby clearly wants to get out.
Jack Frost
This would have made a great Christmas card if only the baby would keep his hat on and smile a little.
Christmas Lights
While we don't know why babies are scared of certain things, we do know that this baby is terrified of Christmas lights.
The Watermelon
Why is it trendy to put your baby in a fruit or vegetable? It definitely cannot be very comfortable.
The Tantrum
There is no better time for a baby to throw a temper tantrum than in the middle of a photo shoot.
The Pregnancy
You know what they say, like mother like daughter. Unfortunately, this little girl likes to add some humor to their photo.
Gumballs
We don't understand why someone would want to put their baby in a jar full of gumballs. While it's colorful, it's definitely a choking hazard.
Stocking
These parents must have really big feet to be able to put their socks over their baby.
Too Early to Read
These parents clearly have high expectations for their child.
Put Me Down
This looks more like a trust exercise than a friendly photo shoot.
No Joy Here
This is proof that there are two different types of children out there.
No Effort
It's hard being a model. This baby is tired of all the photo shoots. He just wants to take a nap. Is that too much to ask?
Delivered
So that's how babies come into this world. The stork must be pretty busy.
Tonka Truck
Babies are all different shapes and sizes. This one is just a little too big for this truck.
Santa's Little Helper
Someone is clearly channeling the Grinch this Christmas.
That's a Lot of Boys
We feel sorry for the boy who wants to date this girl later in life.
Snow Angels
They just want to be back in the house where it's warm.
The Coffee Addict
New parents definitely know the need for caffeine after having a baby.
Pretty Princess
Now that's one photo that will be shown to all future boyfriends to embarrass this little girl.
Super Close
Being a parent means getting a lot of different bodily fluids all over you.
Serious Face
We predict this baby is going to grow up to work on Wall Street.
Too Tired
Please, just let me go to sleep already.
Tangled
This has to be considered as some kind of abuse, right?
Kisses
Someone got a little too carried away with the red lipstick.
Class Clowns
These parents will never get a good photo of their children. It's time that they accept this now.
Not About It
This pose is super simple. However, this baby is doing everything but cooperating.
USA
This would have been a great photo if the little nugget would just stop crying.
Whoops
The first thing this dad is going to do after this photo shoot is take a shower. Or so we hope.
One is Enough
You can tell just how happy this little boy is that he is getting a sibling.
All About Placement
Who thought it was a good idea to put the carrot over the baby's face?
Born a Sailor
We're thinking the sailing life is not for this little baby. He may just want to stay on land.
Hershey Kisses
We don't understand how anyone could be so unhappy when they are around so much chocolate.
I Can't Read
This baby is clearly frustrated with the fact that she can't read yet.
Bored
This is why you have to distract babies with a stuffed animal or silly noises.
Always Dirty
As a parent, it may feel like your baby is never clean. Even after a shower, the chance of them spitting up is not slim.
Tutus for All
She was born to be a dancer. Maybe not a model, but definitely a dancer.
Cheerios
What's on the menu today? Oh, baby and Cheerios? Sounds lovely.
Santa Baby
Next time let's get a hat that actually fits the baby's head.
Stilettos
She's a true born diva. Her father better watch out during those teenage years.
Christmas Present
Who knew that babies would make the perfect stocking stuffers?
Take It Off
This baby is clearly unhappy to be in this tutu. Maybe she'll go into fashion design later on?
Easter Baby
We're thinking this baby prefers Christmas over Easter. Less plastic.
No Effort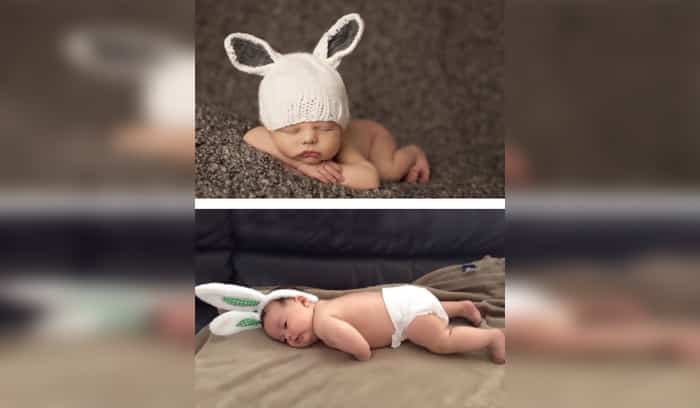 I'm just going to lay here while you take as many pictures as possible.
Basket Baby
Not another basket! Please stop putting me in ridiculous baskets and taking photos.
No Balloons Here
We're thinking this baby has an irrational phobia of balloons. This is the worst possible place for him if that's true.
Swinging Around
This is an adorable idea for a homemade swing. Unfortunately, the second baby doesn't look too impressed by it.
Face Down
Not all babies have that natural gift of posing well.
Messy
It's no secret that babies are messy. At least this messy baby is a happy baby.
Crocheting
Someone clearly doesn't approve of their mother's crocheting project.
Twinsies
Well, these babies are definitely no Mary-Kate and Ashley, that's for sure.
Too Tired for This
This baby has had enough. She's ready for her nap time.
The Duck Face
You all remember that trend where people kept making duck faces in photos, right? We're thinking this baby was born in the wrong era.
Daddy's Girls
Oh what a wonderful thing to be a father. Unfortunately, having four kids isn't as romantic as it seems.
Scary Santa
This baby is not pleased to be sitting on Santa's lap this Christmas.
Icing Fight
Babies usually love getting into things and making a mess. This baby is the exception, though.
Take Me Home
Take me home and get this ridiculous flower off of my head, right now!

[mashshare]