Fangirls, fanboys, fanmen, and fanwomen – these celebrities have experienced them all. It's no wonder celebrities have huge body guards! Take a look at some of these crazy fan photos…
Double Take
Well… imitation is the highest form of flattery. (Yikes!)
Getaway Fans
Well these ladies don't seem like fans at all!
Cutting Eyes
America's Sweetheart Tom Hanks looks a little annoyed in this picture, but we imagine he probably just isn't sure which camera to look at!
Sneak Attack
The first rule of getting a pic with a celebrity is to make sure they know you're taking the photo!
Watch out…
…What is Keanu Reeves about to pull out of his pocket? If we know Keanu, it's probably his own camera so that he can capture the moment as well!
Nothing to See Here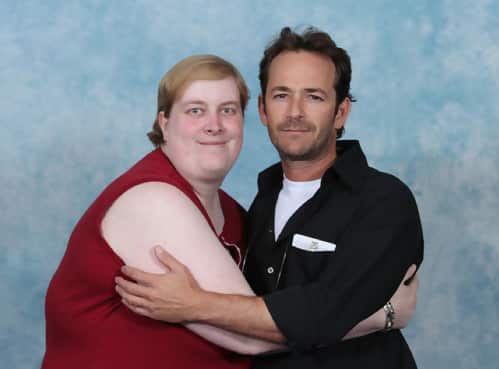 This one is awkward for all sorts of reasons. It leaves us with so many questions!
Toxic
This is so incredibly awkward we are getting second-hand embarrassment! We don't know who for though…
R.I.P.
I guess that's one way to get a hug… We just hope her cat didn't die because she was waiting in line…
Call Waiting
Usually Kanye is the one interrupting people…
Little Monsters
This one isn't too awkward… we think Lady Gaga is just worn out after performing all night!
One Happy Fan
Now Justin Bieber knows how to treat a fan! Let's hope he bought her dinner first.
BUSTed
Luke Wilson is just human after all.
One Shot
Oh man! We hope this guy was making that face on purpose. It looks like he got caught off guard – unlike the ever-photogenic Clooney.
Cop a Feel, Much?
There is nothing to say here. This picture is worth 1,000 words. Yikes!
Wait! I'm Not Ready!
This one isn't too bad. This fan just didn't smile in time. Unlike Common, who is looking great!
Same Guy?
This fan gets around. Here he is looking awkward with Dog the Bounty Hunter – who looks even more awkward.
You Again??
We don't think Gerard Butler was quite ready for this fan photo.
Too-Friendly Fans
Celebrities are people, not food!
Future So Bright
This guy's future is so bright he had to borrow RiRi's shades. This one is pretty cute! (But the glasses look better on her… Sorry!)
There you have it! 19 awkward fan photos. Maybe you learned a lesson on taking celebrity pics!